Europe Struggles With Licensing Text and Data Mining
by Marydee Ojala
You could characterize Licences for Europe, the European Commission's Working Group 4 on text and data mining (WG4), either as a major meeting of the minds or as wishful thinking that scientists, librarians, publishers, and the entertainment industry could all just get along. Apparently, the wishful thinking characterization won the day with those wishes not granted as representatives of the library, research, and technology communities formally withdrew from the process just prior to the fourth scheduled meeting on May 29, 2013.
NISO Publishes Recommended Practice on OpenURLs
The National Information Standards Organization (NISO) announced the publication of a new Recommended Practice: "Improving OpenURLs Through Analytics (IOTA): Recommendations for Link Resolver Providers" (NISO RP-21-2013). The report provides instructions on how to identify problems with OpenURLs and help content providers ensure that their metadata is correct and complete.
CCC Partners With HFA on Music Licenses
Copyright Clearance Center (CCC) teamed up with the Harry Fox Agency, Inc. (HFA), a rights management, licensing, and royalty provider for the music industry. HFA's music licensing service is now available on CCC's website, adding to CCC's existing rights offerings for print materials, movies and television shows, images, blogs, and ebooks.
Elsevier Announces Digital Services Upgrade
Elsevier will upgrade its more than 500 websites this fall with better capabilities for search and mobile access. Elsevier's investment will deliver more accuracy in search results, an improved editorial tool for article collections, and mobile optimization.
Top Mobile Apps for Productivity
by Paula J. Hane
In last month's Spotlight article, I highlighted some browser extensions that I find to be very useful. The article has proven popular with readers, and I've even benefitted from readers' suggestions. So, now I'd like to cover some of the mobile apps that I've found to be the most helpful. I have a Samsung Galaxy Nexus phone running Android 4.2.2 (Jelly Bean), and the apps I'm including here are available for Android devices (at the Google Play Store), and some are also available for Apple iOS at the Apple iTunes store. I trust you will find these to be handy and serve as a starting point to look for others. (If you have others in your toolkit that you'd like to share, let me know.)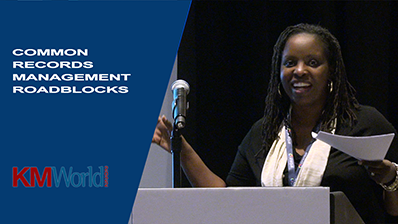 Common Records Management Roadblocks
Enterprise knowledge consultant Angela Pitts discusses access, technology, and other barriers to effective records management in this clip from her presentation at KMWorld 2022.
If you regularly read blogs, add these to your reader:
ITI Conferences (libconf.com): covering ITI's library conferences worldwide
ILI365/InfoToday Europe (infotoday.eu): news and ideas for, and by, innovative info pros from around the world, throughout the year
Streaming Media (streamingmedia.com/Articles/Blog): the go-to destination for opinion, analysis, and insights into the entire online video ecosystem