Always Listening
Jason Broughton has done so many things for the communities he has served and is one of the model librarians of the 21st century. When we spoke, he was fresh off of his role as state librarian of Vermont and going into his new role as director of the National Library Service for the Blind and Print Disabled.
HOW DID YOU BECOME THE STATE LIBRARIAN OF VERMONT?
This is a bittersweet memory. I came to know Scott Murphy when he worked at the South Carolina State Library, after coming down from Vermont. We connected every now and again on library topics that were impacting the library landscape, and we would talk and plan. He was humorous yet thoughtful about what he aimed to do while at the state library. Eventually, I headed to Savannah, Ga., to become the deputy director of the Live Oak Public Libraries.
Scott returned to Vermont and became the assistant state librarian for library advancement. I kept in touch with my former colleagues at the South Carolina State Library, and one of them alerted me to a position in Vermont. The job was for the assistant state librarian for library advancement, because Scott had become the state librarian. I applied and got the job. But the enjoyment of this achievement didn't last, as Scott needed to depart due to health concerns. He barely got to be in the position for just over a year. In discussing it with Tom McMurdo, the other assistant state librarian, he felt it would be best for me to become the acting state librarian. I accepted the role and steered the library through the transition. I was eventually appointed to the state librarian position. While the journey has been filled with many days of celebration, joy, happiness, and graciousness, I can never forget how I became the first African American state librarian for Vermont, and, at one point, the sole African American male state librarian across the U.S. and its territories.
WHAT ARE YOU PROUDEST OF?
The projects I am most proud of are offering, updating, and expanding the Certificate for Librarianship program/Continuing Education opportunities for library staff and librarians. Creating conversations to work with school librarians across Vermont for literacy and learning. Bringing Angie Thomas, author of The Hate U Give, to Vermont virtually. Working with partners such as the Vermont Arts Council and Vermont Humanities Council to provide a range of things Vermonters might not have ever known they may have wanted. Lastly, helping our department be seen as an intellectual, contemporary state library among Vermont state government (which was no easy feat!) and having a staff that believed in me and dared to dream with me as I took the helm.
WHAT IS YOUR FIRST GOAL AS DIRECTOR FOR THE NATIONAL LIBRARY SERVICE FOR THE BLIND AND PRINT DISABLED?
To simply listen—followed by listening so much more—and then reach out to the many users of the service and hear how they feel about the National Library Service. I see myself learning lots from this unique user group.
---
Don't Be Afraid to Try New Things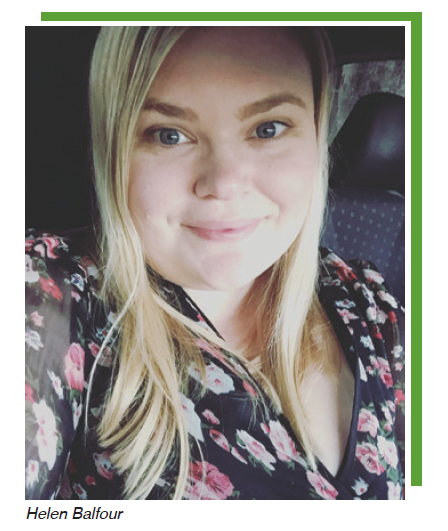 I wanted to learn more about copyright and related topics, so I connected with Helen Balfour, who is the university copyright coordinator at Murdoch University in Perth, Australia. Chatting with Helen reinforced the idea that at the core, it's all about communication. To move ahead in this world, we've got to talk to each other and share information. When we do that, we learn and we grow.
WHAT IS A DAY IN THE LIFE OF A COPYRIGHT LIBRARIAN LIKE?
Working in copyright means there's never a dull moment and the work is very varied. Most days include me sharing my copyright expertise by answering questions from academic staff, professional staff, and students (mostly post-grads doing their thesis) on aspects of copyright that affect their work and research. I also work closely with the University Copyright Network—this is all of the other copyright officers at the other 38 Australian universities. We work on sector issues like law reforms and copyright license agreements.
YOU WORKED YOUR WAY UP FROM AN ENTRY-LEVEL POSITION TO WHERE YOU ARE NOW. WHAT WAS THAT LIKE? WHAT DID YOU LEARN IN YOUR EARLY DAYS THAT APPLIES TO YOUR WORK NOW?
I decided to quit my Ph.D. that I was doing on Shakespeare and film, and I got a full-time job at the university where I'd been studying in the library as a library officer. I'd already worked in the library as a casual student, so I knew a bit about working there, but moving to full time was a big change. It has been a great adventure, and my career path has taken a lot of turns. What I've learned is, don't be afraid to try new things, and don't feel like you're not good enough to apply for jobs in a different field of librarianship. The other thing is, as a Millennial, I often feel like I have a ton of great ideas and enthusiasm for a new role, but I have learned that you need to also sit back and listen to older and more experienced staff members before you try to change everything. Innovation is good, but be sure you understand the place where you work and the people who use your library first.
WHAT ARE SOME OF THE BIGGEST CHALLENGES FACING YOUR WORK AS A COPYRIGHT LIBRARIAN?
The biggest challenge was coming to understand working in a paralegal role with no legal background. It was a big learning curve. The other has been being involved in high-level copyright issues and reforms and the nature and level of that work. It can also be hard to be the only person at my university who does copyright stuff. I'm a team of one, and that can be isolating and stressful. I have a lot of responsibility, but that is where my boss comes in, and she is so supportive and kind. I love my job, but all jobs can be stressful, and it's just about managing that stress and having a good work-life balance.