'What It's Like to Run an LGBT Center Library'
In the May 2019 issue, Anthony Aycock profiled the LGBT Center of Raleigh. He writes:
There had been talk for years about creating such a resource. Many people had brainstormed and researched and dreamed. What would it look like? How would it function? Where would it be located? How would it be paid for? Raleigh has a thriving gay and transgender community, and the city is mostly welcoming. …
Today, the center has a staff of four, a 10-member board of directors, and a $500,000 operating budget, with the library at the heart of it all. … [Head librarian] Smote has been at the center since 2017, when they moved to Raleigh and started looking for an internship while finishing up an M.L.S. (Smote's preferred pronouns are they/them/their.) …
Despite the uniformity implied by "LGBT," lesbians and gays have unique needs, as do bisexuals, as do transgender people, as do non-binary folk. There is not a lot of overlap. Librarians derive satisfaction from matching users with coveted information, and that joy is heightened for these patrons, many of whom feel unsafe researching and reading in a typical public library. Smote tells me about a teenage friend who thinks she might be a lesbian. On her visits to the LGBT Center of Raleigh library, the girl has been "devouring" YA books with the yellow label. "It's been absolutely great," Smote says, "to see her find books that she can relate to." …
"Getting rid of history is never good," Smote says, "but adding in the new and fresh books without overwhelming older, but useful, materials can be kind of a problem." I notice some other gaps. One is legal materials. Gay marriage, Masterpiece Cakeshop, bathroom bills, LGBT+ health insurance, trans people in the military—our country is a civil rights battlefield. Another is manga/graphic novels. The collection has some, but it could use more. …
Despite these challenges, the library has a bright future. In 2018, it won an ALA Carnegie-Whitney Grant, which a staff member has used to develop a series of reading lists on LGBT+ banned books, LGBT+ immigrant stories, LGBT+ Spanish-language books, and asexuality resources (lgbtcenterofraleigh.com/library/library-book-lists.html). Another grant let the library start a family storytime and expand its children's materials, including puppets. The children's collection is important not for its content, which isn't LGBT+ per se, but because a lot of parents bring children with them to the center.
---
'ALA and Google Get Libraries Ready to Code'
On March 19, 2019, Corilee Christou discussed the Libraries Ready to Code program and shares the experiences of libraries that have participated. She writes:
In April 2016, Google and ALA announced Libraries Ready to Code as their first partnership. The initiative supports library staffers who facilitate high-quality, informal computational thinking opportunities for pre-K to 12th-grade youth in ways that are grounded in research and aligned with library core values. Through computer science (CS) and coding activities, children can engage in computational thinking as a critical literacy skill, developing knowledge that enables them to take advantage of and make informed decisions about their future.
In 2017, 30 cohort libraries of varying sizes and types, including both public and school libraries from cities and towns all over the U.S, were awarded grant money to cover whatever startup and other costs were critical to beginning the program. The libraries used the grant money in various ways depending on their selective needs. …
Misty Hawkins is the branch manager of Charleston Public Library in Charleston, Ark. Charleston is a rural community with a population of only 2,500. … Libraries Ready to Code grant money was used to purchase computers and obtain high-speed internet access at her library. Since many of the area's children are homeschooled, their interaction with computers was minimal. Hawkins' goal was to foster digital literacy, introducing younger children to computers. …
Heritage High School's library is another cohort library, albeit one with a different focus for its Libraries Ready to Code program. … Libraries Ready to Code grant money was used to purchase iPads to provide unplugged programming for the 15–22 students chosen to participate in the library's learning to code program. Noticing that love of music, movement, and dancing were key characteristics of this group, [lead school librarian Melanie] Toran created a program in which the students could develop their own sounds. Using robots and Google bots, they were tasked with coding musical jams. This 12-week exercise culminated in a prom, when the music that the students had created was performed.
---
On Feb. 5, 2019, Brandi Scardilli rounded out her librarians-discussing-the-Academy-Awards coverage with an exploration of how libraries celebrate Oscar season with displays, screenings and viewing parties, discussions, and curated content. She writes:
Heather McCartin, adult information specialist at Monticello and De Soto Libraries, part of Johnson County Libraries in Kansas, says, "One of our favorite ways to promote Oscar movies (current contenders and previous winners) is to build a display of DVDs for patrons. With several decades of film to choose from, there's always a variety on the display shelf. When current contenders are available in the collection (not on hold by patrons), we include them in the display as well. Our Oscar display naturally coincides with the award show and pops up in early to mid-February."
Cecilia Cygnar, adult program coordinator at Niles-Maine District Library in Illinois, says, "Every year, we do at least one Oscar-winning and nominated films display for DVDs and Blu-rays. And it always is one of the more popular movie displays we do, which is why we had to expand it to winners and nominees since winners were too few of a selection to keep up with demand. We also have lists of past Oscar winners and nominees that we put out near the display as well." …
"We do not promote Oscar-nominated movies through displays, because we have limited display real estate," says Charles Cobine, cinema and media studies librarian at the University of Pennsylvania. "Internally, we do our best to make sure that the films that have been released on DVD are available in our collection and discoverable through the catalog, but it does take some awareness on the part of library patrons and the campus community." …
"I have been hosting a program for several years that I call The Year in Movies, where I talk about the past year's films, including award winners and nominations," says Cygnar. "I talk about the Academy's process for nominating and selecting winners, as well as how other awards are selected. All of these awards-season activities culminate with our showing of the Oscars telecast at the library. Since the library normally closes at 5 p.m. on Sundays, we re-open the library at 7 p.m. for those who register. We encourage attendees to dress up, and we not only show the telecast on our big screen, but also have fun games and prizes as well. And, of course, snacks! We've been hosting Oscar night at the library for well over 10 years, and each year, it is more successful than the last."
---
'The State of Ebooks in Academic Libraries'
On Jan. 8, 2019, Brandi Scardilli detailed her interview with a couple of academic librarians about the ease of access, benefits, and purchasing decisions related to ebooks. She writes:
Sunshine J. Carter, interim collection development officer and electronic resources librarian/ERM unit manager at University of Minnesota Libraries, says student and faculty use of ebooks is increasing in various disciplines. "Anecdotally, we have heard users appreciate access to ebooks, especially when they are looking for a particular piece of information." Despite the Libraries' thorough how-to website, "the changing landscape makes it hard to keep the information up to date and users cannot be expected to know the peculiarities of using each ebook platform we have access to."
At Boston University (BU) Libraries, ebooks "are becoming increasingly popular and the libraries at Boston University are adding a substantial number of [them] to the library collections. Electronic books are available through a number of different providers, all of which have different limitations and capabilities," according to the Libraries' guide. …
Carter and her colleagues at the University of Minnesota are "exploring whether to reallocate funds to allow for more on-demand purchases of ebooks. We have strengthened our preference for DRM-free ebooks and are supportive of monographic open access initiatives," she says. …
BU Libraries is vendor- and platform-agnostic, says [head of collection development Steve] Smith. Decisions about purchasing are made based on a provider's price, availability of titles, purchasing model, and DRM restrictions. BU Libraries' major providers are ProQuest, Springer, De Gruyter, Oxford University Press, and JSTOR. "Preferably, we would add all ebooks as demand-driven acquisition (DDA) titles, and let the purchasing 'decisions' be made by the level of use an ebook gets from users," says Smith. But not all ebooks are available via DDA, so publisher packages are also a necessity. BU Libraries evaluates usage each year to determine which packages it should continue to purchase.
---
'At the Forefront of Promoting Inclusivity'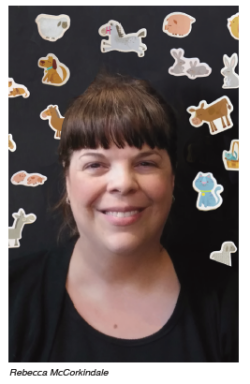 In the January/February 2019 issue, Brandi Scardilli interviewed a librarian who made great strides in creating inclusive library signage. She writes:
Rebecca McCorkindale, assistant library director/creative director at Gretna Public Library in Nebraska (along with Julie Syler and Ashley Jones from Saline County Library in Arkansas) created Libraries Are for Everyone, an image that anyone can download and use for free (hafuboti.com/2017/02/02/libraries-are-for-everyone). It has variations depicting people of different abilities, skin tones, sexualities, religions, nationalities, and more. It's even been translated into 80-plus languages. …
How did you get involved in library advocacy? …
When I began my library career more than 8 years ago, I never thought that I'd be a library advocate: I didn't have an elevator pitch, and I didn't want one. But over the years, as I've watched libraries struggle to stay open or get the funding they deserve, I had to push through my comfort zone and speak out in any way that I could. …
Where does the inspiration for your artwork come from, and how do you harness it? …
[W]hen I saw artwork showing some variations in skin tone in a national library program, but the only obvious person with a disability is in an old-school wheelchair, I thought, The disability community is so much more diverse and deserves to be represented more often outside of wheelchairs. …
I quickly realized that I could do a lot with the library logo … but I needed to figure out what disabilities I could show in that minimalist style. So I hopped on Facebook and asked my friends for help, and they came up with so many of the disabilities that I used.
And it wasn't until Julie Syler, a librarian whom I had never met before, reached out to me with the basic Libraries Are for Everyone design that I realized how deeply meaningful my art could be with that message.
---
'What It's Like to Be a Wikipedian in Residence'
In the November/December 2018 issue, Kelly Doyle shares her experiences as Wikipedian in Residence for Gender Equity at West Virginia University (WVU). She writes:
Many may think that Wikipedia is merely an unreliable resource and a generic encyclopedia because anyone can edit it—or some may have no strong opinions about it at all. However, the information on Wikipedia is largely accurate, precisely because of the diligent work of our longstanding volunteer editor base. … Instructing students and patrons on Wikipedia opens them up to be able to use the site the way we do as information professionals and will make them better consumers of knowledge. …
Librarians can join the Wikimedia community while creating and strengthening Wikipedia articles in multitudinous topic areas. With access to quality resources and databases, librarians can add quality information to Wikipedia, and in some instances, add archival images to Wikimedia Commons for wider public access. Similarly, adding sources to Wikipedia articles from paywalled journals opens up the expertise available in the articles and allows a level of use by those without privileged access to these databases. …
The gender equity aspect of my role required me to learn about the gender-based issues facing Wikipedia—both in terms of content and editorship—and to find creative solutions within academia that could be replicated within the wider community. I came to this role with no previous Wikipedia editing experience, nor as a librarian. What I did have was a community-organizing background that was focused on academia and student groups. I worked within WVU Libraries' Office of Curriculum and Instructional Support to build instructionally guided training materials that would help students become Wikipedia-literate in their understanding of Wikipedia and its construction and in how to contribute. I transferred this learning and expertise to my work with student groups on campus around Wikipedia's gender gap.
---
'Teaching Emerging Tech at NCSU Libraries'
On Aug. 7, 2018, Brandi Scardilli detailed her discussion with a librarian at North Carolina State University (NCSU) Libraries who is running Emerging Digital Information Skills Workshops that provide technical skills training. She writes:
The program has become very successful, expanding from 55 workshop sessions to more than 400 in the past 2 years and reaching 6,000-plus campus community members from more than 80 campus units (i.e., colleges and departments). Its goals have been to encourage student success, support career readiness, and nurture creative methods of teaching. …
[Head of digital research education and training Jennifer] Garrett says the most rewarding part of running the workshops has been the high levels of interest and participation. "I think after every single workshop I have been a part of (which has been a lot), someone has come up and said how excited and thankful they are. … It has just been so clear that we are filling an important gap on campus, and, in doing so, we have not only grown relationships with attending students, faculty, and staff, but deepened opportunities for engagements with external campus units." … Another big benefit is that the workshops can serve as an introduction to NCSU Libraries' spaces and services. …
During a workshop, the instructors give a conceptual overview of the technology being presented (past tools have included Jekyll, GitHub, and Raspberry Pi) and offer a structured, hands-on experience with it. Many allow about 30 minutes for open-ended exploration (implemented in response to participant feedback) so participants can apply what they've learned. They leave the workshop with a list of resources for additional information and are even given the option of future consultation and instruction. …
One challenge they faced with the data visualization workshops was managing the software, Garrett says. "We wanted to focus on open source tools, because one of our primary goals was to promote data literacy across campus and ensure that the students who took these workshops would have access to these tools after they graduated." Open source software needs frequent updating, and sometimes the tools are discontinued, but Garrett … chose options that proved stable because they looked for ones that were well-established and offered robust support systems (such as training documentation or online communities).
---
'Nintendo Labo Can Help Libraries Join the Maker Movement'
On July 17, 2018, Justin Hoenke shared how libraries could use the new Nintendo Labo to encourage learning. He writes:
The new Nintendo Labo is part video game, part construction set and is the company's take on the growing world of STEAM (science, technology, engineering, arts, and math) learning and programming. It's run on video-game hardware, but provides an immersive experience, signaling a new direction for a company that is always innovating. With Nintendo Labo, Nintendo once again has changed how consumers think about video games. This time, it's not just all about consumption, but instead is about getting the user to create, imagine, and dream big. …
Nintendo Labo released two kits in April 2018: a Variety Kit and a Robot Kit. The Variety Kit is the introduction to the world of Nintendo Labo—it contains five projects that span all ages and technical levels. Most impressive is the piano. Right down to the weight of the piano keys and the actual playing experience, Nintendo got this right: It feels like you're playing a real instrument. It is with this creation that users will feel the most "magical" after finishing the build of it. …
Once library staffers have invested time in building all of the projects included with the Variety Kit (it could be a great team-building exercise for staff development), they'll want to check out Nintendo Labo's Toy-Con Garage section with their patrons. The Toy-Con Garage gives users the chance to make, tinker with, and fully develop their own creations. This requires some in-depth investigation by users, but with enough tinkering, some amazing things can come out of it. GameXplain compiled a video of 10 amazing Toy-Con creations, but a quick scan of YouTube will result in even more examples from around the world. The Toy-Con Garage is a tool that youth services librarians will really want to dive into, as it could unlock the potential for some really fun and immersive STEAM learning programs at the library.
---
'Keeping Up With the Urbanites: The Importance of Popular Culture in Rural Libraries'
On June 26, 2018, Jessica Hilburn talked about the need to level the playing field when it comes to access across all types of libraries. She writes:
Libraries are being squeezed nationally with the unceasing growth of technology and widespread ignorance regarding the services we provide to those who desperately need them. Access to popular culture is not a luxury but a necessity many take for granted, and it is not equal for all people. Rural public libraries provide a direct line to national conversations that shape the way we function in the world. …
Some of the biggest conversations in popular culture today are about diversity, intersectionality, feminism, equality, sexual harassment, identity, and justice. The debates surrounding these uniquely human issues are integral to shaping our society and moving it forward in a positive direction. These are conversations that need to be hashed out. But what if you live in a place that was last reported as being 97.5% white, where women's median earnings were just over half those of men, and that has not supported a Democrat for president since 1964? Although these specific facts refer to one place in America (Titusville), the same can be said of many rural, homogenous communities. In communities that are isolated from diversity in race, money, and politics, popular culture is the lifeline to the greater world. It gives us a tether to the heartbeat of our nation and helps us understand where we fit into the dialogue. In areas that experience high levels of poverty and hardship, the community hub where people are able to make that greater connection is the public library. …
From the outside, it may not be immediately apparent why checking out Big Little Lies, Hidden Figures, or Moonlight from the local public library is such a radical action. But consider the distribution of the aforementioned titles. Big Little Lies is shown on HBO, a service that requires a subscription that is monetarily out-of-reach for many residents in rural areas. In my area, we have only one television provider, and an HBO subscription is an add-on cost that is prohibitive. …
The act of a rural public library providing access to diverse films such as Hidden Figures and Moonlight is important for a different reason. Hidden Figures, one my favorite films of the last 5 years, not only shows intelligent women fighting to be heard over the cacophony of men, but specifically women of color fighting both for their voices and for their racial equality. Moonlight gives voice to the experiences of gay men of color in a world that historically punishes both homosexuality and being born with nonwhite skin. In a nation that is finally being forced to grapple with its past and present injustices against people of color, it is important that rural communities devoid of people of color are exposed to not just the hardships of the black experience in America, but also examples of emotionality, sensitivity, and black excellence.
There is no shortage of people of color in this country who have achieved greatness while rarely seeing their experiences reflected in the media. Consequently, white people are not exposed to their stories either, and they internalize only negative connotations of people who do not look like them. By libraries offering and encouraging the viewing of films, such as Hidden Figures, that are inspired by true events and feature strong, emotionally raw performances, rural white communities are exposed to history and uncomfortable realities that they otherwise cannot see. My job is not to tell my patrons what to think, how to vote, or what to believe. But I feel that my job does entail helping expose patrons in my community to life experiences they do not see in their world. One copy of a film or TV show that people might not normally have the financial resources to watch circulated throughout a community makes an impact by shaping the way they view and understand the world.
---
'Libraries as Safe Spaces for LGBT+ Patrons'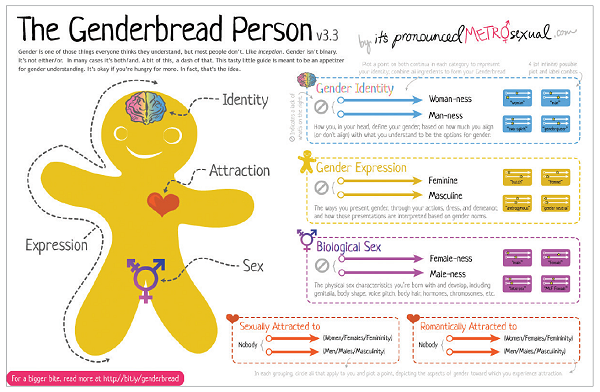 In the April 2018 issue, Anthony Aycock offers librarians a primer on the LGBT+ community so they can become allies and advocates in the battle for equal rights. He shares:
Cisgender. Intersex. Pansexual. Gender expression. LGBTQQIA. When thinking and reading about this subject, it sometimes seems as if you're learning a new language. According to Jace Quinn, a writer specializing in gender issues, such learning is essential. "Labels," Quinn told me in an interview, "may seem unnecessary or divisive, but they're actually a pretty positive force. If you are asexual, it wouldn't make a lot of sense to go to a homosexual or bisexual group and ask for advice on asexuality. It would be counterintuitive, since someone who is a homosexual has no experience being asexual." Beyond such practical considerations, taking the time to learn and use the proper terms validates people who are often treated without respect. …
Libraries are now leading the effort to make restrooms safe places for transgender people, 70% of whom report that they've "experienced discrimination in restrooms, including being stared at, ridiculed, told to leave, or not allowed to use the facilities" (americanlibrariesmagazine.org/2015/10/30/libraries-gender-neutral-bathrooms). One method is not segregating restrooms by gender. Another is to eliminate community restrooms by making each one single-occupancy. …
LGBT+ people are circumspect about how, when, and to whom they come out. They have to be. A library should be a safe space for them to meet their information needs, and we have to do everything in our power to ensure that safety. This could include private rooms for reference transactions. Or circulation slips that don't print a person's name. If you were born, say, as Darlene but now go by Dan, you don't want Dan showing up anywhere if your transition is incomplete and vice versa. Calling someone by their pre-transition name is sometimes known as dead-naming, and it can be painful (huffingtonpost.com/entry/deadnaming-a-trans-person-is-violenceso-why-does_us_58cc58cce4b0e0d348b3434b). Finally, it may be tempting to keep LGBT+ materials in a special collection, but this isn't ideal, as those who ask to see the collection have possibly outed themselves. Better to keep the materials in open stacks. Many libraries have had success with Pride Month displays, although there are risks of backlash. …
A generation ago, little was understood about LGBT+ people, their needs and desires, and their place in society. We have made progress since then, and there is more work to be done. Libraries, those cornerstones of equality, are vital elements of that progress. Librarians should educate themselves about the issues, putting us in prime position to educate others, thereby effecting change.