In October 2021, Bibliotheca unveiled the new library streaming service biblio+. It has a respectable selection so far, but it doesn't have the buzzed-about hits that commercial streaming services put out. (That's also true of the other library streaming services, such as Kanopy, hoopla, and OverDrive.) Take Bridgerton, for example, which is a Netflix show based on a book series by Julia Quinn. The show as a whole racked up 2.55 billion minutes of viewing time during the week of season two's debut in March 2022. Librarians are finding ways to connect with their patrons about this wildly popular show, even if they can't necessarily hand them DVDs of it or recommend it as part of their streaming collection. In this article, librarians explain why they're Bridgerton fans and want to share it with their community. You'll learn some of the ways librarians promote the show and the books, often alongside their existing romance collections. And librarians confront the main problem of celebrating Bridgerton—that they can't offer access to it—and discuss a possible solution.

THE BRIDGERTONS

Bridgerton takes place in the early 1800s and centers on the aristocratic Bridgerton family. There are eight Bridgerton siblings, all of whom get a love story in their own book. The TV show has so far adapted the first two books, The Duke & I and The Viscount Who Loved Me. Chronicling the events of each season is the mysterious Lady Whistledown, someone who knows almost all of the secrets of the English neighborhood where the show takes place and uses them to great advantage. The historical Queen Charlotte—who may have been of African descent—also likes to meddle in her subjects' affairs. The show injects diversity into its cast of characters by suggesting that when the king married Charlotte, a woman of color on the show, racism was pretty much eradicated. Obviously, the show is a fantasy, and when you watch, you escape into a world of colorful costumes, fancy balls, family banter, strong friendships, and lots and lots of romance.
WHAT LIBRARIANS LOVE ABOUT BRIDGERTON
"Romance readers are excited to see stories they have loved for a long time being given this huge platform," says Sarah Lane, an information services librarian at Des Moines Public Library in Iowa. "The show takes a bit of the stigma away from reading romance novels. Patrons would often whisper their favorite titles to me when they were looking for romance recommendations. Now, rather than hiding the steamy covers or only reading romances on tablets and e-readers, patrons seem much more willing to have open conversations about the romance books they are reading."
"I think that Bridgerton offers the escapism that a lot of people are craving right now, but I would say that the most impressive aspect of the show has to do with the barriers it has broken when it comes to diverse casting in period dramas," says Amber Laude, collections and technical services librarian at East Lansing Public Library in Michigan. As for how the show compares to the books, Lane says, "Some of the plot points have been tweaked, altered, or even added, but I think it all makes sense when you are telling this story in a completely different format. The essence of the series Julia Quinn wrote is still so central to the show. The lushness, the longing, the witty banter, all of these aspects that are so important to the genre are still extremely apparent in the show." Morgan Lockard, the adult/teen services librarian at Campbell County Public Library's Carrico/Fort Thomas Branch in Kentucky, agrees: "No book-to-screen adaptation is perfect, and while I know it isn't an exact retelling of the story that many love in the books, I do think it is a good representation of the spirit of what readers love about the series. There is something really special about the way it has brought a new audience to the romance genre, the added inclusiveness, and the way it expands on other characters' storylines beyond what we get in the books."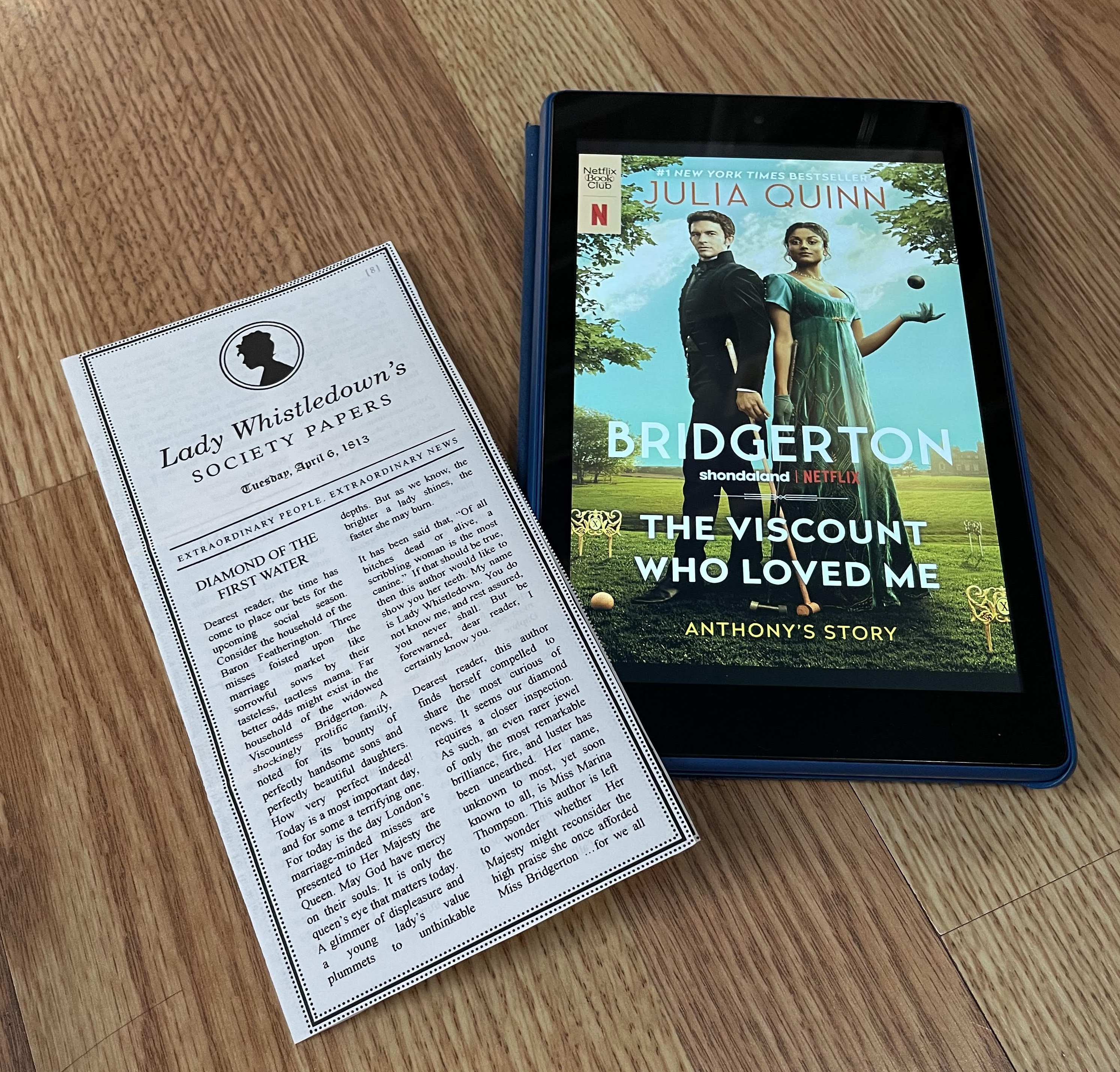 Shelbi Hoover, library/digital communications assistant at Crawfordsville District Public Library in Indiana, and Lauren Taylor, a children's librarian at Lawrence Public Library in Kansas, both cite the classical versions of contemporary pop songs used on the soundtrack as something they love about the show. Rhonda Woolhouse of San Antonio Public Library in Texas says, "I love that the show is an actual adaption of a romance novel instead of trying to be an accurate historical drama. The art direction, wardrobe, and hairstyles are all amazing. The show is a treat for the eye, and there are always new little details that pop out."
Sam Jack, adult services librarian at Newton Public Library in Kansas, had the same impression about the visual style. "I like that it's bright and colorful," he says. "Knowing from the outset that everyone will eventually get a happy ending makes it relaxing to watch. Romance is a hugely popular genre, and Bridgerton is one of the first TV shows to prove that the appeal factors of the books can cross over and engage a general TV audience." Woolhouse concurs: "I hope the popularity of the show leads to similar adaptions in the future. I think that TV and movies have started realizing that female audiences and romance readers can make up some of the most sturdy and loyal fanbases."
DEAREST GENTLE READER
Bridgerton read-alikes range from other 19th-century-set romance novels to modern stories that share themes with the show. Thinking outside the box is always a good idea! Here are some of the diverse books that libraries have suggested on their websites or blogs for Bridgerton series read-alikes: Nine Rules to Break When Romancing a Rake by Sarah MacLean (Lancaster Public Library in Pennsylvania), The Duchess War by Courtney Milan (Campbell County Public Library), Jam on the Vine by LaShonda K. Barnett (Traverse Area District Library in Michigan), The Bride Test by Helen Hoang (Lawrence Public Library), Take a Hint, Dani Brown by Talia Hibbert (Newton Public Library), and My Lady's Choosing: An Interactive Romance Novel by Kitty Curran (Hanson Public Library in Massachusetts).
Des Moines Public Library put a fun spin on its read-alikes post by pairing each character from the show with a book they would appreciate, such as Crazy Rich Asians by Kevin Kwan with Queen Charlotte and dog-detective book To Fetch a Felon by Jennifer Hawkins with Newton the corgi. Kelly Marble, digital marketing specialist at the Central Library branch, came up with the idea for the post, which is part of the library's Binge-then-Read article series. Marble explains that Binge-then-Read "is an attempt to engage in the pop culture conversation and to potentially connect with people who are excited about a particular show or movie that maybe aren't avid readers or library users. When we write these monthly posts, we try to include enough context that someone who may not have seen the show will still be able to get some great book recommendations."
Lockard says that when Bridgerton premiered, Campbell County Public Library "wanted to capture that interest to direct patrons to library materials. We knew that offering these suggestions would see a wider range of materials benefitting from the show's popularity." Lockard used her own knowledge, NoveList, and the library catalog to find books in the collection that had dukes, Regency England, and witty banter. Jack got his list of titles from the LibraryAware marketing service and from doing his own research, and then he made sure the titles were in Newton Public Library's catalog.
Amanda Zuccarelli, reference and adult services librarian at Cherry Hill Public Library in New Jersey, says that when the first season premiered, the books in the series had a long hold list, so she knew posting read-alikes would be important. She used NoveList, Goodreads, her own knowledge of romance titles, and other libraries' lists to choose titles for the list she posted on Facebook. Julia Nee, assistant director and adult services librarian at Hanson Public Library, says she treats online book recommendations as extensions of physical displays: "My displays are usually based on whatever topic, book, or show is popular at the moment, and I love when a show based on a book becomes popular because it's an easy way to reach out to reluctant or inconsistent readers."
Taylor says that because "so much of Romance and especially Regency Romance is all about white, upper-class characters," she "wanted to highlight love stories, excellent ones that are exploring love and telling the love stories outside of this very narrow point of view. There are so many great authors and stories! Why keep reading about the same white debutante that needs to land a rich man? Diversify your reading!"
SOCIAL SEASON CALENDAR
Libraries have been planning Bridgerton events since soon after the first season premiered in December 2020. In January 2021, Scranton Public Library in Pennsylvania announced the virtual Tea With the Bridgertons: A Discussion of the Book and Netflix Show, which featured conversations about the characters. In June 2021, Chandler Public Library in Arizona hosted a virtual Bridgerton Tales and Mocktails event, featuring a speaker discussing "the pop culture behind the series"; participants could pick up a Mocktail Grab & Go Kit to make a passionfruit and pineapple mocktail at home. In December 2021, Collier County Public Library in Florida posted about a Bridgerton High Tea book-and-show discussion it had organized, during which there was a flower-arranging demonstration and photos with a cardboard cutout of the Duke of Hastings. In March 2022, Wake County Public Libraries in North Carolina held a Bridgerton Tea, featuring trivia and crafts, where the dress code was, "Ball gowns are welcome, but not required!"
Huntsville-Madison County Public Library in Alabama started an All Things Bridgerton book club right before the second-season premiere in March. Program lead Amber Sayre notes, "Everyone who attended was really passionate and engaging, which made for fascinating discussions. We have had two events; one for each season/book. The patrons really enjoyed talking about the costumes and their thoughts about the Regency Era as a whole." They also talked about each of the main characters and the differences between the books and the show. Sayre is working on a book club that will cover the rest of the book series, and she hopes to host another All Things Bridgerton when the third season premieres.
Another book club is underway at DeKalb Public Library in Illinois, the first meeting of which was held in April, covering The Duke & I. It will continue every second Wednesday of the month until the participants complete the book series. Britta Krabill, head of adult services, says, "We didn't have a romance book club, and I thought this might fill a niche, especially since the TV series was such a big hit." A variety of topics were on the table, including the book's intimate scenes. "We also talked about what life was actually like in Regency England and how the books measured up," says Krabill.
In March 2022, San Antonio Public Library was lucky enough to get Julia Quinn to come to one of its virtual events—part of a free, annual pop culture convention called Pop Madness. "As a library, we need to be creative with our resources compared to other big conventions and events, so we often rely very much on our guests' goodwill towards libraries," says Woolhouse. "I asked far enough in advance that she was available. Otherwise, she would have been too busy with all the publicity for season 2 to add another event. Julia is a great panel guest with lots of interesting stories and good writing advice."
THE PROBLEM OF AVAILABILITY
When it comes to streaming content availability in libraries, two words stand out: frustration and disappointment. East Lansing Public Library was getting so many questions about DVDs of Bridgerton that it published a blog post about the show's Netflix exclusivity. "Why Can't I Watch Bridgerton on DVD?" promises that if Netf lix releases the show, the library will buy it, but for now, that's not an option. Laude says, "We have a lot of fans of The Crown in our community and have received questions about why we don't offer series like Ted Lasso, The Mandalorian, The Witcher, or Squid Game. We also couldn't add CODA, the Best Picture winner at the 2022 Oscars, to our collection because it is only available to stream on Apple TV+." Laude notes that the library does offer access to Kanopy and hoopla, but it's "frustrating for all involved that we are increasingly limited in what we can offer in our AV collection, particularly when our patrons have the expectation that we will carry certain titles."
Jack also mentions CODA as a movie he wishes he could offer patrons, and says it's "frustrating to have to tell patrons that not only do we not have the DVD, there's a chance we'll never get it. I'm concerned that this problem will get worse, especially for TV shows. The library profession needs to be prepared to pressure studios to give libraries access to their content at a fair price." He acknowledges that the library doesn't lend out as many DVDs as it did before streaming, but the "DVD collection is still used a lot, and many patrons don't have the computer skills, internet access, or spare cash to jump on the streaming bandwagon." Krabill also says that "it's frustrating not being able to give our patrons access" to popular shows, but that DeKalb Public Library is about to start offering Kanopy.
"It's always disappointing when I have to tell a patron that I can't get a movie or show they're looking for," Nee laments. "I take pride in my research ability and being able to find almost anything, so it's disheartening when I'm able to figure out the obscure show someone's talking about based on a few details but then have to tell them we can't get it." Kim and Betsy, librarians in the adult services department of Traverse Area District Library, have the same feeling: "Libraries share stories with everyone, so it's always disappointing when we quite literally cannot. That's the instance when we offer alternatives, and we have plenty of those with Kanopy and hoopla, along with a robust DVD collection. The streaming services know how to make money, and those corporate decisions get time-sensitive exclusivity. Community libraries are about the opposite of exclusivity; we want everyone in our community to have access to all the things they care about."
Depending on demographics, some libraries are lucky enough not to wrestle with issues of access. Hoover says, "It's frustrating to me, but truthfully, I don't hear many patrons complain about it—it seems like if they're the type of person who doesn't yet subscribe to streaming services, they ultimately don't feel a burning passion if they inquire about the availability of a series and find out that it's streaming-only. They just pick out a different series that is available on DVD and move on." Zuccarelli observes that "there are more patrons who have Netflix, have seen Bridgerton, and now want to read the books than the other way around." And Taylor says, "I live in a fairly affluent community, so I don't run into it often." Melanie Thornton, director of public relations at Huntsville-Madison County Public Library, shares, "In general, our patrons understand exclusive content like Bridgerton isn't going to be available at the library. We do not receive complaints about not being able to stream popular shows that are only offered on commercial platforms. In fact, the options have opened up widely for libraries in recent years. We now have the ability to stream content through Kanopy and hoopla, two services that we offer and have been widely appreciated."
Lockard and Woolhouse are both looking on the bright side too: "One way the library can partially assist in access to these services is through the free internet we provide to those in our communities that do not have access at home," says Lockard. Woolhouse notes, "It will be interesting to see how things develop in the future. In the meantime, we'll continue to connect our patrons to programs like An Evening with Julia Quinn to give them an opportunity and experience they wouldn't otherwise have if not for the library."
A SOLUTION
If you can't lend the streaming service, lend the streaming device. Nee shares that Hanson Public Library is "in the process of putting together a Library of Things, and one of the unusual items I'm most excited about starting to lend are streaming sticks. Ideally, these will allow the library to 'lend' a subscription to streaming services like Netflix or Disney+ for a week or two at a time. Even if a patron doesn't have a smart TV or streaming membership, if they have home internet (or borrow one of our mobile Wi-Fi hotspots) and an HDMI port, they would be able to access Netflix, etc., with a streaming stick for free." Nee believes that the sticks will be very popular in her community and that they will be ideal "for people who are looking for a specific show but only have a membership to one or two platforms, since there are so many different streaming services now. Streaming sticks won't be a solution for everyone, but I think offering them through the library will definitely make streaming content more accessible to a lot of people."
Eisenhower Public Library District in Illinois has already been doing this successfully since 2015. The library mentions its Roku streaming devices in a post promoting its Bridgerton book collection, stating, "If you don't have access to Netflix, you can watch Bridgerton by borrowing a [Roku] streaming device from the library and using our Netflix subscription. Once you've burned through all the episodes, you can stay in the world of Bridgerton with Julia Quinn's novels." Synergy!
Molly Bitters, assistant head of reference services, is the one who proposed that the library look into lending Rokus. She maintains the devices and the kit they come in, and she controls the streaming service subscriptions.
Photo by Molly Bitters
Bitters compiled a guidebook "that walks patrons through connecting the device in simple steps and a quick intro to the apps we have on the devices."
Photo by Molly Bitters
Reference staffers can always open the guidebook files "so individual assistance for a patron that may struggle is available anytime we are open. The vast majority of patrons get up and running with just the guidebook," Bitters notes. There are two Rokus and an Apple TV available for lending right now, and each device can be checked out for 3 weeks. Bitters says that popularity fluctuates—sometimes there are 10-plus holds on the devices, and sometimes they're not checked out for weeks at a time. "Interest picks up after a session of the Cut the Cable course we teach, or if a popular movie/tv series is released, especially a streaming service-exclusive movie or series," she explains.
The library pays monthly for each subscription and doesn't share the subscriptions across devices. "This was done to good-faith comply with the streaming service usage policies, which I read through carefully," says Bitters. "Splitting the services across devices (Roku with Netflix, Roku with Disney/Hulu/ESPN, and Apple TV with AppleTV+) allows patrons to request the device with the service they are interested in, instead of lumping the holds together across devices. We do share a Vudu account across the three devices, which is loaded with the digital access that comes free with many of the physical DVDs and Blu-rays we buy for the library collection."
An option for expanding the lending, Bitters proposes, is "checking out just the login information for the streaming services directly, as a piece of paper with the password, instead of the physical devices." For now, Bitters and her patrons are happy with the device-lending service as it is. They don't have to miss out on the new shows, like Bridgerton, that are seeping into the zeitgeist, and the library is fulfilling its mission of providing equitable access to the community.
Bridgerton photos by Brandi Scardilli