This article was originally posted on Feb. 6, 2018.
"Cinema is a mirror by which we often see ourselves."
—Alejandro Gonzalez Inarritu, Variety
At its annual Oscars ceremony, the Academy of Motion Picture Arts and Sciences typically rewards movies that address social issues in a realistic, entertaining way. Last year's Best Picture winner, Moonlight, is about a young black man exploring his homosexuality. 2016's Best Picture, Spotlight, tells the story of a group of journalists uncovering child sexual abuse by Catholic clergy members. 2014's 12 Years a Slave and 2010's The Hurt Locker address slavery and war, respectively. 2015's Birdman, 2012's The Artist, and 2011's The King's Speech feature characters trying to come to terms with a changing world that might be leaving them behind (all three of those movies are about straight, cisgender white men, so make of that what you will). National Review somewhat cynically notes that "[i]t doesn't matter how hokey, trite, didactic, or blunt [any of] these movies are if their underlying point thrills the Academy with its importance."
Whether or not filmmakers set out to create a movie with a message, theatergoers will assign meaning to their films (or they may see messages the filmmakers didn't intend). How can they not, when viewers always bring their own expectations, viewpoints, and biases to the experience of watching a movie?
"It's really important for people to see themselves reflected in popular culture, to see stories that relate to them, to see actors and filmmakers that look like them or have a similar background," says Katherine Moody, leader of Third Floor Tuhurutanga at Central Library Peterborough, Christchurch City Libraries, in New Zealand. "Films always reflect society in some way, sometimes highlight conversations or cause a backlash that makes people think. Films can help us interpret current events or gain perspective on them, at other times they help us escape from events that we cannot control."
Danielle Aloia, collection management librarian at the New York Medical College's Health Sciences Library, says movies can be divided into two categories illustrated by the Ken Kesey quote, "I'd rather be a lightning rod than a seismograph." Movies are either a lightning rod, "making bold statements and producing a shock to the current culture, or they are a seismograph that tells the story of a current event that reflects the cultural climate of the times. These concepts are both important for historical purposes but also to expose society to aspects of what's happening around us that may be hidden or less conspicuous in our everyday lives."
The next Oscars ceremony is coming up on March 4, so let's take a look at this year's Best Picture nominees and how they have been interpreted to relate to what's currently going on in the world.
All synopses are from oscar.go.com. Posters are from imdb.com.
What's Nominated
According to The Atlantic, "In a politically charged year for the country, the film industry's biggest awards body gravitated toward movies with defined points of view, told by established artists (Guillermo del Toro, Christopher Nolan) and newer directors (Greta Gerwig, Jordan Peele) with a strong presence behind the camera."
The topic that has dominated Hollywood conversations since fall 2017, the #MeToo movement, could be affecting the nominees as well. "A film that likely would have been nominated for a slew of awards, The Disaster Artist, is nominated for zero and I would credit the #MeToo Movement for that. We are no longer OK with watching predators receive awards. This has an impact on the everyday lives of people across the nation," says Jessica Hilburn, historian at Benson Memorial Library in Pennsylvania. Ted Gray, multimedia librarian at Deerfield Public Library in Illinois, is looking forward to the Oscars ceremony for this reason: "I'm really curious how the whole #MeToo movement will be handled and addressed."
---
Call Me by Your Name
Seventeen-year-old Elio Perlman lives in Northern Italy with his translator mother and professor father, who welcomes American doctoral student Oliver to help with his work for the summer. The cultured yet shy Elio is impressed with the confident Oliver, and their friendship blossoms into a relationship that transforms his life.
Director Luca Guadagnino tells The Hollywood Reporter that Call Me by Your Name is "all about empathy, acceptance and equality in relationships. In a way, it's an affirmation of the possibility of becoming better people in the comfort of other people instead of trying to crush other people." National Review speculates that the movie won't win Best Picture because "[i]n the wake of the Kevin Spacey scandal, the movie's story of a 17-year-old boy having an affair with a grad student in his 20s might [make] the Academy nervous."
---
Darkest Hour
Controversial politician Winston Churchill is appointed prime minister during the early days of World War II and is faced with the momentous choice of continuing to fight or trying to parlay with Hitler. With the fall of France imminent and the possibility of a German invasion of Britain looming, Churchill knows his decision will affect the entire free world.
Cecilia Cygnar, adult program coordinator at Niles-Maine District Library in Illinois, says Darkest Hour "is about a leader who empowers his people to get behind him in the fight for good versus evil." Moody says that this movie and the following one, Dunkirk, are "both about a very short period of time in 1940 when the course of history could have gone very differently. They're about isolation and resilience and fighting against overwhelming odds, and their stories could be interpreted to fit 2018 in many ways—are they pro or anti Brexit? Do they comment on America turning in on itself? Do they remind us how fragile society is? Or do they encourage us to fight, even when things seem hopeless? I'm not sure either movie will win but they reflect many of our current anxieties."
Aloia agrees that Darkest Hour and Dunkirk can be grouped together. They are both seismographs for today (to return to Kesey's metaphor), she says, with Darkest Hour highlighting "the intellectual strife that happens during tough times and that the truth will reveal itself despite the political climate."
The Hollywood Reporter shares director Joe Wright's take: "The work should speak for itself, and people can project their own feelings and imagination onto the work. We started work on [the film] prior to any of the stuff that was hap­pening in the world. It's taken on this kind of relevance as a portrait of leadership and what that looks like. That's great, but that's something that the audience is doing. That's not something we forced, and that's important."
---
Dunkirk
In the Spring of 1940, hundreds of thousands of British and Allied troops are trapped by German forces on the beaches of Dunkirk in northern France. The terrain precludes the use of large ships, compelling the military to request that civilian boats join the rescue efforts. While soldiers endure attacks and wait in fear, the RAF provides cover for the hundreds of small boats sailing the 26 miles from Britain.
"Dunkirk, at its core, is about working together in times of incredible strife," says Cygnar. Aloia calls it "visually stunning and immersive, and it gives the sense that when the times are tough and life is in the balance people will join together to help." Director Christopher Nolan told The Independent, "We were really trying to take a different approach and achieve intensity in a different way [from a typical war film]. I would really like lots of different types of people to get something out of the experience."
---
Get Out
Photographer Chris Washington is nervous about meeting his girlfriend Rose's parents for the first time, especially when he learns that she has not told them that he is black. Their awkward behavior, along with the oddness exhibited by their two African-American servants, puts Chris on alert but even so, he is unprepared for the family's true motivations.
"Jordan Peele's 'Get Out' is about racism and cultural appropriation, the film's get-out-the-vote team says, but also (in this #MeToo moment) about the abuse of power," The New York Times writes. Peele tells the paper, "Given the state of our country right now, we urgently need to encourage … fresh ideas and fresh voices." In The Hollywood Reporter, producer Jason Blum says, "I think it's resonating because of the climate caused by the Trump administration. Generally, the country has gone in the right way in terms of racism and sexism, even if in the last 12 months we've gone the wrong way. I think it's incredibly timely, sadly."
Gray says that Get Out's place on this list may be because the Oscars are the least diverse of all the major award shows. "I think this is a reflection on the state of the film industry compared to the music and TV industries. To that end, it appears that the Academy was desperately trying for a more diverse set of Best Picture nominees," he says. "While I think the film Get Out was a good movie, it wasn't a historically great film. It seems to me it was only included because they were desperate to find at least one film to recognize that was made by an African-American. I find it sad in a way that Get Out was one of the few African-American films released in 2017. There simply weren't many options for the Academy to choose from."
A different opinion comes from Aloia: "I believe that Get Out should win the best picture Oscar simply because of its shock value and its twist on what it means to be white or black in America." This movie and Three Billboards (discussed later) exemplify Kesey's lighting rods—they have thrown a wrench "in what we wanted to believe about race in America," she says.
---
Lady Bird
Strong-willed teenager Christine McPherson, who has dubbed herself Lady Bird, yearns to leave her hometown of Sacramento and attend college on the East Coast. Her equally opinionated mother, Marion, who is struggling to provide for her family, tries to prepare her daughter for life's inevitable heartbreaks while also encouraging her to be her best self.
"I am looking forward to more of what we have seen at the Golden Globes and the SAG [Screen Actors Guild] awards: females rising up against the male-dominated Hollywood system (and the world)," says Cygnar. "Greta Gerwig's nomination as director for Lady Bird is a step—but a small one." The movie's focus on a strong mother figure who is fighting for her daughter's well-being as she comes of age portrays women's struggle to be taken seriously, she says.
---
Phantom Thread
In 1950s London, middle-aged couturier Reynolds Woodcock is at the height of his fame and creative powers. His sister Cyril helps to manage his precisely ordered world, but when he falls for a younger, high-spirited waitress, Reynolds finds that his new muse has transformed his life in more ways than he thought possible.
The Hollywood Reporter notes that although Phantom Thread "centers on a male fashion designer, the women in his life, played by Vicky Krieps and … Lesley Manville, are every bit his equals." Cygnar agrees: "1950s London is irrelevant to Phantom Thread's contemporary theme of fighting back against harassment and the female empowerment momentum."
---
The Post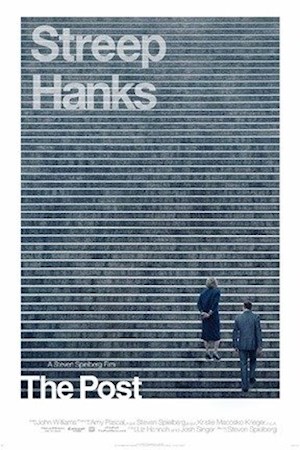 In 1971, Washington Post owner Kay Graham, the first female publisher of a major newspaper, and executive editor Ben Bradlee debate whether they should publish the top-secret, politically sensitive Pentagon Papers. Facing certain legal action, the pair must decide if their duty to inform the public is more important than protecting their careers and the paper itself.
The Post is a "depiction of a woman coming into her own as a leader and taking a stand against attacks on journalists," according to The New York Times. National Review says that "it has Oscar bait written all over it. [Steven] Spielberg even rushed it into production just this past May as a response to Trump's antagonism toward the press. …"
---
The Shape of Water
In 1962, janitor Elisa Esposito works at a classified government laboratory that tests new technology to help defeat the Soviet Union during the Cold War. Isolated and lonely, the mute Elisa finds her life changing forever when she uncovers the truth about the facility's most unusual and top-secret project.
Director Guillermo del Toro tells The Hollywood Reporter that The Shape of Water resonates with audiences due to "the emotional need that contradicts that the other must be feared rather than embraced or [loved]. This idea of love in so many forms, it has no shape. Love has no shape." The magazine notes that the movie celebrates "outsiders": "[A] mute woman, a black cleaning lady and a gay man join forces to save a mysterious sea creature from ominous government forces."
"The Shape of Water mirrors the #MeToo movement with its passionate and highly motivated female main character breaking all barriers to be with the creature she loves. Shape is also about accepting and embracing difference, something that's highly relevant in today's world," says Cygnar. Kristen Thorp, youth services manager at Eugene Public Library in Oregon, says it "takes individuals who would have been silent in the '60s and gave them a chance to be heard and seen. Currently voices who are often silent are gaining a platform to speak out."
National Review, ever a Debbie Downer, writes that "Hollywood has faced a conundrum: How should it duly register its loathing for Trump via a slate of films that went into development before Trump became president? The solution it has apparently hit upon is to fawn over Guillermo del Toro's ridiculous sci-fi Harlequin Romance, The Shape of Water, which may as well be called The Hunk from the Black Lagoon. …"
---
Three Billboards Outside Ebbing, Missouri
Several months after the rape and murder of her teenage daughter, Mildred Hayes is so furious that the case remains unsolved that she commissions three billboards questioning the town's respected sheriff. The prickly Mildred's actions escalate tensions throughout the town, provoking intense reactions from all involved.
Three Billboards Outside Ebbing, Missouri "features a woman demanding attention be placed on a sexual predator; red state anger; and commentary about racist policing," according to The New York Times. "The film was quickly seen, at the time of its release, to present a repellently indifferent and instrumentalizing view of race relations and the politics surrounding them," The New Yorker shares. "Yet its salt-of-the-earth sentimentality about small-town white people nonetheless (or perhaps therefore) found the same echo among Academy voters that it did among the electorate at large [in 2016]."
However, The Guardian notes that "race in America, especially today, is something that requires a rigorous gaze. … [A]nd the levels to which [director Martin] McDonagh doesn't actually investigate or interrogate his own storytelling decisions in that regard are frustrating. … To portray it on screen requires some hard intellectual work and a knowledge of this life in the margins. For some critics and viewers, that's an award [the movie] didn't earn."
One of them is Aloia: She says that "Three Billboards is the whitest, racist movie this year and I wonder how it is even a contender for Best Picture. The acting is phenomenal but the story is disturbing in the way it portrays Middle America, the ones that voted this past year. If you want to know who those people are this movie will help you understand how we came to this current presidential administration."