Download Our July-August Editorial Sampler

Posted On July 21, 2015
---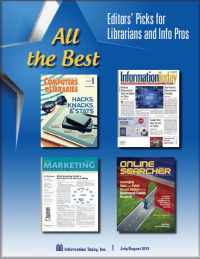 Want to review some articles from our library publications? Download the free July-August content sampler (PDF) of recent articles and an exclusive offer for a free book with a subscription to Computers in Libraries magazine.

The following content is featured this month:
In Computers in Libraries, Jeffrey Meyer explores data-driven collection management. He writes, "The more specifically librarians can organize and manage circulation data, the more they can hone collection development and strategize to improve usage."
In Information Today, editor Donovan Griffin interviews Mike Sweet, CEO of Credo, about how his company helps students succeed in the knowledge economy.
In Marketing Library Services, editor Kathy Dempsey reviews Marketing and Social Media: A Guide for Libraries, Archives, and Museums, which delves into the traditional concepts of marketing and uses case studies to show how to use them for serious social media strategies.
In Online Searcher, Lisette Lacroix looks at

FRED (Federal Reserve Economic Data) and FRASER (Federal Reserve Archival System for Economic Research), which contain a stunning amount of historical, economic, and explanatory information, with intuitive search tools that can be used by a very broad audience.