Listen to the YouTube companion conversation to this Spotlight article between the author, Jess Hilburn, and Information Today and NewsBreaks editor Brandi Scardilli about all things Oscar and library access.

You'll find the transcript of the conversation on page 2 of this article, as well as part of the closed captioning option on YouTube.
---
"The movies are back!" pundits across the nation cried in ecstasy when Top Gun: Maverick continued raking in the cash during summer 2022. Unfortunately, although 18 movies made more than $100 million domestically last year, box offices around the nation are still limping back to the light at the end of the COVID tunnel. I hope the public continues paying the electric bill.
For 2022, the Venn diagram of movies that made money and movies recognized during awards season is excitingly larger than usual. Of the 18 top-grossing movies, five are in the awards conversation, and three were nominated for Best Picture by the Academy of Motion Picture Arts and Sciences. It certainly didn't hurt that the release dates of these buzzy movies were spread out over the course of the year in a way we don't normally see among those with awards chatter: Everything Everywhere All at Once was released on March 25, Top Gun: Maverick was released on May 27 to launch it into summer blockbuster season, and Elvis premiered on June 24.
The early release dates allowed each to grow in popularity, and most importantly, gave them a chance to get eyeballs on them for months. Getting these films into circulation at the library without a glut of competition was certainly an exciting change of pace. This spread also gives the casual movie viewer the ability to look at the nominations the morning they are announced and actually see titles they recognize. Revolutionary!
The 2023 Nominees
Unlike last year's Oscars, the biggest movie of 2022 was nominated in a plethora of categories. Top Gun: Maverick grossed more than $700 million domestically and was held from streaming until Christmas. Shocking how movies make money when they are exclusively available in theaters longer than 6 weeks, no?
Now, you may be thinking, "But Jess, what are your opinions about the Best Picture nominees?" I'm sure you're thinking that, right? Well, don't let me keep you from these hot takes.
---
I avoided it for a while due to its long runtime and challenging subject matter (World War I), but I must admit All Quiet on the Western Front is one of the best war movies I've ever seen. The cinematography is crisp and grim. The production design and makeup create an immersive atmosphere. The sound design is hyper-realistic, but the score is a mix of classic and futuristic, seemingly out of place in its 1917 setting yet perfectly foreboding. Film tends to romanticize war, and some reviewers feel this adaptation did not stay faithful enough to its source material. Famously, it's been said any movie about war is unable to truly be antiwar because film naturally glorifies combat and camaraderie. I disagree. How can camaraderie be glorified when all of your friends are dead?
---
My thoughts on Avatar: The Way of Water are short and not so sweet. I am not a fan of underwater film, nor am I a fan of movies more than 3 hours long. If World War I could be summed up in 2 1/2 hours, Pandora can too.
---
The Banshees of Inisherin is a movie made for me. Full of dry comedy and big questions answered through brash and violent actions, Banshees will leave you wanting to give Colin Farrell and Kerry Condon big hugs and heavy gold statues. Martin McDonagh is one of the best screenwriters working today—fitting he's in a relationship with Phoebe Waller-Bridge, whose writing is just as biting and arguably more exciting. I could see readers enjoying this movie since it unfolds like a book come to life. If nothing else, watch it to give Jenny the donkey her due praise.
---
Unlike the previous director, Baz Luhrmann does not make movies for me. Elvis is a glitzy character study of an American icon told through the eyes of a poorly outfitted Tom Hanks. Austin Butler gives a great performance, but he needs to find his own voice again. Literally. And for the love of all that is Hollywood, please stop putting thin actors in fat suits and calling it a "transformation." Better yet, let's stop making fat suits. There are plenty of fat actors. HIRE THEM. Unless maybe you're afraid your movie is offensive and insensitive to the very people you're trying (and failing) to portray? Think on it.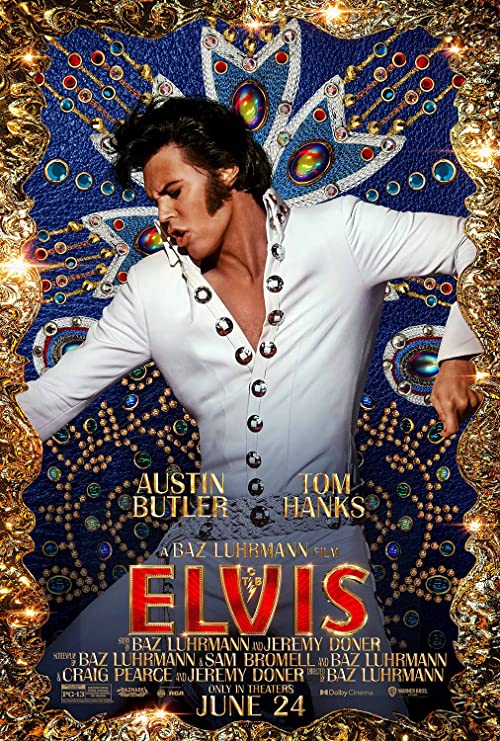 ---
Leave it to The Daniels (Daniel Kwan and Daniel Scheinert) to make one of the most affecting mother-daughter relationship movies with an unexpected star turn from none other than plastic googly eyes. Everything Everywhere All at Once takes the multiverse and makes it personal. Every decision you've made, from the smallest to the largest, has changed the trajectory of your life. But seeing Michelle Yeoh explore those lives isn't even the best part; it's watching her try to understand the mental abyss her daughter, played by the magnetic Stephanie Hsu, is sinking into and desperately try to pull her back before she loses herself to the everything. Jobu Tupaki isn't a villain. She's a Millennial.
---
Steven Spielberg's The Fabelmans is perfectly fine. Michelle Williams is great as always, and independent cinema darling Paul Dano proved he can be both a sad father and The Riddler all in one year. Ultimately, this one might be more aptly named The Boringmans. Sorry, Steven.
---
Now that we're on the negative train, it's important we save a seat for Tár. Critics are in love with this movie, and the only negative reviews I've seen were on Letterboxd. Apparently, the anti-Tár-heads are a quiet but invested group, because the majority of my Letterboxd followers can be directly attributed to my excoriating of this movie. I tried to like it, I truly did. I even tried to defend it initially just to spite the group of people behind me in the theater who couldn't follow along to save their lives. But a reverse #MeToo story where all of the attention is on the abuser is just not where it's at for me. There's only one good part in this movie, and it doesn't happen until well over 2 hours in. Your time would be better spent watching paint dry.
---
What can be said that hasn't already been said about Top Gun: Maverick? My college history papers decrying the military industrial complex are probably launching themselves into my recycle bin at the sight of my eyes lighting up at fast planes flying upside down and beach volleyball sunset montages. Also, the scene where Tom Cruise flies the plane expertly and shows everybody how great he is after all these years? For just one moment, I forgot he was a Scientologist. What a feat.
---
I have not yet watched Triangle of Sadness, although I intend to. I've been putting it off since it has a scene of animal cruelty and is yet another depiction of the ills of wealth and privilege. I have Succession for that.
---
Last but in no way least is Women Talking. And boy do they. I'd watch them do it for many more hours without hesitation. Claire Foy should have been nominated for Best Supporting Actress over Jamie Lee Curtis. Her tirades made me brim with tears of pride. Although it's a rare recommendation, I say skip the book and watch the movie. It's better on every front.
We Want People to Watch Movies, Right?
If a movie is released and no one is there to watch it, was it even released at all?
The Oscars are highlighting under-the-radar films alongside blockbusters this year, and thankfully, most are available on streaming platforms or on DVD/Blu-ray. The downside of this is that the streaming platforms most represented are the most expensive: HBO Max, Paramount+, and Showtime. Rentals via Video on Demand (VOD) are helpful and yet still too expensive.
Far be it for this Millennial to become a "back in my day" person, but with few video stores still in business, especially in small towns and rural areas where reliable high-speed internet can already be tough to come by, a movie rental was never more than $3.99, and I could watch it as many times as I wanted until I had to trudge back to the store drop box right before the deadline. Now, digital rentals, some of which only allow you to watch the movie once and cut off strictly at the deadline, even if you're mid-movie, are typically $5.99. I appreciate that this price is still cheaper than going to the theater. But at least at my local theater, I'm also supporting a small business with comfy seats and snacks.
Is Hollywood and its related companies pricing people out of entertainment? If the price is higher and fewer people watch it, you'll probably still make money, although not as many people get the chance to see your movie. Entertainment is a business that operates at the cost of its art.
Thankfully, public libraries are still here to help fill the void, as long as movies continue being released on DVD. CODA, the 2022 Best Picture winner, still hasn't had a DVD release. In an era when companies like Warner Bros. Discovery are pulling content from streaming platforms with impunity, who's to say these works will be available in the future? Where are the protections for cloud-based content and art? Not everything can be preserved, even when using physical mediums. But why are we so accepting of the idea that we don't need to hold it in our hands anymore? Maybe we've given up more than we realize.
A New Controversy
The purpose of the Oscars is purportedly to recognize high achievement, and that goal doesn't always jibe with the general public and their taste. I would argue the purpose of the Oscars is to bring attention to movies that otherwise may not be seen or discussed. And that is exactly what happened with Andrea Riseborough's Best Actress nomination this year.
Riseborough broke through with a nomination for her performance in To Leslie, a movie about an alcoholic mom from Texas who wins a modest lottery prize and spins out her life as a result. This movie made less than $30,000 before its title was read at the nomination ceremony. The campaign was investigated for its agents potentially breaking the Academy's campaign rules, which state you can promote yourself or your movie but not at the expense of others.
Riseborough's nomination will certainly not be rescinded, and this movie is getting the best version of the Oscar treatment—people are watching it! Without the Oscars, To Leslie would not have even been a blip on my radar. Yet, here I am, still thinking about it long after the credits rolled and convinced that Riseborough is actually the best of the category.
Closing Recommendations
There is definitely not a dearth of interesting things to watch in the run-up to the 95th Academy Awards on March 12. To wrap up, I'd like to highlight some other great things I've seen that I think you should too.
This year's slate of short films is great, and most of them are available now. The Martha Mitchell Effect could have easily been a full documentary about Mitchell's role in the exposure of Watergate and the historical gaslighting of women adjacent to power. Ice Merchants is an animated short that made me teary in less than 15 minutes just with its use of color. Intrigued by Riz Ahmed saying My Year of Dicks on national television the morning of the nomination announcements? Same. It's worth the watch.
If you're into animated movies, both Guillermo del Toro's Pinocchio and Puss in Boots: The Last Wish are great; Pinocchio in particular for del Toro's commitment to making this movie in stop motion and highlighting the talented and steadfast artists whose work comes to life through the wooden boy.
Want to celebrate some snubs? Check out The Menu, which will probably sit better on your palate than other wealth-indicting fare. Cha Cha Real Smooth will introduce you to Cooper Raiff, a name we are likely to keep hearing among the youngest generation of filmmakers. And last but certainly not least is Bones and All, the art of my heart. It's gross and beautiful, and film masters' theses will be written for years to come about all the meanings Luca Guadagnino finessed into this incredibly weird and moving story. Snacking while watching is discouraged.
A Finale Ode
For my whole life living in a rural area, there have been two theaters available to me that require less than an hour of driving to get to. The smaller theater, one with five screens and popcorn so buttery it once leaked through the bag onto my unsuspecting pant leg, closed in January this year. I've stood in long lines there for the latest Marvel release, and I've sat totally alone in empty theater number three enjoying the air conditioning during the previews before a summer release apparently no one but I wanted to see. I've snacked in the dark with the sound blaring while the high school-age employee changed the burnt-out projector bulb. I can sing the theater jingle by heart. But no more.
The closing of this theater in which so many of my fondest memories reside creates in me a sense of strange transition. Without the movies, I now have no reason to travel to the town where that theater lived. I'll travel to a different place, make different memories. But what about the people who now have no theater option because they have no transportation or cannot afford to go elsewhere? Once again, some people are left behind.
I want everyone to have the opportunity to indulge in and form opinions about movies the way I do. I want every person who desires it to have the ability to see F-18 Super Hornets fly into the sunset on a giant screen while Kenny Loggins sings about the danger zone. But since I can't give them that, I will always endeavor to bring it to them on the small screen with an excited heart and a library card.
Movie poster source: IMDb
---
Jess Hilburn's Guide to Every Feature Film, Documentary, Animated, International, and Short Nominated in Any Category at the 95th Oscars
(as of Feb. 1, 2023; possibly subject to change before March 12, 2023)
⊕ = has seen it
× = will not see it
? = will see if becomes available in U.S.
Empty box = intends to see it
FF = feature film; SF = short film; D = documentary; DS = documentary short; I = international film; AF = animated film; AS = animated short
| Movie Title | Where It's Available | Has Jess Seen It? |
| --- | --- | --- |
| All Quiet on the Western Front (FF, I) | Netflix | ⊕ |
| Avatar: The Way of Water (FF) | Theaters Only (Disney+ eventually) | × |
| The Banshees of Inisherin (FF) | HBO Max | ⊕ |
| Elvis (FF) | HBO Max | ⊕ |
| Everything Everywhere All at Once (FF) | Showtime | ⊕ |
| The Fabelmans (FF) | Video on Demand | ⊕ |
| Tár (FF) | Peacock | ⊕ |
| Top Gun: Maverick (FF) | Paramount+ | ⊕ |
| Triangle of Sadness (FF) | Video on Demand | |
| Women Talking (FF) | Theaters Only (possibly Prime Video eventually) | ⊕ |
| Aftersun (FF) | Video on Demand (Showtime eventually) | |
| Living (FF) | Theaters Only (Netflix eventually) | |
| Blonde (FF) | Netflix | × |
| To Leslie (FF) | Video on Demand | ⊕ |
| The Whale (FF) | Theaters Only | × |
| Causeway (FF) | Apple TV+ | ⊕ |
| Black Panther: Wakanda Forever (FF) | Disney+ | ⊕ |
| Glass Onion: A Knives Out Mystery (FF) | Netflix | ⊕ |
| Bardo (FF) | Netflix | × |
| Empire of Light (FF) | HBO Max on Feb. 7 | |
| Babylon (FF) | Theaters Only (Paramount+ eventually) | × |
| The Batman (FF) | HBO Max | ⊕ |
| Mrs. Harris Goes to Paris (FF) | Peacock | |
| All That Breathes (D) | HBO Max on Feb. 7 | |
| All the Beauty and the Bloodshed (D) | Unavailable | |
| Fire of Love (D) | Disney+ | |
| A House Made of Splinters (D) | Unavailable in U.S. | |
| Navalny (D) | HBO Max | |
| The Elephant Whisperers (DS) | Netflix | |
| Haulout (DS) | YouTube | × |
| How Do You Measure a Year? (DS) | Unavailable | ? |
| The Martha Mitchell Effect (DS) | Netflix | ⊕ |
| Stranger at the Gate (DS) | YouTube | ⊕ |
| Argentina, 1985 (I) | Prime Video | |
| Close (I) | Unavailable in U.S. | ? |
| EO (I) | Unavailable in U.S. | ? |
| The Quiet Girl (I) | Unavailable in U.S. | ? |
| Guillermo del Toro's Pinocchio (AF) | Netflix | ⊕ |
| Marcel the Shell With Shoes On (AF) | Video on Demand | ⊕ |
| Puss in Boots: The Last Wish (AF) | Theaters or Video on Demand | ⊕ |
| The Sea Beast (AF) | Netflix | |
| Turning Red (AF) | Disney+ | ⊕ |
| The Boy, the Mole, the Fox, and the Horse (AS) | Apple TV+ | ⊕ |
| The Flying Sailor (AS) | YouTube | ⊕ |
| Ice Merchants (AS) | YouTube | ⊕ |
| My Year of Dicks (AS) | Vimeo | ⊕ |
| An Ostrich Told Me the World Is Fake and I Think I Believe It (AS) | Unavailable | ? |
| An Irish Goodbye (SF) | Unavailable in U.S. | ? |
| Ivalu (SF) | Unavailable in U.S. | ? |
| Le Pupille (SF) | Disney+ | ⊕ |
| Night Ride (SF) | YouTube | ⊕ |
| The Red Suitcase (SF) | Unavailable in U.S. | ? |