If you want catch up with what's going on in the field of international scholarly communication, you can't do better than to attend the NISO (National Information Standards Organization) annual conference, NISO Plus. This year's event, held under one virtual roof from Feb. 14 to 16 (U.S. time), showcased the vibrant activity of the field—and ended with a warning.

Global Conversations, Global Connections

The 2023 conference lived up to the NISO Plus tagline used since 2021: Global Conversations, Global Connections. Members of the planning committee, as well as the 600 attendees, represented every continent except Antarctica. In his opening remarks, NISO executive director Todd Carpenter emphasized the link from conversations to connections, citing past and ongoing projects that have emerged from NISO meetings. Adding to the emphasis on facilitating communication and action, a new feature this year was the use of Google Docs to create a space for shared notes on program sessions.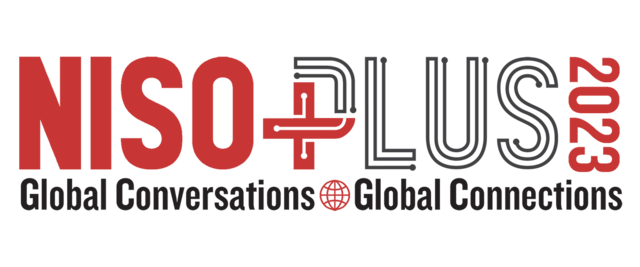 Plenary Sessions
The four plenary presentations also contributed to the emphasis on international participation.
Noted author and scholar David Weinberger led off the conference with a talk titled "Unanticipated Metadata in the Age of the Net & the Age of AI." He highlighted the essential roles of metadata in contemporary information systems and how metadata itself has changed. Traditionally, metadata has been viewed as distinct from data and was explicitly collected in anticipation of specific needs. However, in the age of AI, he continued, "everything is metadata," and the only distinction between data and metadata is the function it serves in a given context: Metadata is what you know, and data is what you're looking for.
The second day's plenary session began with NISO's annual awards ceremony. The Ann Marie Cunningham Service Award was presented to Robert Wheeler of the American Society of Mechanical Engineers (ASME), and the NISO Honorary Fellow award went to longtime staff member Jill O'Neill. These were followed by the recognition of the 2023 cohort of student scholarship winners and then the annual Miles Conrad Lecture. This year's lecturer was MacArthur Foundation Fellow Safiya Umoja Noble, a faculty member at UCLA and author of the book Algorithms of Oppression, in which she analyzes the promotion of racist and sexist content in Google search results. Her lecture, titled "Decolonizing Standards: A Provocation," encompassed the need to remake all aspects of the global information system, increase equity, pay attention to the now-unheard voices of those being harmed by dominant social and economic structures, and rethink the assumptions on which our systems are based. (Watch for NewsBreaks' interview with Noble, to be published in the near future.)
The third day's opening keynote was delivered by Caleb Kibet, a bioinformatician and faculty member at Pwani University in Kenya. His talk, "Unlocking Open Science in Africa: Mentorship and Grassroot Community Building," described barriers experienced by African scientists in both accessing scholarly content (paywalls) and contributing to it (lack of access to the scholarly editorial, publishing, and indexing system). He described efforts to increase the global visibility of African research and noted dramatic growth in African science, which has led to expanded publication, especially in open science journals.
It fell to Yukio Harayama, co-chair of the board of directors for the Japanese Association for the Advancement of Science, to deliver an important warning in her closing keynote. Speaking at 9:00 p.m. U.S. Eastern time on Feb. 16, or 11 a.m. local time on Feb. 17 in Japan, she began by reviewing the history of scientific communication over the past several decades. Harayama, who has held executive positions in the Japanese government and the Organisation for Economic Co-operation and Development (OECD), tracked the transition of scientific research from individual to organized and collective—a transition to openness and global cooperation that has taken advantage of a favorable international political environment. Now, however, there are signs that that favorable environment is disintegrating. Politicians around the world are increasingly focused on asserting national sovereignty, including over data and technology. They are emphasizing economic security and national defense. As these concerns come to the fore, scholarly collaboration is threatened. Already, scholars and their institutions may be self-censoring. They may be discouraging collaboration and communication with scholars not residing in "like-minded" countries—or worse. Harayama concluded with a call for scholars to balance these emerging nationalistic trends with the ideals of open science, resist the threats with determination, and promote scholarship as a global public good.
Program Themes
A varied array of more than 30 program sessions completed the conference lineup. They included status updates on continuing projects, pitches for new ideas and startup initiatives, and assessments of the adoption and effects of, as well as possible changes to, established standards.
One theme that recurred in several sessions was diversity—or diversity, equity, inclusion, and accessibility (DEIA), as it's often expressed. Many of these presentations focused on increasing participation in the scholarly information ecosystem by underrepresented ethnic and linguistic communities in the Global South and around the world. Specific issues included the provision of multilingual and multicharacter set metadata, the adoption of OA and information standards in developing and non-English speaking countries, and adapting metadata practices for diverse communities, such as name changes for transgender people.
Presentations on Indigenous data and knowledge highlighted more fundamental questions about the nature of the prevailing system itself, expanding on Noble's keynote "provocation." Cindy Hohl, director of policy analysis and operational support at the Kansas City Public Library and a member of the Santee Sioux Nation, pointed out that some Indigenous communities restrict information. They may hold certain knowledge as sacred and not to be shared outside the community, believe it is only to be accessed during certain times of the year, or should be held exclusively by elders or other selected community members. Thus, sharing such information outside the culturally relevant context should not be permitted. She highlighted the Mukurtu platform, specifically developed to manage digital content in culturally appropriate contexts. In another presentation, Stephanie Russo Carroll from the University of Arizona discussed the development of CARE Principles for Indigenous Data Governance (Collective benefit, Authority to control, Responsibility, and Ethics) by the Global Indigenous Data Alliance, as well as an initiative to create an IEEE recommended practice in this area.
Conclusion
At one level, this year's NISO Plus conference showcased an organization that's actively progressing in a variety of initiatives to build a better-functioning, more equitable global scholarly information ecosystem. At another level, the conference surfaced three fundamental issues that could affect its work.
Two of them have already been mentioned in this NewsBreak. One is the looming shift in the global political and economic climate toward nationalism and away from internationalism, as articulated by Harayama. The second is the rethinking of the assumptions on which the current system rests in order to embrace Indigenous knowledge and the different values and practices for handling information embodied in the communities that have originated it, as described by Hohl and Carroll.
The third was less prominent, as it was more implied than addressed. It is the problem of the misuse of scholarly information. In a status update on the NISO CREC (Communication of Retractions, Removals, and Expressions of Concern) Working Group, co-chairperson Caitlin Bakker pointed out that despite efforts to identify retracted scholarly papers and papers containing errors, more than 50% of retractions are not indicated on the retracted paper itself. Moreover, retracted work continues to be used and cited. This point was not followed up on, but it's important. Erroneous scientific publications can have catastrophic results; for example, the movement opposing vaccines derives in large part from a single erroneous study. To what extent are efforts to reduce friction in the scholarly publication process exacerbating the problem?
These issues remain on the table, and others may arise as well, as NISO looks ahead to the fifth NISO Plus conference. That event is already scheduled for Feb. 12–15, 2024, and will no doubt provide another valuable opportunity to catch up with the world of scholarly communication.