Have you ever been asked to take part in a project for which you have to identify social media accounts or posts of interest? For example, you may be looking for profiles with enough clout to see if they may be candidates for partnership with your organization. Or you may be researching mentions of your organization and determining the number of positive, negative, and neutral posts. Let's take a look at several resources that can help you get on your way with your research project.

Ingramer

Ingramer is a way for marketers to "build target audience, engage with clients, and plan content." I found this tool to be very useful when tasked with Instagram research, and I think you'll be able to find some value in it as well. After signing up for a free account, the feature I thought to be the most helpful was User Search for Instagram. If you are tasked with finding profiles that fit a certain requirement, you can enter keywords that would identify the profiles—for example, "library" or "librarian." You can then limit the results by selecting the number of followers that the resulting Instagram accounts should have, the post amount, gender, and a category. The categories include personal blog, product/service, art/artist, and shopping & retail. Once you have your results, you can choose to add them to a list that you can name, save, and access from your personal account at another time. Here's a look at the list capability of Ingramer:
If you change your mind about including certain profiles, you can delete them from your list. If you need to download this information in CSV or XLS format, you will have to upgrade from the free account and become a premium subscriber.
Google Social Search
Identifying itself as the "Top Social Networks Search Results Dashboard," the Google Social Search tool allows users to search some of the leading social media sites, including Twitter, Facebook, Instagram, TikTok, LinkedIn, and Pinterest. For example, let's say you are particularly interested in a Twitter user's tweets. You can type in their username and check the Twitter box. Once you do this, you can pull up past tweets from that account. Here is a screenshot of Google Social Search: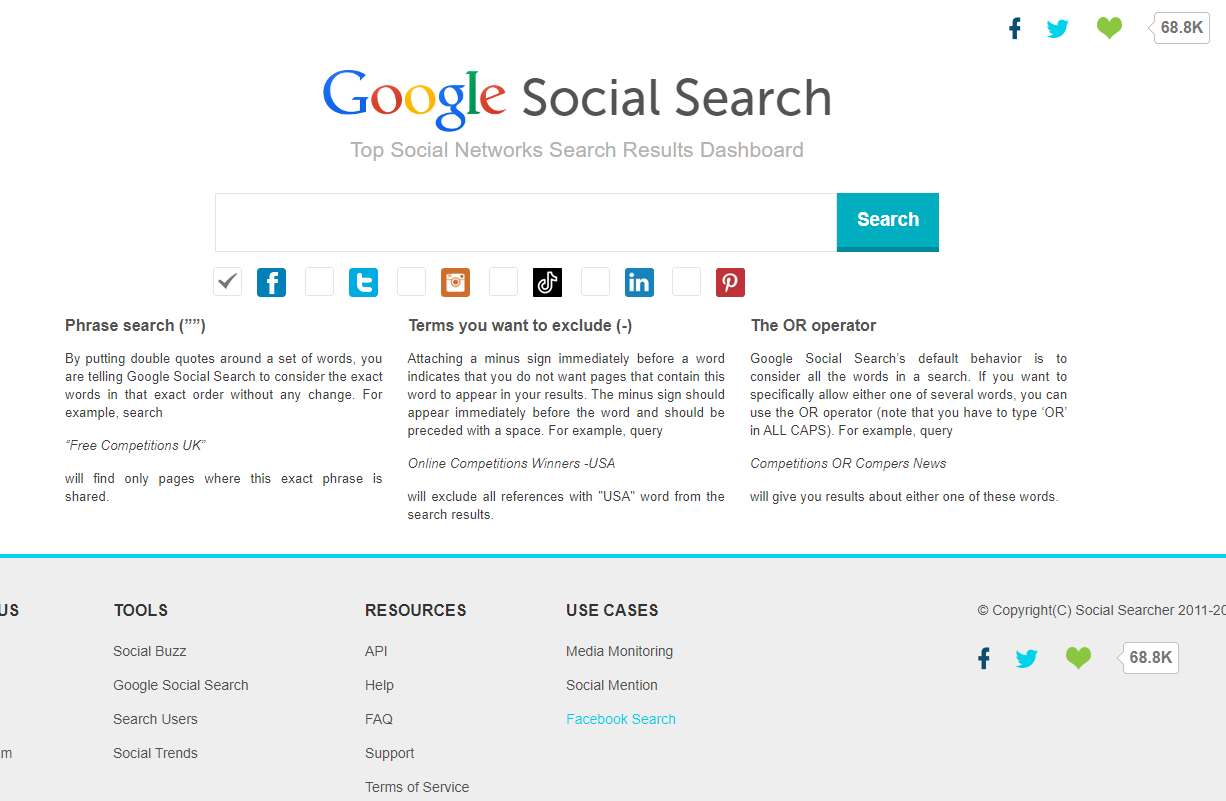 Look at the bottom half of the Google Social Search page, because you will find other tools: Social Buzz, Search Users, and Social Trends. While trying Social Buzz, I input "librarian" and was able to find the number of mentions of the keyword, the number of users that had mentioned the keyword, and sentiment analysis. Upon clicking on Detailed Statistics, I was provided with a post timeline, posts by social network, posts by weekday and hour, etc. Here's what starting a search looks like with Social Buzz:
Here's a view of the detailed information page:
According to the description of Search Users, this tool provides you with the opportunity to search social accounts by name or surname on sites such as Facebook, LinkedIn, and Vimeo. Upon conducting a search, I was able to export the results as a CSV file. Then, I investigated the Social Trends tool, which helps users discover "top social posts, statuses, photos and videos" from sites such as Twitter, Instagram, and YouTube. I was able to export the results displayed on the screen into a CSV file, but a premium account was required to load more. Here are search results for my own name:
You'll find it well worth your time to check out these social media search tools to see if one or more of them might be something you can use in your own social media research or recommend to others in your organization.