This article was originally posted on Feb. 5, 2019.
The biggest night of the year for movies is coming up on Feb. 24, 2019, when the Academy of Motion Picture Arts and Sciences will honor what it has decided are 2018's best films.
The #OscarsSoWhite controversy began in 2015, and by the following year, the Academy's then president Cheryl Boone Isaacs had pledged to double the number of members who are women and people of color by 2020. In June 2018, NPR reported that "the Oscar-granting body has invited a record number of 928 new members, making the 2018 class the largest in history. … Should everyone who has been invited actually agree to join, it would raise overall female membership from 28 percent to 31 percent, while non-white participation would inch up from 13 percent to 16 percent." Can the Academy live up to its 2020 goal?
And has its new crop of members done a better job this year of choosing diverse nominees? The current front-runner for Best Actor is Rami Malek, whose family is Egyptian, and a Best Actress nod went to Yalitza Aparicio, who is an indigenous Mexican woman. Five of the eight Best Picture nominees feature people of color in prominent roles. And The Hollywood Reporter says, "GLAAD president Sarah Kate Ellis noted that more than half of the best picture nominees—including A Star Is Born, Bohemian Rhapsody, Green Book, The Favourite and Vice—involve LGBTQ themes and narratives."
Tony Hahn, web services manager at Des Plaines Public Library in Illinois, says, "This year's nominations seem to help challenge mainstream narratives by giving us more vivid perspectives to consider." Danielle Aloia, collection management librarian at the New York Medical College's Health Sciences Library, says that the Academy "is getting better at recognizing and appreciating diversity in this year's nominations, but they still leave much to be desired. The movie nominations represent the cultural and societal forces that push boundaries: suicide, addiction, and racism. Unfortunately, the actors nominated this year do not represent this move forward. There's not much diversity in this group. I think they have played it safe."
However, says Scott Handville, assistant director of Gardiner Public Library in Maine, "In almost every [award] category there is a person of color or a film focused on people of color. This may not signal a constant change in Hollywood's focus, but may be just Hollywood trying to catch up with the #OscarsSoWhite controversy. … Time will tell."
Heather McCartin, adult information specialist at Monticello and De Soto Libraries, part of Johnson County Libraries in Kansas, feels that the Academy "has taken note of previous backlash due to lack of diversity in past award seasons. This year, the Academy has recognized diversity in directing; Spike Lee has received his first Academy nod for directing in BlacKkKlansman. If he wins, he will be the first African-American to win the Oscar for Best Director. This year also sees Alfonso Cuarón with the opportunity to win another Oscar for directing with Roma."
Jessica Hilburn, historian at Benson Memorial Library in Pennsylvania, says, "While there are some 'diverse' films nominated, half of those that feature people of color have racism as the driving plotline (BlacKkKlansman and Green Book). Why must non-white lives be painted as so one-dimensional? How many times must we complain that women directors, of which there are many, are ignored in favor of their male counterparts?"
Slaven Lee, who has 20-plus years of experience in libraries and is currently doing operations consulting, says that "Green Book and BlacKkKlansman are two films that have received a great deal of criticism for glorifying problematic tropes: white saviors and taking creative liberties with 'true stories,' among other things."
Snubs
Hilburn has strong feelings about a couple of movies that missed out on nominations: "Beautiful Boy was an Amazon release that was based off the memoirs of its two main characters. … The film deals with drug addiction in an emotionally raw way that will resonate with many people in this country and was the second biggest snub of the season for me. The biggest snub by far was Crazy Rich Asians. [It] not only featured people of color, but celebrated them in a story that had nothing to do with racism."
Cecilia Cygnar, adult program coordinator at Niles-Maine District Library in Illinois, is asking similar questions: "Why was Adam Driver nominated for Best Supporting Actor but John David Washington not nominated for Best Actor for the same movie, BlacKkKlansman? Why was If Beale Street Could Talk left out in the cold in most major categories, getting only Best Supporting Actress and Best Adapted Screenplay nominations?"
Lee mentions Crazy Rich Asians, Widows, and Blindspotting as movies that should have been nominated.
What's Nominated
"This year's nominees feature a blend of popular blockbusters (Black Panther, A Star is Born, Bohemian Rhapsody), mid-level blockbusters (Vice, Green Book, BlacKkKlansman), and artistic films (Roma, The Favourite)," says McCartin. "This year's nominations also recognize the fact that film audiences are able to access films in a variety of ways; through streaming (Netflix's Roma), small releases (The Favourite), and wide releases (Black Panther, A Star is Born). The majority of the films are based on actual events or people (with the main exceptions being Black Panther and A Star is Born). The films may play with the truth and add or [subtract] details for the sake of the story, but there is a clear historical element that is present. Bohemian Rhapsody and Vice are biopics on individuals, while Green Book, BlacKkKlansman, The Favourite, and Roma are based on time periods and events."
Cygnar points out how different each movie is: "From the dark, political satire of Vice to the racial satire of BlacKkKlansman to another type of satire entirely with The Favourite to a drama/comedy about race relations with Green Book. Then, on the serious side, the highly powerful Roma, a black-and-white tale about a maid in 1970s Mexico City is up against a superhero movie, Marvel's Black Panther, which is everything that Roma is not. Lastly, there are two musicals which could not be more different if they tried: a tried-and-true classic story of love and fame with A Star is Born and a wild, exhilarated musical ride with Bohemian Rhapsody."
"There's no denying that the Academy Awards drive theatrical demand for more diverse, challenging, complex films. The Oscars set the tone for this type of film experience," says Charles Cobine, cinema and media studies librarian at the University of Pennsylvania. "When blockbuster films that have already seen box office success are included in the ceremony and go up against lesser known films that audiences have not yet discovered, some critics would claim that it throws many of the award categories out of balance. This continues to be the enduring controversy. Is the award an achievement or an opportunity to make a statement about the zeitgeist, recognize a socially significant moment in cultural history, and offer recognition to historically overlooked talents and achievements?" The Academy "has to take into account that there is an expectation that they will nominate films that qualify as groundbreaking and innovative in their subject matter, adventurous in their production, or which feature inspiring technological achievements."
Let's take a look at various reviews of and reactions to each Best Picture nominee. All synopses are from oscar.go.com; posters are from imdb.com.
---
Black Panther
After the death of his father, Prince T'Challa returns to his African homeland of Wakanda, which has hidden its wealth and advanced technology for generations. T'Challa assumes his father's throne and must also accept his mantle as the superhero Black Panther to protect Wakanda from numerous enemies intent on pillaging its resources.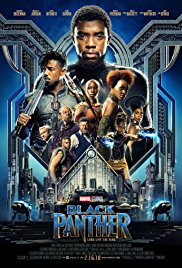 Variety's Ramin Setoodeh writes that Black Panther, "directed by Ryan Coogler, is a movie that doubles as a movement, or at least a moment that feels groundbreaking. … [It] marks the first time that a major studio has greenlit a black superhero movie with an African-American director and a primarily black cast. …"
"The nomination of 'Black Panther,' the biggest [box office hit] of them all, is entirely justified on artistic grounds," writes The New Yorker's Richard Brody. The Hollywood Reporter's Todd McCarthy notes that "Marvel takes its superheroes into a domain they've never inhabited before and is all the better for it in Black Panther."
Kyle Smith at National Review liked the movie too. He says it has "a jovial wit and … a fast pace" and its villain is "brilliantly realized." He writes, "Black Panther takes the side of sober, wise elites patiently enacting incremental change rather than of charismatic mob leaders fanning the flames of rage and revolution. Its most compelling character may be an analogue to Malcolm X, but it's very much a Martin Luther King Jr. kind of film."
Katherine Moody, a librarian from Christchurch, New Zealand, is glad to see the movie nominated: "I just loved seeing a film that came from a range of different perspectives and had a really interesting storyline."
Cobine says that "Black Panther straddles several box office categories that make it an unusual choice [for Best Picture]: a superhero and comic book film, a blockbuster, and an empowering African-American milestone of a movie. It has amazing art and an Afrocentrism unlike any film that has been in the running in recent years, but there have been films similar to it in terms of arts and effects in recent years that probably would not have received a nomination. I think its inclusion is an indication of the rising cultural currency of a nomination."
Hilburn makes the point that the nomination "feels like pandering. The Academy made sure to tell us what they really thought of the movie by not nominating any of the actors for individual awards, basically tanking its chances."
McCartin says, "An excellent film that gave a voice to diverse characters, it may not win Best Picture, but it has legitimized the superhero movie genre for many viewers."
---
BlacKkKlansman
In the early 1970s, Ron Stallworth becomes the first African-American officer in the Colorado Springs Police Department. Hoping to distinguish himself, Stallworth organizes an investigation into the local chapter of the KKK, recruiting Jewish officer Flip Zimmerman to go undercover and infiltrate the hatemongering organization.
The movie's nomination is "a pleasant surprise," writes Richard Brody for The New Yorker. "Spike Lee's film is less a depiction of a historical event than a counterfactual history of grievous omissions—a story about the sorts of things that law enforcement and government could and should have been doing in recent decades, things that, if they had been done, might well have prevented the rise of the racist radical right to the White House."
National Review's Kyle Smith has a different take: "The movie is a typical Spike Lee joint: A thin story is told in painfully didactic style and runs on far too long. … If the point is made, he keeps making it. If the plot tends toward inertia, that's just Lee saying, 'Don't get distracted by the story, pay attention to the message I'm sending.'" In another National Review article, Armond White calls the movie "a poor detective tale and simple-minded Millennial noir. … Only poorly tutored Millennial film students will swallow this bilge."
The Hollywood Reporter's Todd McCarthy sees the movie as "boisterously exaggerated"—"BlacKkKlansman is certainly Spike Lee's most flat-out entertaining film in quite a long time, as well as his most commercial." However, he admits that "Lee crosses the line between seriousness and near-slapstick countless times. … Keeping it all credible is another issue, and one can feel the sometimes wobbly tone and credulity-straining contributions of the … screenwriters crashing into one another as Lee attempts to establish a consistency while continuing to fire his broadsides again the Klan specifically and racial injustice generally."
Slaven Lee points out that Boots Riley, director of Sorry to Bother You—which was "sadly not nominated"—said about BlacKkKlansman: "For Spike to come out with a movie where story points are fabricated in order to make a black cop and his counterparts look like allies in the fight against racism is really disappointing, to put it very mildly."
---
Bohemian Rhapsody
As he seeks to fulfill his dream of becoming a famous singer, art student Freddie rebels against his traditional Parsi family and joins the band that will become Queen. Adopting the surname Mercury, Freddie becomes a superstar as he and his bandmates create the exuberant music that electrifies audiences in the 1970s and 1980s.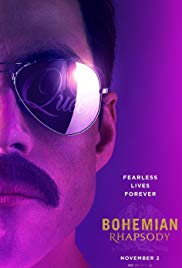 Armond White writes in National Review, "The film goes for kitsch and ignores everything interesting about Freddie Mercury. … Bohemian Rhapsody hands us the puzzle of Mercury's showbiz persona but shies away from insight about the man born Farrokh Bulsara. … His ethnicity and sexuality should be more than simple tokens of diversity."
Moody says, "I don't think Bohemian Rhapsody is the greatest film, but I love how Freddie Mercury's story is really resonating with people."
Sheri Linden writes for The Hollywood Reporter that the movie is a "conventional, PG-13 portrait of an unconventional band." It balances "the tale's darker facets" with the "sweet and upbeat" aspects of the story. "[T]his is a biopic that favors sensory experience over exposition. It understands what pure, electrifying fun rock 'n' roll can be," she notes. "The rough edges of Freddie Mercury's story might be smoothed over in this telling, the indulgences and debauchery sugarcoated. … But, caught in a landslide of dispiriting headlines, at a moment when connection, curiosity and openheartedness feel like endangered species, the lingering exhilaration of that [final] concert scene is pretty darn magnifico."
Lee says, "I'm kind of shocked at how well Bohemian Rhapsody is doing at award shows and regarding Oscar nominations. And I can't believe [director] Bryan Singer got to make another movie, especially during a year known by the #MeToo movement."
---
The Favourite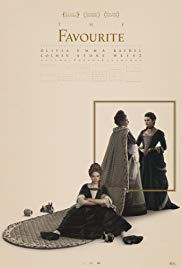 In the early 1700s, Queen Anne, in poor health and emotionally unstable, allows her most trusted confidante, Lady Sarah, to act as the de facto ruler of Great Britain during its war with France. Sarah's control slips, however, when her cousin Abigail arrives at court and charms the queen.
David Rooney calls The Favourite a "wicked delight" and a "fabulously entertaining tragicomedy" in The Hollywood Reporter. The main characters are "played by a divine trio that bounces off one another with obvious relish. … Without a trace of didactic protofeminism, their roles speak volumes about the savvy required of women to use their influence in a bitterly divided political landscape, not to mention pursue their personal agendas."
National Review's Kyle Smith writes that director Yorgos Lanthimos "is not only a prodigious talent but a strikingly original one"—The Favourite is "bizarre" and "merely a revenge comedy," yet "an amusing revisionist take on history." He praises the script as "a delightful war of wits" and the performances as "top-notch."
Lee agrees: "The Favourite is queer and equally about the three complicated women who star in it." And Moody says, "I love that a stylized film about a slightly obscure time in history has done so well. Women that we don't know a lot about [are] taking center stage and being complex characters."
---
Green Book
Dr. Donald Shirley, an accomplished concert pianist, hires Italian-American bouncer Tony Lip to drive him during his 1962 tour of the South as protection against the racism that he, as an African American, is certain to encounter. Despite their differences, Dr. Shirley and Tony discover that they enjoy spending time together and have much to learn from each other.
National Review's Kyle Smith notes that Green Book "combines Hallmark Channel-style humor with a homily about racial tolerance carefully designed to appeal to awards-show voters, to whom no message movie can be too blunt as long as it is sending one of the five or so messages of which the Academy of Motion Picture Arts and Sciences never tires (boo racism, yay showbiz)." Additionally, he writes, "[T]his is a movie that wags its finger about prejudice while depicting Italian-Americans as walking meatballs. The point of tolerance, liberals sometimes seem to forget, is not to swing the cannons of derision around and fire broadsides at some other disfavored group."
The New Yorker's Richard Brody writes that Green Book "is an utterly ignominious nomination, replicating the racially condescending sentiments that brought 'Driving Miss Daisy' to the podium twenty-nine years ago." The Hollywood Reporter's Todd McCarthy agrees that it isn't breaking any new ground, writing, "Arriving in the wake of any number of edgy cinematic takes on racial issues, this [movie] represents a very middle-of-the-road liberal approach to a story that pretty much could have been told anytime since the 1960s. Distinctive and amusing turns by Viggo Mortensen and Mahershala Ali make Peter Farrelly's first solo feature outing a lively and likable diversion."
In contrast to Smith, McCarthy notes that Mortensen's Italian-American accent is "perfect" and that he has "beautifully sunk himself into the role of a capable, don't-mess-with-me wise guy."
"I think this year's Best Picture nominees aren't offering the gripping, life-altering, or life-affirming experiences that we used to get in movies. These stories are lacking heart," says Aloia. "Bohemian Rhapsody and Green Book have been called out for their lack of honesty and integrity of storytelling. Green Book neglected to contact the living relatives to corroborate the story," she notes—which may hurt its Oscar chances.
---
Roma
In Mexico City in the early 1970s, Cleo is a maid in the household of a middle-class doctor. She takes on increasing responsibility caring for the family's four children during a time of personal and political upheaval.
The Hollywood Reporter's Todd McCarthy writes, "Blessed with an exceptionally acute sensitivity to the things of life, Roma is a memory film of unusual beauty that pushes to the foreground what is commonly left in the background. Alfonso Cuarón's long-aborning, autobiographically inspired drama impressionistically re-creates the titular Mexico City neighborhood. … An immersive bath in some of the most luxuriantly beautiful black-and-white images you've ever seen, this is the work of a great filmmaker who exhibits absolute control and confidence in what he's doing."
Kyle Smith at National Review writes, "Roma is very much a critics' picture, slow to develop and so subtle. …" When the main characters are both abandoned by men, "here the most salient of several themes … clicks into place, the one that is going to most deeply impress Oscar voters: These women (and to a lesser extent the kids) are victims of perfidious, violent, toxic masculinity."
Deadline Hollywood writer Michael Cieply predicts, "In the heat of a border battle, [the Academy] can easily signal virtue by endorsing a film … about the travails of a Mexican maid and the family for whom she works." Richard Brody echoes this in The New Yorker: "[T]he first Netflix movie to earn a Best Picture nomination … gives Hollywood a chance to pay homage to domestic workers without actually having to listen to what they have to say."
"I do love it when films take chances," says Cygnar. "Here's a director who could pretty much make any film he wants. And what does he do following his Oscar win [for Gravity]? He makes a film set in his native Mexico, in Spanish, in black and white, telling the story of a housekeeper to a middle-class family. Sometimes it's nice to be reminded that Hollywood is not only about green screens and car chases and explosions. Sometimes we need an unmarried, pregnant Mexican maid to remind us that Hollywood is about all kinds of filmmaking."
Moody agrees: "Are we seeing a creeping acknowledgement that a white, western, English-language point of view isn't the default?"
"I think the Best Picture should always be a reflection of the times," says Justin Hoenke, director of Benson Memorial Library in Pennsylvania. "Netflix is the wave of the future as far as entertainment goes. This film [earning a nomination] clearly shows the shift happening."
Hilburn agrees: "Netflix and Amazon Prime offer visually stunning, impeccably acted original series and films that are finally getting their due," she says. "The Academy has been reluctant to recognize these films because of their nontraditional release, and many theaters have flat-out refused to show them. The internet is no longer in its infancy. The train is leaving the station, and the Academy can either take a seat or wave as it leaves them behind."
Cobine notes that Roma's "release by Netflix and its inclusion in the category is incredibly problematic to vast segments of the motion picture industry. There is no doubt that it is a resonant story, beautifully made, and the fact that it is a Mexican film set in Mexico is all the more surprising that it is included in the Best Picture category. It's fascinating that there is a possibility that a non-American film could be nominated and even possibly win Best Picture for the first time in the history of the Oscars. If it wins, it will symbolize a rebuke to xenophobic American border policies and serve as a testament to the convergence of talent that is multi-national film production."
Roma brings up another important issue for Cobine: "Academic libraries already find it challenging to acquire films for their collections. It's alarming to think that some of the most celebrated films in the world will be left hanging in a sort of rights limbo in the years to come, as things currently stand. … As distributors of content, [Netflix, Amazon, and other] giant companies need to step forward and recognize that they have a role to play in cultural stewardship, not just access. We need a realistic solution for institutional access to films for educational use, and this year the Academy Awards, with the high-profile inclusion of Roma, makes that absolutely plain."
---
A Star Is Born
When rock star Jackson Maine meets struggling singer Ally, he is impressed by her talent and encourages her to perform her own material despite her insecurities. Ally's career quickly blossoms, as does her romance with Jack, although his alcoholism and ambivalence over her success jeopardize their relationship.
National Review's Kyle Smith calls the movie "amazingly shallow, trite, and soapy" (and that is presumably not a pun on Best Original Song nominee "Shallow"). Smith does note that Lady Gaga's performance is "stellar," but that the character's "arc is simplistic" and "a thing of cliché." Aloia says, "While A Star Is Born is an emotional rollercoaster, I just wasn't attached to these characters."
David Rooney writes in The Hollywood Reporter, "There's a lot to love in Bradley Cooper's entertaining remake of A Star is Born, including his convincing portrayal of a hard-drinking country rocker in some electrifying concert scenes. … The first-time director's grasp of pacing could be improved and the overlong movie can't quite sustain the energy and charm of its sensational start. But this is a durable tale of romance, heady fame and crushing tragedy, retold for a new generation with heart and grit." He acknowledges a missed opportunity in the movie's failure to explore "the constricting ways in which women are packaged for success in the music industry and the narrow reality of what sells in contemporary pop."
---
Vice
Dick Cheney rises from humble beginnings to the heights of politics, serving in cabinet positions, in the White House and in the House of Representatives, before becoming George W. Bush's vice president. While wielding unprecedented influence in his new role, Cheney seeks to be the power behind the throne.
Director Adam "McKay's movie is a classic case of Hollywoodsplaining, and it gratifies the industry's self-image in a variety of ways," writes The New Yorker's Richard Brody. "It reduces a history of ideology—a tale of people working to advance repugnant principles—to a criticism of those people for being unprincipled; it's a political movie for movie people who, when they hear the word 'politics,' think of office politics."
Kyle Smith writes for National Review that "the film is a spastic mess, an angry upchuck. … It fails on all grounds except one: Christian Bale really is something as Dick Cheney."
The Hollywood Reporter's Todd McCarthy liked it, calling the movie "scorchingly audacious." It has "merciless humor" and is "so buoyant, its general mood so exhilarating, that it rarely seems like it's resorting to cheap shots or gags for effect. It's the work of a great, mordant tragi-comedian, someone whose primary skills lie in humor but, as he's grown as an artist, has learned to plant his satiric skills in fertile dramatic soil."
Lee says, "Vice left me feeling emotionally manipulated, but maybe in a good way? I thought the performances would be over the top, but they were incredible and campy in a way that moved the story forward."
"I think Vice is a film with subject matter that is a bit out of sync with its time," says Cobine. "I don't know if it will receive kudos or see any immediate popularity right now, amid the fraught cultural moment we are experiencing, but it is a story that audiences, popular and academic alike, may very well be able to use to revisit to get a sense of the political and cultural climate in the 2000s."