Tuesday, November 12, 2019
Against Citation: A Librarian's Concern
by Woody Evans
Why cite your sources? Librarians have long advocated for good citation practices, and we have done so for very valid reasons. The lifecycle of knowledge generation and knowledge transfer depends on referencing the ideas that came before, responding to them, critiquing or supporting them, and acknowledging their roles in the evolution of new ideas. ... [But t]he conventions are there because they have served the efficiency of access, and they should remain there only to the degree that readers remain aided by them.
White Paper Explores AI and the Publishing Industry
Team WNIP (What's New in Publishing) writes on Medium about a new white paper, "The Future Impact of Artificial Intelligence on the Publishing Industry," which shares the results of a survey of 233 publishing industry CEOs, editors, and stakeholders from 17 countries.
ALA Condemns Blockage of Digital New York Times Subscription
ALA made a statement about "the decision by the Citrus County (Florida) Board of Commissioners to not allow the Citrus County libraries to buy a digital subscription to the New York Times after one commissioner labeled the Times as 'fake news.'"
Public Libraries as Community Leaders Creating Social Capital
Chris Cyr writes on OCLC's Next blog, "Libraries don't provide food, water, electricity, or medical services. … Why, then, [do] people so quickly turn to libraries after a disaster? Because of social capital."
GPO Makes Congressional Hearing Records Available Online
The U.S. Government Publishing Office (GPO) announced that it has digitized 1,300-plus congressional hearings dating from 1958. They are available on govinfo.
Mellon Foundation Backs Initiative to Support Media Literacy
The Andrew W. Mellon Foundation's blog post, "How the Humanities Can Bridge the Political Divide," discusses (Press)ed, a six-part podcast on The Public's Radio in Providence, R.I., that started in late 2018.
A Day in the Life of Five Librarians, Part 4
by Justin Hoenke
Justin Hoenke, team leader of Libraries and Community Spaces for the Wellington City Libraries in New Zealand, has been talking to all types of library staffers for A Day in the Life, his column in Information Today. Among other things, he asks them about their typical days, moments that made them proud, their current projects, and how they balance their library work with the rest of their lives. Here's a look at his columns from April 2019 to September 2019, which have been lightly edited and condensed for the web.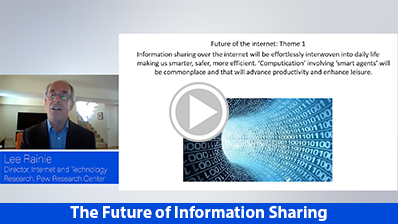 The Future of Information Sharing (3:59)
Lee Rainie, Director, Internet and Technology Research, Pew Research Center, projects the future of information sharing online and its social, cultural, and economic impact as foreseen by analysts and experts surveyed by Pew in this clip from his keynote at Data Summit Connect 2020.

CLOSED CAPTIONING IS AVAILABLE.
If you regularly read blogs, add these to your reader:
ITI Conference Blog – libconf.com – covering ITI's library conferences worldwide.
ILI365/InfoToday Europe Blog – infotoday.eu – news and ideas for, and by, innovative info pros from around the world, throughout the year.
Streaming Media Blog – www.streamingmedia.com/Articles/Blog – the go-to destination for opinion, analysis, and insights into the entire online video ecosystem, from glass to glass.