Tuesday, October 22, 2019
While Everyone Was Focused on the Moon, ARPANET Changed the World
by Terry Ballard
Fifty years ago, in October 1969, things were happening that would leave a lasting impression. ... One of those things was the creation of ARPANET, from the Advanced Research Projects Agency (ARPA). On Oct. 29, the first message was sent via the internet, from UCLA to Stanford. By spring 1970, the network had reached the East Coast.
The Harvard Crimson Shares Its Vision for the Modern Academic Library
The Harvard Crimson's editorial board published an editorial stating the following: "The advent of the digital age has transformed our relationships with our common spaces, and the way those common spaces are constructed. ... But the merits of updating libraries for the 21st century are questionable."
Diversifying Academic Library Collections
Jos Damen writes the following for the LSE (The London School of Economics and Political Science) Impact Blog: "Leiden University is strong in Asian and African studies and so its library therefore buys books from China, Indonesia, South Africa, Ethiopia and other countries. Yet more than 90 per cent of the library collection still originates from 'Northern' sources."
PragerU Takes Google to Court Over Restricted YouTube Videos
PragerU ... announced the following: "Lawyers will present opening oral arguments Friday, Oct. 25, in Prager University v. Google LLC before the Superior Court of the State of California in Santa Clara."
U.S. Copyright Office Issues New Fee Schedule and Analysis for Congressional Approval
Register of Copyrights Karyn A. Temple writes the following for the Library of Congress' Copyright: Creativity at Work blog: "[On Oct. 16], the Copyright Office delivered our Fee Schedule and Analysis to Congress. Every three to five years, the Office engages in an in-depth study of our fees to determine whether to adjust them."
An Argument Against the CASE Act
Katharine Trendacosta writes the following for Boing Boing: "Every year, for a couple of years now, Congress has debated passing some version of the Copyright Alternative in Small-Claims Enforcement Act (CASE Act). It's supposed to be the answer to artists' prayers: a quicker, cheaper way to deal with infringement than going to court."
Recent Pew Research Center Reports
by Brandi Scardilli
NewsBreaks often covers the latest surveys and reports from Pew Research Center, "a nonpartisan fact tank that informs the public about the issues, attitudes and trends shaping America and the world." Here are some of the latest reports from each of the eight topic sections.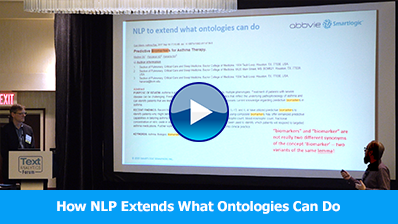 How NLP Extends What Ontologies Can Do (4:42)
AbbVie's Jon Stevens explains how natural-language processing makes ontologies more reflective of nuance in subject-specific language in this clip from Text Analytics Forum 2019.

CLOSED CAPTIONING IS AVAILABLE.
Web of Deceit
Edited by Anne P. Mintz


In this eye-opening follow-up to her popular 2002 book, Web of Deception, Anne P. Mintz brings together a team of expert researchers, journalists, and subject experts to explain how misinformation is intentionally spread and to illuminate the dangers in a range of critical areas.

Web of Deceit is a must-read for any internet user who wants to avoid being victimized by liars, thieves, and propagandists in the age of ubiquitous social media.

2012 | 224pp softbound | ISBN 978-0-910965-91-0
Regular Price: $29.95 | Web Orders: $26.95
If you regularly read blogs, add these to your reader:
ITI Conference Blog – libconf.com – covering ITI's library conferences worldwide.
ILI365/InfoToday Europe Blog – infotoday.eu – news and ideas for, and by, innovative info pros from around the world, throughout the year.
Streaming Media Blog – www.streamingmedia.com/Articles/Blog – the go-to destination for opinion, analysis, and insights into the entire online video ecosystem, from glass to glass.