The Front Lines of the Battle Against Fake News
by Dave Shumaker
In the past 2 years, fake news--with its grown-up synonyms, misinformation and disinformation--has emerged as one of the most critical issues confronting not only the information professions, but democratic society as a whole. It's the topic of conversation and pontification ad nauseam, so it may seem as if misinformation has become something that everybody talks about but nobody does anything about. MisinfoCon DC, held Aug. 6-7 at the Newseum in Washington, D.C., however, provided ample evidence to the contrary.
The Shifting Opinions on Blue-Light Screens
Rachel Becker writes on The Verge, "If you believe the headlines that have been circulating over the past few weeks, staring at screens is ruining our eyes. 'Blue light from phones, tablets could accelerate blindness and hurt vision, study finds,' USA Today declared. Only, that particular study didn't actually test the blue light that comes out of screens--and it didn't look at the light's effects on actual eyeballs."
SAGE Purchases Talis
SAGE acquired Talis, a tech company that offers Talis Aspire, an enterprise teaching and learning platform and resource list management system (RLMS). It helps academic librarians connect faculty members and students with library resources and make efficient purchasing decisions.
Thieme Creates Discovery Tool for Chemistry Researchers
Thieme launched SynOne, a discovery tool for synthetic chemistry methods. Scientific researchers can search for and browse selected publications from the Thieme Chemistry portfolio.
'How Unpaywall Is Transforming Open Science' by Holly Else
In an article in Nature, Holly Else notes that "firms that run established scientific search engines are starting to take advantage of Unpaywall."
Library of Congress Free Browser Extension Is in Beta
Flynn Shannon, a junior fellow in the Library of Congress' (LC) Office of Communications, writes in a guest post about creating a Chrome extension for free-to-use images from the LC.
Teaching Emerging Tech at NCSU Libraries
by Brandi Scardilli
Imagine that you notice a need for technical skills training at your university. You think that students, faculty members, and staffers should know how to interact with tools such as 3D printers and virtual reality, as well as understand topics such as data science and visualization, if they're going to be able to compete in our digital world. If this sounds familiar, check out what North Carolina State University Libraries (NCSU) is doing: It runs a program called Emerging Digital Information Skills Workshops to provide training on campus.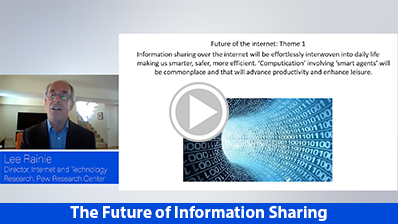 The Future of Information Sharing (3:59)
Lee Rainie, Director, Internet and Technology Research, Pew Research Center, projects the future of information sharing online and its social, cultural, and economic impact as foreseen by analysts and experts surveyed by Pew in this clip from his keynote at Data Summit Connect 2020.

CLOSED CAPTIONING IS AVAILABLE.
If you regularly read blogs, add these to your reader:
ITI Conference Blog – libconf.com – covering ITI's library conferences worldwide.
ILI365/InfoToday Europe Blog – infotoday.eu – news and ideas for, and by, innovative info pros from around the world, throughout the year.
Streaming Media Blog – www.streamingmedia.com/Articles/Blog – the go-to destination for opinion, analysis, and insights into the entire online video ecosystem, from glass to glass.