Tuesday, November 17, 2015
Facebook Launches TechPrep Website to Kick-Start Programming Careers for Minorities
by Cheryl Ann Peltier-Davis
On Oct. 21, 2015, Facebook launched a website called TechPrep to "help parents, guardians and learners explore programming, the jobs available to programmers and the skills required to become one." With support from research group McKinsey & Co., this rich resource hub serves up reference materials, tutorials, videos, games, and apps targeted to audiences of varying ages and programming experience.
SIIA Changes Division Name to Reflect Current Global Economy
The Software & Information Industry Association (SIIA) rebranded its joint ABM-Content and Information Services Division (CISD) as Connectiv, the Business Information Association. The new name comes from the idea that the state of today's global economy has fundamentally changed how business information companies and their customers make money, use information and data, and encourage employees to work and learn.
The British Library Plans to Digitize Indian Texts
The British Library (BL) announced Two Centuries of Indian Print, a pilot project for the major digitization program of its Indian books dating from 1714 to 1914. By digitizing these books, which are written in at least 22 South Asian languages, the BL will preserve the content of their fragile pages and make them widely available to a global audience.
CQ Press Publishes Civil War Compendium
CQ Press, an imprint of SAGE Publications, released A Guide to Intra-State Wars: An Examination of Civil, Regional, and Intercommunal Wars, 1816-2014. This book uses data to show how civil war is defined as well as how the number, severity, and location of and participation in nearly 300 civil wars have changed through the years.
TLC Highlights Newest Developments
The Library Corp. (TLC) introduced enhancements to its Library-Solution, CARL-X, and CARL-Connect products. Library-Solution gained new cataloging functionality so that it can move beyond the MARC record system.
USGS Provides Mapping Tool for Field Photographs
The USGS (U.S. Geological Survey) made part of its collection of field photographs publicly available in the Land Cover Trends Field Photo Map portal. The full collection has more than 33,000 geographically referenced field photos and associated keywords describing the land-use and land-cover change processes happening.
Who's Who in E-Audiobooks
by Brandi Scardilli
Audiobooks have come a long way since books on tape. Most vendors now offer e-audiobooks as digital files that can be streamed online or downloaded for offline listening. When deciding on digital content vendors, libraries need to determine if they are looking for a company that offers only e-audiobooks or if they need a solution offering different media types, including ebooks and streaming video. The following are some major e-audiobook vendors and their features to help libraries make an informed decision about their options.
Download Our November Editorial Sampler
Want to review some articles from our library publications? Download the free November content sampler (PDF) of recent articles and a discount subscription offer for Information Today.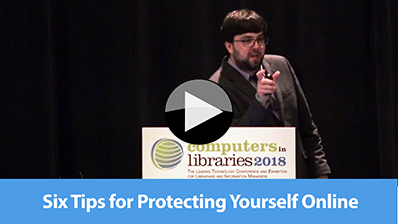 Six Tips for Protecting Yourself Online (3:23)
Evolve Project Director of Strategic Innovation Brian Pichman explains how to shore up your personal cybersecurity in this clip from Computers in Libraries 2018.
Find It Fast, 6th Edition
Extracting Expert Information from Social Networks, Big Data, Tweets, and More
by Robert Berkman

In Find It Fast, business research guru Robert Berkman gives expert advice on how to locate the best information sources, how to find and utilize the professionals behind those sources, and how to combine expert techniques to do fast and effective research on any subject.

You'll find practical guidance on such subjects as how to know if a site is a trusted source; understanding how and why sources differ; using precision search strategies and taming information overload; and finding, evaluating, and interviewing experts. Whether you are looking for consumer information, data for a job or project, facts for starting a new business, or an answer to an obscure question, Find It Fast will help you find it. Fast!

2015/336 pp softbound | ISBN 978-1-937290-04-7
Regular Price: $24.95 | Web Orders: $22.45
CONFERENCE CALENDAR
Nov. 13, Sports Streaming Summit
Place: Huntington Beach, Calif.
Sponsor/Organizer: Information Today, Inc.
URL: streamingmedia.com/Conferences/West2018/Sports.aspx
Nov. 13–14, OTT Leadership Summit
Place: Huntington Beach, Calif.
Sponsor/Organizer: Information Today, Inc.
URL: streamingmedia.com/Conferences/West2018/OTTSummit.aspx
Nov. 13–14, Video Engineering Summit
Place: Huntington Beach, Calif.
Sponsor/Organizer: Information Today, Inc.
URL: streamingmedia.com/Conferences/West2018/VES.aspx
Nov. 13–14, eBook Management: What Works, What Doesn't (ALCTS e-Forum)
Place: Online only
Sponsor/Organizer: Association for Library Collections and Technical Services (ALCTS)
URL: ala.org/alcts/confevents/upcoming/e-forum/111318
Nov. 13–14, Live Streaming Summit
Place: Huntington Beach, Calif.
Sponsor/Organizer: Information Today, Inc.
URL: streamingmedia.com/Conferences/West2018/livestreamingsummit.aspx
Nov. 13–14, Streaming Media West
Place: Huntington Beach, Calif.
Sponsor/Organizer: Information Today, Inc.
URL: streamingmedia.com/Conferences/west2018
Nov. 13–15, International Internet Preservation Consortium (IIPC) Web Archiving Conference 2018
Place: Wellington, New Zealand
Sponsor/Organizer: International Internet Preservation Consortium (IIPC)
URL: netpreserve.org/ga2018
Nov. 14–15, 2018 Library Marketing and Communications Conference (LMCC)
Place: St. Louis, Mo.
Sponsor/Organizer: Library Marketing Conference Group (LMCG)
URL: librarymarketingconference.org/lmcc-2018-announcements
Nov. 14–17, The 1st International Children's Libraries Symposium
Place: Urgup, Turkey
Sponsor/Organizer: University of Marmara, Department of Information and Records Management; Ministry of Culture and Tourism Libraries and Publications General Directorate
URL: childrenslibraries.org
Nov. 17–20, The 18th IEEE International Conference on Data Mining (ICDM 2018)
Place: Singapore
Sponsor/Organizer: Organizing Committee
URL: icdm2018.org
Nov. 29–Dec. 1, International Conference on Digital Transformation (ICDT 2018)
Place: Delhi, India
Sponsor/Organizer: Organizing Committee
URL: ifla.org/files/assets/asia-and-oceania/news/icdt_confernece_brochure_19-09-2018.pdf
If you regularly read blogs, add these to your reader:
ITI Conference Blog – libconf.com – covering ITI's library conferences worldwide.
ILI365/InfoToday Europe Blog – infotoday.eu – news and ideas for, and by, innovative info pros from around the world, throughout the year.

destinationCRM Blog – destinationcrmblog.com – a blog from the editors of CRM magazine, dedicated to providing Customer Relationship Management information in a timely manner to connect decision makers and providers.
SpeechTech Blog – speechtechblog.com – updates on speech technology and its applications in daily life, covering everything from ASR to VUI, with lots of links, threads, and even a few pictures thrown in for good measure.