Tuesday, September 29, 2015
'Let's Encrypt' the Internet: From HTTP to HTTPS
by Abby Clobridge
In November 2014, Electronic Frontier Foundation (EFF) announced the Let's Encrypt initiative, which is designed to help transition the internet from using HTTP to using an encrypted HTTPS environment. Let's Encrypt simplifies the cumbersome--and potentially expensive--process of obtaining and installing a Transport Layer Security (TLS) certificate from a trusted authority in order to encrypt web traffic. On Sept. 14, 2015, Let's Encrypt issued its first certificate, marking a major milestone in the project.
Thomson Reuters Reveals Its Nobel Prize Predictions
The Intellectual Property & Science business of Thomson Reuters shared its 2015 Nobel Prize predictions. To forecast the winners, Thomson Reuters uses scientific research citations from the Web of Science to find the most influential researchers in chemistry, physics, physiology or medicine, and economics.
TLC Implements Bar Code Scanning in CARL-Connect Products
The Library Corp. (TLC) introduced 2D bar code scanning in CARL-Connect to help library staffers capture new patrons' driver's licenses or ID cards and store their information in the library's database.
Spiceworks Offers Concierge Service
Spiceworks unveiled the IT Concierge Service, a free, personalized resource for helping IT professionals manage their projects of any size and at any phase.
Kudos Homepage Gets Upgrade
Kudos redesigned its homepage, navigation bar, and header. The company aimed to make it easy to get started using Kudos by providing an always-visible header and a Menu button in the top-right corner.
Khan Academy Rolls Out New Apps
Khan Academy released a redesigned app for iPhones and its first app for Android phones, which offer more than 30% of its sessions (10,000-plus videos) in subjects such as math, science, economics, and history.
Alexa and Siri at the Library: How Librarians Are Tapping Into the Internet of Things
by Brandi Scardilli
The Amazon Echo (powered by the cloud-based voice service Alexa) and the Apple Watch (featuring digital assistant Siri) are two of the latest products designed to make people's lives easier by quickly retrieving information and performing actions when prompted. Part of the Internet of Things (IoT), these devices receive updates from their respective cloud servers so they can always provide the most up-to-date answers. ... Librarians have been following the developments of the IoT closely, and they're finding that Alexa and Siri have uses beyond telling jokes and reminding you when you have an appointment. They've become indispensable for the following information professionals, who share their experiences and show how the library world can benefit from connected devices such as the Echo and the Apple Watch and their disembodied assistants.
Download Our September Editorial Sampler
Want to review some articles from our library publications? Download the free September content sampler (PDF) of recent articles and a discount subscription offer for Information Today.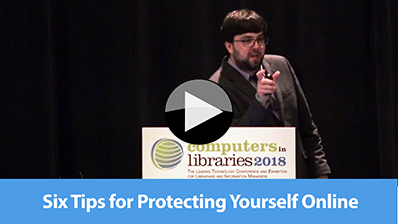 Six Tips for Protecting Yourself Online (3:23)
Evolve Project Director of Strategic Innovation Brian Pichman explains how to shore up your personal cybersecurity in this clip from Computers in Libraries 2018.
Find It Fast, 6th Edition
Extracting Expert Information from Social Networks, Big Data, Tweets, and More
by Robert Berkman

In Find It Fast, business research guru Robert Berkman gives expert advice on how to locate the best information sources, how to find and utilize the professionals behind those sources, and how to combine expert techniques to do fast and effective research on any subject.

You'll find practical guidance on such subjects as how to know if a site is a trusted source; understanding how and why sources differ; using precision search strategies and taming information overload; and finding, evaluating, and interviewing experts. Whether you are looking for consumer information, data for a job or project, facts for starting a new business, or an answer to an obscure question, Find It Fast will help you find it. Fast!

2015/336 pp softbound | ISBN 978-1-937290-04-7
Regular Price: $24.95 | Web Orders: $22.45
CONFERENCE CALENDAR
Nov. 13, Sports Streaming Summit
Place: Huntington Beach, Calif.
Sponsor/Organizer: Information Today, Inc.
URL: streamingmedia.com/Conferences/West2018/Sports.aspx
Nov. 13–14, OTT Leadership Summit
Place: Huntington Beach, Calif.
Sponsor/Organizer: Information Today, Inc.
URL: streamingmedia.com/Conferences/West2018/OTTSummit.aspx
Nov. 13–14, Video Engineering Summit
Place: Huntington Beach, Calif.
Sponsor/Organizer: Information Today, Inc.
URL: streamingmedia.com/Conferences/West2018/VES.aspx
Nov. 13–14, eBook Management: What Works, What Doesn't (ALCTS e-Forum)
Place: Online only
Sponsor/Organizer: Association for Library Collections and Technical Services (ALCTS)
URL: ala.org/alcts/confevents/upcoming/e-forum/111318
Nov. 13–14, Live Streaming Summit
Place: Huntington Beach, Calif.
Sponsor/Organizer: Information Today, Inc.
URL: streamingmedia.com/Conferences/West2018/livestreamingsummit.aspx
Nov. 13–14, Streaming Media West
Place: Huntington Beach, Calif.
Sponsor/Organizer: Information Today, Inc.
URL: streamingmedia.com/Conferences/west2018
Nov. 13–15, International Internet Preservation Consortium (IIPC) Web Archiving Conference 2018
Place: Wellington, New Zealand
Sponsor/Organizer: International Internet Preservation Consortium (IIPC)
URL: netpreserve.org/ga2018
Nov. 14–15, 2018 Library Marketing and Communications Conference (LMCC)
Place: St. Louis, Mo.
Sponsor/Organizer: Library Marketing Conference Group (LMCG)
URL: librarymarketingconference.org/lmcc-2018-announcements
Nov. 14–17, The 1st International Children's Libraries Symposium
Place: Urgup, Turkey
Sponsor/Organizer: University of Marmara, Department of Information and Records Management; Ministry of Culture and Tourism Libraries and Publications General Directorate
URL: childrenslibraries.org
Nov. 17–20, The 18th IEEE International Conference on Data Mining (ICDM 2018)
Place: Singapore
Sponsor/Organizer: Organizing Committee
URL: icdm2018.org
Nov. 29–Dec. 1, International Conference on Digital Transformation (ICDT 2018)
Place: Delhi, India
Sponsor/Organizer: Organizing Committee
URL: ifla.org/files/assets/asia-and-oceania/news/icdt_confernece_brochure_19-09-2018.pdf
If you regularly read blogs, add these to your reader:
ITI Conference Blog – libconf.com – covering ITI's library conferences worldwide.
ILI365/InfoToday Europe Blog – infotoday.eu – news and ideas for, and by, innovative info pros from around the world, throughout the year.

destinationCRM Blog – destinationcrmblog.com – a blog from the editors of CRM magazine, dedicated to providing Customer Relationship Management information in a timely manner to connect decision makers and providers.
SpeechTech Blog – speechtechblog.com – updates on speech technology and its applications in daily life, covering everything from ASR to VUI, with lots of links, threads, and even a few pictures thrown in for good measure.