Tuesday, September 08, 2015
iCopyright and WordPress: Copyright Compliance Made Easy
by Corilee Christou
In today's wired world where websites rule and users gather and share information electronically through a plethora of devices (making it easy, but not always legal, to share and republish information), copyright compliance ranks extremely high on the list of priorities for both publishers and authors. Addressing--and if necessary paying for--reuse rights must be relatively straightforward for users of information if they're going to comply with copyright terms. iCopyright, a provider of "digital tools that enable content creators to continue to profit, promote, and protect their valuable content," competently addresses publishers and authors as it continues to add to and enhance its toolset for both audiences.
Google Gears Up for New School Year
Google updated its suite of productivity apps to help students with their school projects, according to CNET. New functions include the ability to more easily see changes users have made to documents in Google Docs and Google Sheets, as well as the addition of voice typing so students can dictate content that translates to text in a document.
EBSCO Chooses Portico for Primary Source Preservation
EBSCO Information Services partnered with Portico to preserve its primary source content, giving researchers uninterrupted access to historical content in EBSCO's digital archives collections.
Brill Teams With DataSalon for Consolidated Customer Information
Brill adopted DataSalon's MasterVision platform and its OrgRef open dataset to show customer data in a single view, thus facilitating business growth and market development. MasterVision provides a complete picture of Brill's books and journals customers, including subscribers, platform registrants, authors, and marketing data.
ProQuest Makes More Early European Books Available
ProQuest launched Collection 7, the newest part of its Early European Books database, with 7,450 titles. Materials came from institutions such as the National Library of the Netherlands, the Royal Library in Denmark, and the Wellcome Library in London.
SirsiDynix Rolls Out MobileCirc App
SirsiDynix announced that MobileCirc is now in general release. This mobile app helps Horizon and Symphony customers bring circulation service outside their libraries by allowing anyone with a smartphone, tablet, or web-enabled device to access circulation functions and basic user management.
Alexa and Siri at the Library: How Librarians Are Tapping Into the Internet of Things
by Brandi Scardilli
The Amazon Echo (powered by the cloud-based voice service Alexa) and the Apple Watch (featuring digital assistant Siri) are two of the latest products designed to make people's lives easier by quickly retrieving information and performing actions when prompted. Part of the Internet of Things (IoT), these devices receive updates from their respective cloud servers so they can always provide the most up-to-date answers. ... Librarians have been following the developments of the IoT closely, and they're finding that Alexa and Siri have uses beyond telling jokes and reminding you when you have an appointment. They've become indispensable for the following information professionals, who share their experiences and show how the library world can benefit from connected devices such as the Echo and the Apple Watch and their disembodied assistants.
Download Our September Editorial Sampler
Want to review some articles from our library publications? Download the free September content sampler (PDF) of recent articles and a discount subscription offer for Information Today.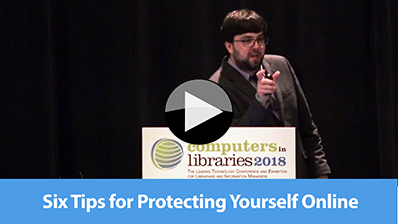 Six Tips for Protecting Yourself Online (3:23)
Evolve Project Director of Strategic Innovation Brian Pichman explains how to shore up your personal cybersecurity in this clip from Computers in Libraries 2018.
Find It Fast, 6th Edition
Extracting Expert Information from Social Networks, Big Data, Tweets, and More
by Robert Berkman

In Find It Fast, business research guru Robert Berkman gives expert advice on how to locate the best information sources, how to find and utilize the professionals behind those sources, and how to combine expert techniques to do fast and effective research on any subject.

You'll find practical guidance on such subjects as how to know if a site is a trusted source; understanding how and why sources differ; using precision search strategies and taming information overload; and finding, evaluating, and interviewing experts. Whether you are looking for consumer information, data for a job or project, facts for starting a new business, or an answer to an obscure question, Find It Fast will help you find it. Fast!

2015/336 pp softbound | ISBN 978-1-937290-04-7
Regular Price: $24.95 | Web Orders: $22.45
CONFERENCE CALENDAR
Nov. 13, Sports Streaming Summit
Place: Huntington Beach, Calif.
Sponsor/Organizer: Information Today, Inc.
URL: streamingmedia.com/Conferences/West2018/Sports.aspx
Nov. 13–14, OTT Leadership Summit
Place: Huntington Beach, Calif.
Sponsor/Organizer: Information Today, Inc.
URL: streamingmedia.com/Conferences/West2018/OTTSummit.aspx
Nov. 13–14, Video Engineering Summit
Place: Huntington Beach, Calif.
Sponsor/Organizer: Information Today, Inc.
URL: streamingmedia.com/Conferences/West2018/VES.aspx
Nov. 13–14, eBook Management: What Works, What Doesn't (ALCTS e-Forum)
Place: Online only
Sponsor/Organizer: Association for Library Collections and Technical Services (ALCTS)
URL: ala.org/alcts/confevents/upcoming/e-forum/111318
Nov. 13–14, Live Streaming Summit
Place: Huntington Beach, Calif.
Sponsor/Organizer: Information Today, Inc.
URL: streamingmedia.com/Conferences/West2018/livestreamingsummit.aspx
Nov. 13–14, Streaming Media West
Place: Huntington Beach, Calif.
Sponsor/Organizer: Information Today, Inc.
URL: streamingmedia.com/Conferences/west2018
Nov. 13–15, International Internet Preservation Consortium (IIPC) Web Archiving Conference 2018
Place: Wellington, New Zealand
Sponsor/Organizer: International Internet Preservation Consortium (IIPC)
URL: netpreserve.org/ga2018
Nov. 14–15, 2018 Library Marketing and Communications Conference (LMCC)
Place: St. Louis, Mo.
Sponsor/Organizer: Library Marketing Conference Group (LMCG)
URL: librarymarketingconference.org/lmcc-2018-announcements
Nov. 14–17, The 1st International Children's Libraries Symposium
Place: Urgup, Turkey
Sponsor/Organizer: University of Marmara, Department of Information and Records Management; Ministry of Culture and Tourism Libraries and Publications General Directorate
URL: childrenslibraries.org
Nov. 17–20, The 18th IEEE International Conference on Data Mining (ICDM 2018)
Place: Singapore
Sponsor/Organizer: Organizing Committee
URL: icdm2018.org
Nov. 29–Dec. 1, International Conference on Digital Transformation (ICDT 2018)
Place: Delhi, India
Sponsor/Organizer: Organizing Committee
URL: ifla.org/files/assets/asia-and-oceania/news/icdt_confernece_brochure_19-09-2018.pdf
If you regularly read blogs, add these to your reader:
ITI Conference Blog – libconf.com – covering ITI's library conferences worldwide.
ILI365/InfoToday Europe Blog – infotoday.eu – news and ideas for, and by, innovative info pros from around the world, throughout the year.

destinationCRM Blog – destinationcrmblog.com – a blog from the editors of CRM magazine, dedicated to providing Customer Relationship Management information in a timely manner to connect decision makers and providers.
SpeechTech Blog – speechtechblog.com – updates on speech technology and its applications in daily life, covering everything from ASR to VUI, with lots of links, threads, and even a few pictures thrown in for good measure.