Beyond the CIO: Information Governance Professionals Develop New Leadership Role
by Brandi Scardilli
Which executive in an organization is in charge of deciding what information it needs to keep and what it needs to destroy? One day soon, Barclay T. Blair hopes the person who comes to mind will be the chief information governance officer (CIGO). Blair is the founder and executive director of the Information Governance Initiative (IGI), which hosted the first CIGO Summit in Chicago from May 20 to 21. Representatives from IG-related fields such as compliance, information security, data governance, analytics, records management, e-discovery, and privacy gathered to discuss how create a role for this new kind of information leader.
Thieme Tests New OA Model
Thieme will launch The Surgery Journal, a new pay-what-you-want (PWYW), open access (OA), online-only publication that will provide original research, reviews, and case reports on all surgical specialties. After papers have been accepted, authors will choose the amount of the article processing charge (APC) they will pay.
Mission Bell Media Announces First Reference Book
Mission Bell Media published its first reference title, African American Leadership: A Concise Reference Guide. It explores interdisciplinary themes that relate to leadership in African-American communities. Topics include the Harlem Renaissance, Motown, gender and leadership, the Black Business Network, the NAACP, civil rights leadership, and negro baseball leagues.
Duke University Implements Altmetric to Track Scholarly Mentions
Duke University chose Altmetric for Institutions to monitor the online dissemination of and engagement with the research of its faculty members and administrators. Using the platform, the Duke community can browse, filter, and report on online mentions of its research in public policy documents, mainstream and social media, online reference managers, Wikipedia, and other forums.
U.S. Copyright Office Report Addresses Orphan Works and Mass Digitization
The U.S. Copyright Office documented the problems that occur when using orphan works and engaging in mass digitization projects. "Orphan Works and Mass Digitization: A Report of the Register of Copyrights" provides a series of legislative recommendations that are designed to help users as well as conform to the rights of copyright owners.
Houghton Mifflin Harcourt Completes Its Acquisition of Scholastic's Ed Tech Business
Houghton Mifflin Harcourt (HMH) completed its $575 million acquisition of Scholastic's Educational Technology and Services business. Now HMH can add market-leading intervention curriculum and services to its pre-K-12 portfolio and expand into other areas such as educational technology, early learning, and education services.
Public Libraries Embrace Self-Publishing Services
by Brandi Scardilli
For authors who want to self-publish their books, the public library may be the best place to find services that can help. One such place is the Seattle Public Library (SPL), which offers a variety of self-publishing initiatives. David Christensen, virtual and instruction services librarian, has been part of the team managing these initiatives since 2013. Don't try to replicate other libraries' self-publishing programs, which may not be a good fit with yours, he says. "Start small and figure out what works well for you."
Download Our June Editorial Sampler
Want to review some articles from our library publications? Download the free June content sampler (PDF) of recent articles and an exclusive offer for a free book with a subscription to Computers in Libraries magazine.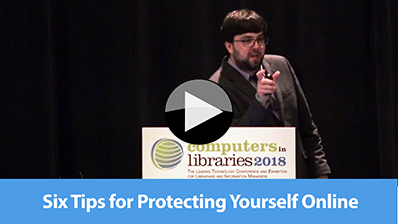 Six Tips for Protecting Yourself Online (3:23)
Evolve Project Director of Strategic Innovation Brian Pichman explains how to shore up your personal cybersecurity in this clip from Computers in Libraries 2018.
Find It Fast, 6th Edition
Extracting Expert Information from Social Networks, Big Data, Tweets, and More
by Robert Berkman

In Find It Fast, business research guru Robert Berkman gives expert advice on how to locate the best information sources, how to find and utilize the professionals behind those sources, and how to combine expert techniques to do fast and effective research on any subject.

You'll find practical guidance on such subjects as how to know if a site is a trusted source; understanding how and why sources differ; using precision search strategies and taming information overload; and finding, evaluating, and interviewing experts. Whether you are looking for consumer information, data for a job or project, facts for starting a new business, or an answer to an obscure question, Find It Fast will help you find it. Fast!

2015/336 pp softbound | ISBN 978-1-937290-04-7
Regular Price: $24.95 | Web Orders: $22.45
CONFERENCE CALENDAR
Nov. 13, Sports Streaming Summit
Place: Huntington Beach, Calif.
Sponsor/Organizer: Information Today, Inc.
URL: streamingmedia.com/Conferences/West2018/Sports.aspx
Nov. 13–14, OTT Leadership Summit
Place: Huntington Beach, Calif.
Sponsor/Organizer: Information Today, Inc.
URL: streamingmedia.com/Conferences/West2018/OTTSummit.aspx
Nov. 13–14, Video Engineering Summit
Place: Huntington Beach, Calif.
Sponsor/Organizer: Information Today, Inc.
URL: streamingmedia.com/Conferences/West2018/VES.aspx
Nov. 13–14, eBook Management: What Works, What Doesn't (ALCTS e-Forum)
Place: Online only
Sponsor/Organizer: Association for Library Collections and Technical Services (ALCTS)
URL: ala.org/alcts/confevents/upcoming/e-forum/111318
Nov. 13–14, Live Streaming Summit
Place: Huntington Beach, Calif.
Sponsor/Organizer: Information Today, Inc.
URL: streamingmedia.com/Conferences/West2018/livestreamingsummit.aspx
Nov. 13–14, Streaming Media West
Place: Huntington Beach, Calif.
Sponsor/Organizer: Information Today, Inc.
URL: streamingmedia.com/Conferences/west2018
Nov. 13–15, International Internet Preservation Consortium (IIPC) Web Archiving Conference 2018
Place: Wellington, New Zealand
Sponsor/Organizer: International Internet Preservation Consortium (IIPC)
URL: netpreserve.org/ga2018
Nov. 14–15, 2018 Library Marketing and Communications Conference (LMCC)
Place: St. Louis, Mo.
Sponsor/Organizer: Library Marketing Conference Group (LMCG)
URL: librarymarketingconference.org/lmcc-2018-announcements
Nov. 14–17, The 1st International Children's Libraries Symposium
Place: Urgup, Turkey
Sponsor/Organizer: University of Marmara, Department of Information and Records Management; Ministry of Culture and Tourism Libraries and Publications General Directorate
URL: childrenslibraries.org
Nov. 17–20, The 18th IEEE International Conference on Data Mining (ICDM 2018)
Place: Singapore
Sponsor/Organizer: Organizing Committee
URL: icdm2018.org
Nov. 29–Dec. 1, International Conference on Digital Transformation (ICDT 2018)
Place: Delhi, India
Sponsor/Organizer: Organizing Committee
URL: ifla.org/files/assets/asia-and-oceania/news/icdt_confernece_brochure_19-09-2018.pdf
If you regularly read blogs, add these to your reader:
ITI Conference Blog – libconf.com – covering ITI's library conferences worldwide.
ILI365/InfoToday Europe Blog – infotoday.eu – news and ideas for, and by, innovative info pros from around the world, throughout the year.

destinationCRM Blog – destinationcrmblog.com – a blog from the editors of CRM magazine, dedicated to providing Customer Relationship Management information in a timely manner to connect decision makers and providers.
SpeechTech Blog – speechtechblog.com – updates on speech technology and its applications in daily life, covering everything from ASR to VUI, with lots of links, threads, and even a few pictures thrown in for good measure.