Bloomberg Outage Could Open Doors to Alternatives
by George H. Pike
It does not take much to send financial markets up or down. A report from the Federal Reserve, a release of consumer data, a jobs report, political news, or even weather reports (such as a hurricane in the Gulf of Mexico) can result in a jump or fall in the stock, bond, or commodities markets, depending on the perceived impact of the news. But it takes lot to actually shut them down. For a few hours in the early morning of Friday, April 17, something happened that, while not completely shutting the markets down, had nearly the same effect: Bloomberg went down.
GCIG Report Aims to Coordinate International Internet Policy
The Global Commission on Internet Governance (GCIG) released a new report, "Solving the International Internet Policy Coordination Problem." Author Nick Ashton-Hart suggests that a Geneva-based "coordination committee" would make global internet policy discussions less disjointed. He explains that because cybersecurity, human rights, law enforcement, and economic discussions are taking place in various forums around the world, stakeholders and government have difficulty resolving internet policy issues in a holistic way.
NPG Announces New Journals for 2016
Nature Publishing Group (NPG) will launch three new journals in January 2016: Nature Energy, Nature Microbiology, and Nature Reviews Materials. Nature Energy, now accepting submissions, will cover energy generation, storage, and management, as well as other related topics across the natural and social sciences.
D&B Integrates Data Within Oracle Data Cloud Platform
In order to enter the B2B digital marketing space, D&B made more than 270 segments of commercial data available within the Oracle Data Cloud and through the BlueKai marketplace. The data is curated from more than 30,000 international sources and is compiled into 700-plus targetable attributes to form a comprehensive view of audiences so B2B digital marketers and advertisers can identify and reach customers and prospects online.
OverDrive Adds Web Listening Option to E-Audiobooks
OverDrive rolled out OverDrive Listen, its new listening option for e-audiobooks. It is similar to OverDrive Read, which is used for ebooks, in that it offers an easy-to-use option to browse, borrow, and listen to titles from within a web browser. No downloads or software are required.
Springer Collaborates on IMISCOE Journal and Book Series
Springer and the IMISCOE (International Migration, Integration and Social Cohesion in Europe) research network partnered to publish Comparative Migration Studies, an international, peer-reviewed open access (OA) journal, and the book series IMISCOE Research Series.
How to Start a 3D Printing Program at Your Library
by Brandi Scardilli
If you're thinking about installing a 3D printer in your library, there are a lot of things to consider before you do so. You have to decide on a model, find a place to put it, and figure out whether (or how much) to charge for its use. Three library representatives share their experiences with implementing a 3D printing program at their institutions.
Download Our May Editorial Sampler
Want to review some articles from our library publications? Download the free May content sampler (PDF) of recent articles and an exclusive offer for a free book with a subscription to Computers in Libraries magazine.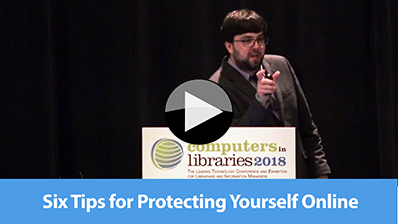 Six Tips for Protecting Yourself Online (3:23)
Evolve Project Director of Strategic Innovation Brian Pichman explains how to shore up your personal cybersecurity in this clip from Computers in Libraries 2018.
Find It Fast, 6th Edition
Extracting Expert Information from Social Networks, Big Data, Tweets, and More
by Robert Berkman

In Find It Fast, business research guru Robert Berkman gives expert advice on how to locate the best information sources, how to find and utilize the professionals behind those sources, and how to combine expert techniques to do fast and effective research on any subject.

You'll find practical guidance on such subjects as how to know if a site is a trusted source; understanding how and why sources differ; using precision search strategies and taming information overload; and finding, evaluating, and interviewing experts. Whether you are looking for consumer information, data for a job or project, facts for starting a new business, or an answer to an obscure question, Find It Fast will help you find it. Fast!

2015/336 pp softbound | ISBN 978-1-937290-04-7
Regular Price: $24.95 | Web Orders: $22.45
CONFERENCE CALENDAR
Nov. 13, Sports Streaming Summit
Place: Huntington Beach, Calif.
Sponsor/Organizer: Information Today, Inc.
URL: streamingmedia.com/Conferences/West2018/Sports.aspx
Nov. 13–14, OTT Leadership Summit
Place: Huntington Beach, Calif.
Sponsor/Organizer: Information Today, Inc.
URL: streamingmedia.com/Conferences/West2018/OTTSummit.aspx
Nov. 13–14, Video Engineering Summit
Place: Huntington Beach, Calif.
Sponsor/Organizer: Information Today, Inc.
URL: streamingmedia.com/Conferences/West2018/VES.aspx
Nov. 13–14, eBook Management: What Works, What Doesn't (ALCTS e-Forum)
Place: Online only
Sponsor/Organizer: Association for Library Collections and Technical Services (ALCTS)
URL: ala.org/alcts/confevents/upcoming/e-forum/111318
Nov. 13–14, Live Streaming Summit
Place: Huntington Beach, Calif.
Sponsor/Organizer: Information Today, Inc.
URL: streamingmedia.com/Conferences/West2018/livestreamingsummit.aspx
Nov. 13–14, Streaming Media West
Place: Huntington Beach, Calif.
Sponsor/Organizer: Information Today, Inc.
URL: streamingmedia.com/Conferences/west2018
Nov. 13–15, International Internet Preservation Consortium (IIPC) Web Archiving Conference 2018
Place: Wellington, New Zealand
Sponsor/Organizer: International Internet Preservation Consortium (IIPC)
URL: netpreserve.org/ga2018
Nov. 14–15, 2018 Library Marketing and Communications Conference (LMCC)
Place: St. Louis, Mo.
Sponsor/Organizer: Library Marketing Conference Group (LMCG)
URL: librarymarketingconference.org/lmcc-2018-announcements
Nov. 14–17, The 1st International Children's Libraries Symposium
Place: Urgup, Turkey
Sponsor/Organizer: University of Marmara, Department of Information and Records Management; Ministry of Culture and Tourism Libraries and Publications General Directorate
URL: childrenslibraries.org
Nov. 17–20, The 18th IEEE International Conference on Data Mining (ICDM 2018)
Place: Singapore
Sponsor/Organizer: Organizing Committee
URL: icdm2018.org
Nov. 29–Dec. 1, International Conference on Digital Transformation (ICDT 2018)
Place: Delhi, India
Sponsor/Organizer: Organizing Committee
URL: ifla.org/files/assets/asia-and-oceania/news/icdt_confernece_brochure_19-09-2018.pdf
If you regularly read blogs, add these to your reader:
ITI Conference Blog – libconf.com – covering ITI's library conferences worldwide.
ILI365/InfoToday Europe Blog – infotoday.eu – news and ideas for, and by, innovative info pros from around the world, throughout the year.

destinationCRM Blog – destinationcrmblog.com – a blog from the editors of CRM magazine, dedicated to providing Customer Relationship Management information in a timely manner to connect decision makers and providers.
SpeechTech Blog – speechtechblog.com – updates on speech technology and its applications in daily life, covering everything from ASR to VUI, with lots of links, threads, and even a few pictures thrown in for good measure.