Federal Investment in Repository Solution Sets New Bar for How Libraries Share
by Richard Huffine
IMLS (Institute of Museum and Library Services) announced recently that it is funding a $2 million grant for three partners (Digital Public Library of America, Stanford University, and DuraSpace) to develop repository solutions, hosting strategies, and methods for the exchange of information for digital library collections. The project will give libraries, museums, and archives of all types and sizes an out-of-the-box open source solution for managing their digital content and exposing what they have to the world. It will build on the work many academic libraries have done to create institutional repositories for their own organizations.
Elsevier Supports Researchers With Online Training Campus; Updates Article-Sharing Policies
Elsevier launched Elsevier Publishing Campus, a free online platform that offers training resources to academic researchers. It features lectures, interactive training, and professional advice on topics such as gender in research, open science, how to write articles and grant applications, and peer review and ethics.
ProQuest Is Set to Acquire Coutts Information Services
ProQuest will acquire Coutts Information Services Ltd. from Ingram Content Group. Their agreement includes the MyiLibrary and OASIS (Online Acquisitions and Selection Information System) platforms so that ProQuest can deliver an end-to-end workflow across print and electronic resources. Ingram will continue with print fulfillment in North America and support ProQuest with its print inventory, on-demand printing capabilities, and delivery network.
Springer Hosts Researchers' Stories on New Website
Springer Storytellers is a project that allows Springer authors to tell personal stories about being researchers on its website, beforetheabstract.com, which is open to the public. Springer and the Story Collider will host events for researchers where they can tell their stories to live audiences during 10-minute talks that will be recorded as podcasts for the website.
Cisco Integrates Solutions for Threat Protection
Cisco integrated its Cisco Application-Centric Infrastructure (ACI) data center solution with its FirePOWER Next Generation Intrusion Prevention System (NGIPS) to provide automated threat protection for combating emerging data center security threats.
Food and Nutrition Journal Now Published by SAGE
SAGE Publications will take over publication of the Food and Nutrition Bulletin, a peer-reviewed journal that was previously the official publication of the International Nutrition Foundation. Researchers, academics, nutrition policymakers, and planners in 125-plus nations use it to stay up-to-date on current research and policy information related to nutrition in developing countries.
How to Start a 3D Printing Program at Your Library
by Brandi Scardilli
If you're thinking about installing a 3D printer in your library, there are a lot of things to consider before you do so. You have to decide on a model, find a place to put it, and figure out whether (or how much) to charge for its use. Three library representatives share their experiences with implementing a 3D printing program at their institutions.
Download Our April Editorial Sampler
Want to review some articles from our library publications? Download the free April content sampler (PDF) of recent articles and an exclusive subscription offer for Computers in Libraries magazine.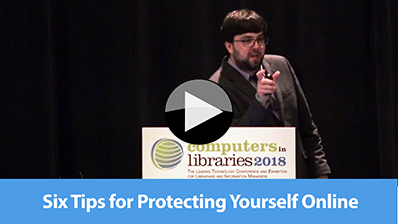 Six Tips for Protecting Yourself Online (3:23)
Evolve Project Director of Strategic Innovation Brian Pichman explains how to shore up your personal cybersecurity in this clip from Computers in Libraries 2018.
Find It Fast, 6th Edition
Extracting Expert Information from Social Networks, Big Data, Tweets, and More
by Robert Berkman

In Find It Fast, business research guru Robert Berkman gives expert advice on how to locate the best information sources, how to find and utilize the professionals behind those sources, and how to combine expert techniques to do fast and effective research on any subject.

You'll find practical guidance on such subjects as how to know if a site is a trusted source; understanding how and why sources differ; using precision search strategies and taming information overload; and finding, evaluating, and interviewing experts. Whether you are looking for consumer information, data for a job or project, facts for starting a new business, or an answer to an obscure question, Find It Fast will help you find it. Fast!

2015/336 pp softbound | ISBN 978-1-937290-04-7
Regular Price: $24.95 | Web Orders: $22.45
CONFERENCE CALENDAR
Nov. 13, Sports Streaming Summit
Place: Huntington Beach, Calif.
Sponsor/Organizer: Information Today, Inc.
URL: streamingmedia.com/Conferences/West2018/Sports.aspx
Nov. 13–14, OTT Leadership Summit
Place: Huntington Beach, Calif.
Sponsor/Organizer: Information Today, Inc.
URL: streamingmedia.com/Conferences/West2018/OTTSummit.aspx
Nov. 13–14, Video Engineering Summit
Place: Huntington Beach, Calif.
Sponsor/Organizer: Information Today, Inc.
URL: streamingmedia.com/Conferences/West2018/VES.aspx
Nov. 13–14, eBook Management: What Works, What Doesn't (ALCTS e-Forum)
Place: Online only
Sponsor/Organizer: Association for Library Collections and Technical Services (ALCTS)
URL: ala.org/alcts/confevents/upcoming/e-forum/111318
Nov. 13–14, Live Streaming Summit
Place: Huntington Beach, Calif.
Sponsor/Organizer: Information Today, Inc.
URL: streamingmedia.com/Conferences/West2018/livestreamingsummit.aspx
Nov. 13–14, Streaming Media West
Place: Huntington Beach, Calif.
Sponsor/Organizer: Information Today, Inc.
URL: streamingmedia.com/Conferences/west2018
Nov. 13–15, International Internet Preservation Consortium (IIPC) Web Archiving Conference 2018
Place: Wellington, New Zealand
Sponsor/Organizer: International Internet Preservation Consortium (IIPC)
URL: netpreserve.org/ga2018
Nov. 14–15, 2018 Library Marketing and Communications Conference (LMCC)
Place: St. Louis, Mo.
Sponsor/Organizer: Library Marketing Conference Group (LMCG)
URL: librarymarketingconference.org/lmcc-2018-announcements
Nov. 14–17, The 1st International Children's Libraries Symposium
Place: Urgup, Turkey
Sponsor/Organizer: University of Marmara, Department of Information and Records Management; Ministry of Culture and Tourism Libraries and Publications General Directorate
URL: childrenslibraries.org
Nov. 17–20, The 18th IEEE International Conference on Data Mining (ICDM 2018)
Place: Singapore
Sponsor/Organizer: Organizing Committee
URL: icdm2018.org
Nov. 29–Dec. 1, International Conference on Digital Transformation (ICDT 2018)
Place: Delhi, India
Sponsor/Organizer: Organizing Committee
URL: ifla.org/files/assets/asia-and-oceania/news/icdt_confernece_brochure_19-09-2018.pdf
If you regularly read blogs, add these to your reader:
ITI Conference Blog – libconf.com – covering ITI's library conferences worldwide.
ILI365/InfoToday Europe Blog – infotoday.eu – news and ideas for, and by, innovative info pros from around the world, throughout the year.

destinationCRM Blog – destinationcrmblog.com – a blog from the editors of CRM magazine, dedicated to providing Customer Relationship Management information in a timely manner to connect decision makers and providers.
SpeechTech Blog – speechtechblog.com – updates on speech technology and its applications in daily life, covering everything from ASR to VUI, with lots of links, threads, and even a few pictures thrown in for good measure.