ProQuest to Open Content Through Google Scholar
by Barbara Quint
Because of its history of abandoning wonderful but fewer-than-billion-user information services, some totally unconfirmed and somewhat panicky rumors have spread that Google might be questioning the value of Google Scholar. Now, one of the most established and enduring library vendors, ProQuest, has announced that it will be sending the full texts of scholarly journals, conference presentations, and working papers to Google for inclusion in the widely used Google Scholar.
SAGE Adopts CCC's RightsLink for Open Access
SAGE Publications will use Copyright Clearance Center's (CCC) RightsLink for Open Access platform to manage its open access (OA) publications' article processing charges (APCs). With RightsLink for Open Access, the transactions for various OA charges are streamlined, and SAGE authors will be prompted to pay APCs from within the editorial workflow.
HighWire Press Rolls Out Collaboration and Content Collection Toolset
HighWire Press launched Stackly, a web-based toolset for content collection, organization, storage, and peer-to-peer collaboration that integrates into publication sites so publishers can promote content and engage with researchers.
ReadCube Indexes Royal Society of Chemistry Archive
The Royal Society of Chemistry's collection of ebooks and 39 journals is now discoverable via the ReadCube platform. The society's archive, which dates from 1841, is indexed in ReadCube's search engines and recommendation feeds.
Springer and Jisc Work Toward Sustainable OA Publishing
Springer Science+Business Media and Jisc reached an agreement that helps U.K. scientists comply with multiple funders' open access (OA) policies by capping the amount paid by higher education institutions for access to Springer's subscription journals and ensuring that researchers' articles will be OA in these journals.
Boopsie Releases Integration Solution for ILSs
Boopsie for Libraries introduced AccessILS, its new platform-as-a-service that helps digital content providers integrate with major ILSs. Content providers can join their digital catalogs with the legacy systems used by libraries to manage their physical catalogs, thereby removing barriers to content distribution.
NFAIS to Host Workshop on Research Data Publication
The National Federation of Advanced Information Services (NFAIS) will host a 1-day workshop on April 20 titled Research Data Publication, Part 2: The Complexities of Implementation. It will focus on barriers to accessing research data and how they affect publishers, content providers, libraries, and the scholarly research community.
Join 50 Librarians as They Tackle SXSW Interactive
by Brandi Scardilli
"This is the biggest group we've had yet," someone remarked as they gathered to pose for a picture. The "group" is lib*interactive, formerly sxswLAM (libraries, archives, and museums), and they were at the MugShots bar in Austin, Texas, at the first LAM meetup of the SXSW (South by Southwest) Interactive Festival (March 13-17, 2015). LAM representatives are a growing presence at the technology-focused conference for two main reasons: Interactive exposes the LAM fields to new and emerging tech trends, and it's a great place to advocate on behalf of LAM institutions. lib*interactive gives attendees a way to connect with other LAM representatives and engage in concerted efforts to spread the word about all of the new ways LAM spaces are engaging with technology.
Download Our April Editorial Sampler
Want to review some articles from our library publications? Download the free April content sampler (PDF) of recent articles and an exclusive subscription offer for Computers in Libraries magazine.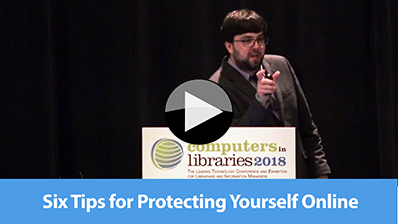 Six Tips for Protecting Yourself Online (3:23)
Evolve Project Director of Strategic Innovation Brian Pichman explains how to shore up your personal cybersecurity in this clip from Computers in Libraries 2018.
Find It Fast, 6th Edition
Extracting Expert Information from Social Networks, Big Data, Tweets, and More
by Robert Berkman

In Find It Fast, business research guru Robert Berkman gives expert advice on how to locate the best information sources, how to find and utilize the professionals behind those sources, and how to combine expert techniques to do fast and effective research on any subject.

You'll find practical guidance on such subjects as how to know if a site is a trusted source; understanding how and why sources differ; using precision search strategies and taming information overload; and finding, evaluating, and interviewing experts. Whether you are looking for consumer information, data for a job or project, facts for starting a new business, or an answer to an obscure question, Find It Fast will help you find it. Fast!

2015/336 pp softbound | ISBN 978-1-937290-04-7
Regular Price: $24.95 | Web Orders: $22.45
CONFERENCE CALENDAR
Nov. 13, Sports Streaming Summit
Place: Huntington Beach, Calif.
Sponsor/Organizer: Information Today, Inc.
URL: streamingmedia.com/Conferences/West2018/Sports.aspx
Nov. 13–14, OTT Leadership Summit
Place: Huntington Beach, Calif.
Sponsor/Organizer: Information Today, Inc.
URL: streamingmedia.com/Conferences/West2018/OTTSummit.aspx
Nov. 13–14, Video Engineering Summit
Place: Huntington Beach, Calif.
Sponsor/Organizer: Information Today, Inc.
URL: streamingmedia.com/Conferences/West2018/VES.aspx
Nov. 13–14, eBook Management: What Works, What Doesn't (ALCTS e-Forum)
Place: Online only
Sponsor/Organizer: Association for Library Collections and Technical Services (ALCTS)
URL: ala.org/alcts/confevents/upcoming/e-forum/111318
Nov. 13–14, Live Streaming Summit
Place: Huntington Beach, Calif.
Sponsor/Organizer: Information Today, Inc.
URL: streamingmedia.com/Conferences/West2018/livestreamingsummit.aspx
Nov. 13–14, Streaming Media West
Place: Huntington Beach, Calif.
Sponsor/Organizer: Information Today, Inc.
URL: streamingmedia.com/Conferences/west2018
Nov. 13–15, International Internet Preservation Consortium (IIPC) Web Archiving Conference 2018
Place: Wellington, New Zealand
Sponsor/Organizer: International Internet Preservation Consortium (IIPC)
URL: netpreserve.org/ga2018
Nov. 14–15, 2018 Library Marketing and Communications Conference (LMCC)
Place: St. Louis, Mo.
Sponsor/Organizer: Library Marketing Conference Group (LMCG)
URL: librarymarketingconference.org/lmcc-2018-announcements
Nov. 14–17, The 1st International Children's Libraries Symposium
Place: Urgup, Turkey
Sponsor/Organizer: University of Marmara, Department of Information and Records Management; Ministry of Culture and Tourism Libraries and Publications General Directorate
URL: childrenslibraries.org
Nov. 17–20, The 18th IEEE International Conference on Data Mining (ICDM 2018)
Place: Singapore
Sponsor/Organizer: Organizing Committee
URL: icdm2018.org
Nov. 29–Dec. 1, International Conference on Digital Transformation (ICDT 2018)
Place: Delhi, India
Sponsor/Organizer: Organizing Committee
URL: ifla.org/files/assets/asia-and-oceania/news/icdt_confernece_brochure_19-09-2018.pdf
If you regularly read blogs, add these to your reader:
ITI Conference Blog – libconf.com – covering ITI's library conferences worldwide.
ILI365/InfoToday Europe Blog – infotoday.eu – news and ideas for, and by, innovative info pros from around the world, throughout the year.

destinationCRM Blog – destinationcrmblog.com – a blog from the editors of CRM magazine, dedicated to providing Customer Relationship Management information in a timely manner to connect decision makers and providers.
SpeechTech Blog – speechtechblog.com – updates on speech technology and its applications in daily life, covering everything from ASR to VUI, with lots of links, threads, and even a few pictures thrown in for good measure.