'Every Week Is Fair Use Week'
by Abby Clobridge
From Feb. 23 to 27, 2015, many professionals within the information industry celebrated the second annual Fair Use Week. Similar to Open Access Week, Fair Use Week is a loosely organized, weeklong event during which libraries, universities, museums, archives, and individuals raise awareness about fair use. As explained on the Association of Research Libraries' (ARL) website, "Fair Use Week is simply a time to promote and discuss the opportunities presented by fair use, celebrate successful fair use stories, and explain the doctrine."
Innovative Will Support the Libhub Initiative
Innovative agreed to sponsor the Libhub Initiative, which encourages industrywide focus on library resources' web visibility. With this sponsorship, Innovative will continue to promote the adoption of linked data practices and will develop functionality that will allow libraries to benefit from linked data technologies.
ProQuest's Genealogical Resource Gets Upgrade
ProQuest released a new version of its HeritageQuest Online collection of genealogical and historical information. Ancestry.com powers a new interface for enhanced searching, and source improvements include the addition of complete every-name indexes and interactive maps to the U.S. federal census data (1790-1940).
Springer Opens Up Conference Proceedings Data for Downloading
Springer Science+Business Media started a pilot project on linked open data by making available selected metadata from conference publications that focus on computer science. Semantically searchable data on about 8,000 proceedings volumes are now downloadable for free.
Thieme's Delhi Division Makes Strides in Neurology Publishing
Thieme Publishers Delhi took over the publication of the peer-reviewed, open access (OA) Indian Journal of Neurosurgery from Wolters Kluwer Health's Medknow division. As the official journal of the Neurological Surgeon Society of India, it is published three times per year online, with print versions available to society members.
EBSCO Offers Content From the ATLA Historical Monographs Collection
EBSCO Information Services and the American Theological Library Association (ATLA) introduced 11 thematic series of the ATLA Historical Monographs Collection for religion and theology scholars. Documents come from the 13th century through 1922 and cover topics related to political science, sociology, spirituality, philosophy, and other areas.
University Libraries Offer an Alternative to Traditional Publishing
by Brandi Scardilli
Maybe you're a professor who has an idea for a journal you'd like to start at your university. Or maybe you're a graduate student looking to prove yourself by publishing your research. Or maybe you're a college librarian hoping to start a newsletter that will raise your library's visibility on campus. No matter the reason, you're writing something that needs to find an audience. Why not publish it at the library? As digital tools get easier to use, many institutions are starting their own publishing programs in an effort to offer more varied services to their communities.
Download Our March Editorial Sampler
Want to review some articles from our library publications? Download the free March content sampler (PDF) of recent articles and an exclusive subscription offer.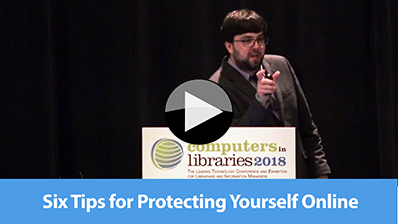 Six Tips for Protecting Yourself Online (3:23)
Evolve Project Director of Strategic Innovation Brian Pichman explains how to shore up your personal cybersecurity in this clip from Computers in Libraries 2018.
Find It Fast, 6th Edition
Extracting Expert Information from Social Networks, Big Data, Tweets, and More
by Robert Berkman

In Find It Fast, business research guru Robert Berkman gives expert advice on how to locate the best information sources, how to find and utilize the professionals behind those sources, and how to combine expert techniques to do fast and effective research on any subject.

You'll find practical guidance on such subjects as how to know if a site is a trusted source; understanding how and why sources differ; using precision search strategies and taming information overload; and finding, evaluating, and interviewing experts. Whether you are looking for consumer information, data for a job or project, facts for starting a new business, or an answer to an obscure question, Find It Fast will help you find it. Fast!

2015/336 pp softbound | ISBN 978-1-937290-04-7
Regular Price: $24.95 | Web Orders: $22.45
CONFERENCE CALENDAR
Nov. 13, Sports Streaming Summit
Place: Huntington Beach, Calif.
Sponsor/Organizer: Information Today, Inc.
URL: streamingmedia.com/Conferences/West2018/Sports.aspx
Nov. 13–14, OTT Leadership Summit
Place: Huntington Beach, Calif.
Sponsor/Organizer: Information Today, Inc.
URL: streamingmedia.com/Conferences/West2018/OTTSummit.aspx
Nov. 13–14, Video Engineering Summit
Place: Huntington Beach, Calif.
Sponsor/Organizer: Information Today, Inc.
URL: streamingmedia.com/Conferences/West2018/VES.aspx
Nov. 13–14, eBook Management: What Works, What Doesn't (ALCTS e-Forum)
Place: Online only
Sponsor/Organizer: Association for Library Collections and Technical Services (ALCTS)
URL: ala.org/alcts/confevents/upcoming/e-forum/111318
Nov. 13–14, Live Streaming Summit
Place: Huntington Beach, Calif.
Sponsor/Organizer: Information Today, Inc.
URL: streamingmedia.com/Conferences/West2018/livestreamingsummit.aspx
Nov. 13–14, Streaming Media West
Place: Huntington Beach, Calif.
Sponsor/Organizer: Information Today, Inc.
URL: streamingmedia.com/Conferences/west2018
Nov. 13–15, International Internet Preservation Consortium (IIPC) Web Archiving Conference 2018
Place: Wellington, New Zealand
Sponsor/Organizer: International Internet Preservation Consortium (IIPC)
URL: netpreserve.org/ga2018
Nov. 14–15, 2018 Library Marketing and Communications Conference (LMCC)
Place: St. Louis, Mo.
Sponsor/Organizer: Library Marketing Conference Group (LMCG)
URL: librarymarketingconference.org/lmcc-2018-announcements
Nov. 14–17, The 1st International Children's Libraries Symposium
Place: Urgup, Turkey
Sponsor/Organizer: University of Marmara, Department of Information and Records Management; Ministry of Culture and Tourism Libraries and Publications General Directorate
URL: childrenslibraries.org
Nov. 17–20, The 18th IEEE International Conference on Data Mining (ICDM 2018)
Place: Singapore
Sponsor/Organizer: Organizing Committee
URL: icdm2018.org
Nov. 29–Dec. 1, International Conference on Digital Transformation (ICDT 2018)
Place: Delhi, India
Sponsor/Organizer: Organizing Committee
URL: ifla.org/files/assets/asia-and-oceania/news/icdt_confernece_brochure_19-09-2018.pdf
If you regularly read blogs, add these to your reader:
ITI Conference Blog – libconf.com – covering ITI's library conferences worldwide.
ILI365/InfoToday Europe Blog – infotoday.eu – news and ideas for, and by, innovative info pros from around the world, throughout the year.

destinationCRM Blog – destinationcrmblog.com – a blog from the editors of CRM magazine, dedicated to providing Customer Relationship Management information in a timely manner to connect decision makers and providers.
SpeechTech Blog – speechtechblog.com – updates on speech technology and its applications in daily life, covering everything from ASR to VUI, with lots of links, threads, and even a few pictures thrown in for good measure.