FCC Approves Net Neutrality
by George H. Pike
The Federal Communications Commission (FCC) gave a huge victory to Net Neutrality advocates by voting in favor of sweeping new rules that change the way internet services are regulated. The rules would allow the FCC to regulate ISPs in a similar manner to telecommunication companies, including by restricting their ability to prioritize or give favorable treatment to certain categories of content. Opponents of Net Neutrality, however, have vowed to block the FCC action in either the courts or in Congress.
LexisNexis Will Help Support Postgraduate Development Programs
LexisNexis Legal & Professional made an alliance with the International Justice Center for Postgraduate Development (IJCPD) to allow postgraduate development programs to offer free access to essential legal research tools and services to new attorneys as they start their first pro bono activities and establish their practices.
GDELT Adds New Features for Interacting With Global News
GDELT, one of the largest platforms for monitoring global news, launched a variety of new capabilities in version 2.0. Among other functions, it offers real-time translation of news into English from 65 languages, measures 2,000-plus emotions and themes from articles using sentiment analysis, and houses a high-resolution inventory of media systems around the world.
e-Libro Facilitates Information Literacy Instruction in Spanish
Spanish-language ebooks solution e-Libro will offer free information literacy tools in Spanish and English for libraries of all types. These include mini-lessons in finding, using, and evaluating information and citing sources, which will be available as free PDF files.
Monster Makes It Easier for Employers to Find Job Seekers
Monster Social Job Ads is now commercially available for customers in the U.S. after a successful November 2014 beta launch with companies such as eBay, GEICO, and T-Mobile USA, Inc. Monster's next-generation social recruitment advertising solution gives employers an automated way to distribute selected jobs to targeted candidates on Twitter.
Adam Matthew Grants Free Access to American History Documents
Adam Matthew made part of its The History of America in 50 Documents collection free until March 31, 2015. Fifty hand-picked documents and their associated analyses from the collection's first module (covering 1493-1859) are available on Adam Matthew's website.
University Libraries Offer an Alternative to Traditional Publishing
by Brandi Scardilli
Maybe you're a professor who has an idea for a journal you'd like to start at your university. Or maybe you're a graduate student looking to prove yourself by publishing your research. Or maybe you're a college librarian hoping to start a newsletter that will raise your library's visibility on campus. No matter the reason, you're writing something that needs to find an audience. Why not publish it at the library? As digital tools get easier to use, many institutions are starting their own publishing programs in an effort to offer more varied services to their communities.
Download Our February Editorial Sampler
Want to review some articles from our library publications? Download the free February content sampler (PDF) of recent articles and an exclusive subscription offer for Computers in Libraries.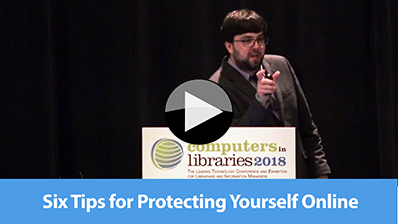 Six Tips for Protecting Yourself Online (3:23)
Evolve Project Director of Strategic Innovation Brian Pichman explains how to shore up your personal cybersecurity in this clip from Computers in Libraries 2018.
Find It Fast, 6th Edition
Extracting Expert Information from Social Networks, Big Data, Tweets, and More
by Robert Berkman

In Find It Fast, business research guru Robert Berkman gives expert advice on how to locate the best information sources, how to find and utilize the professionals behind those sources, and how to combine expert techniques to do fast and effective research on any subject.

You'll find practical guidance on such subjects as how to know if a site is a trusted source; understanding how and why sources differ; using precision search strategies and taming information overload; and finding, evaluating, and interviewing experts. Whether you are looking for consumer information, data for a job or project, facts for starting a new business, or an answer to an obscure question, Find It Fast will help you find it. Fast!

2015/336 pp softbound | ISBN 978-1-937290-04-7
Regular Price: $24.95 | Web Orders: $22.45
CONFERENCE CALENDAR
Nov. 13, Sports Streaming Summit
Place: Huntington Beach, Calif.
Sponsor/Organizer: Information Today, Inc.
URL: streamingmedia.com/Conferences/West2018/Sports.aspx
Nov. 13–14, OTT Leadership Summit
Place: Huntington Beach, Calif.
Sponsor/Organizer: Information Today, Inc.
URL: streamingmedia.com/Conferences/West2018/OTTSummit.aspx
Nov. 13–14, Video Engineering Summit
Place: Huntington Beach, Calif.
Sponsor/Organizer: Information Today, Inc.
URL: streamingmedia.com/Conferences/West2018/VES.aspx
Nov. 13–14, eBook Management: What Works, What Doesn't (ALCTS e-Forum)
Place: Online only
Sponsor/Organizer: Association for Library Collections and Technical Services (ALCTS)
URL: ala.org/alcts/confevents/upcoming/e-forum/111318
Nov. 13–14, Live Streaming Summit
Place: Huntington Beach, Calif.
Sponsor/Organizer: Information Today, Inc.
URL: streamingmedia.com/Conferences/West2018/livestreamingsummit.aspx
Nov. 13–14, Streaming Media West
Place: Huntington Beach, Calif.
Sponsor/Organizer: Information Today, Inc.
URL: streamingmedia.com/Conferences/west2018
Nov. 13–15, International Internet Preservation Consortium (IIPC) Web Archiving Conference 2018
Place: Wellington, New Zealand
Sponsor/Organizer: International Internet Preservation Consortium (IIPC)
URL: netpreserve.org/ga2018
Nov. 14–15, 2018 Library Marketing and Communications Conference (LMCC)
Place: St. Louis, Mo.
Sponsor/Organizer: Library Marketing Conference Group (LMCG)
URL: librarymarketingconference.org/lmcc-2018-announcements
Nov. 14–17, The 1st International Children's Libraries Symposium
Place: Urgup, Turkey
Sponsor/Organizer: University of Marmara, Department of Information and Records Management; Ministry of Culture and Tourism Libraries and Publications General Directorate
URL: childrenslibraries.org
Nov. 17–20, The 18th IEEE International Conference on Data Mining (ICDM 2018)
Place: Singapore
Sponsor/Organizer: Organizing Committee
URL: icdm2018.org
Nov. 29–Dec. 1, International Conference on Digital Transformation (ICDT 2018)
Place: Delhi, India
Sponsor/Organizer: Organizing Committee
URL: ifla.org/files/assets/asia-and-oceania/news/icdt_confernece_brochure_19-09-2018.pdf
If you regularly read blogs, add these to your reader:
ITI Conference Blog – libconf.com – covering ITI's library conferences worldwide.
ILI365/InfoToday Europe Blog – infotoday.eu – news and ideas for, and by, innovative info pros from around the world, throughout the year.

destinationCRM Blog – destinationcrmblog.com – a blog from the editors of CRM magazine, dedicated to providing Customer Relationship Management information in a timely manner to connect decision makers and providers.
SpeechTech Blog – speechtechblog.com – updates on speech technology and its applications in daily life, covering everything from ASR to VUI, with lots of links, threads, and even a few pictures thrown in for good measure.