Dialogue Over Public Access to Scholarly Publications Continues in the U.S.
by Abby Clobridge
On May 14-15, 2013, the National Academy of Sciences hosted a public comment meeting concerning public access to federally supported R&D publications. The meeting was sponsored by several federal departments and agencies affected by the Office of Science and Technology Policy (OSTP) memorandum issued in February 2013, which directs federal agencies sponsoring more than $100 million in annual R&D expenditures to develop plans to support "increased public access to the results of research funded by the Federal Government. This includes any results published in peer-reviewed scholarly publications that are based on research that directly arises from Federal funds." The meeting was designed to gather members of various stakeholder groups to offer input on issues concerning to the OSTP policy as it relates to publications. A second meeting was held on May 16 to focus on data.
Wiley Begins Trial of Alternative Metrics on Subscription and Open Access Articles
John Wiley & Sons, Inc. began a trial of Altmetric, a service that tracks and measures the impact of scholarly articles and datasets on both traditional and social media. The 6-month trial will run on a number of subscription and open access journals published by Wiley, including Advanced Materials, Angewandte Chemie, BJU International, Brain and Behavior, Methods in Ecology and Evolution, and EMBO Molecular Medicine.
Elsevier to Integrate GSA Geological Maps Into Geofacets
Elsevier announced a collaboration with The Geological Society of America (GSA), one of the largest and most prestigious societies serving geosciences professionals worldwide. The collaboration will formally launch in September through the integration of more than 60,000 geological maps from GSA's flagship journals, book series, and the comprehensive Decade of North American Geology compendium into Geofacets, Elsevier's research tool for geoscientists working in exploration for the oil and gas and metals and mining industries.
Blackboard and Vital Source Launch Etextbook Pilot
Blackboard, Inc., and Vital Source Technologies, Inc. launched pilot programs with a number of colleges and universities to test-drive an integrated offering that makes the VitalSource Bookshelf platform and its hundreds of thousands of etextbooks available directly within Blackboard Learn, the company's flagship learning management system.
Useful Browser Extensions
by Paula J. Hane
Over the years, I've migrated from one web browser to another as needs and changing technology dictated. For me, that's included Netscape Navigator, Microsoft Internet Explorer, Safari, Mozilla Firefox, and my latest browser of choice, Google Chrome. Once I adopted Chrome—on both my PC and my Android phone—I began to encounter all manner of browser extensions that have offered me enhanced functionality. I'd like to share some of these treasures that have improved the browser experience for me. There are similar extensions for Firefox and other browsers, but I'll focus on those I use on Chrome.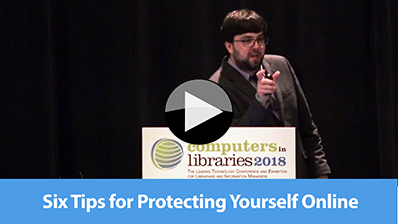 Six Tips for Protecting Yourself Online (3:23)
Evolve Project Director of Strategic Innovation Brian Pichman explains how to shore up your personal cybersecurity in this clip from Computers in Libraries 2018.
Find It Fast, 6th Edition
Extracting Expert Information from Social Networks, Big Data, Tweets, and More
by Robert Berkman

In Find It Fast, business research guru Robert Berkman gives expert advice on how to locate the best information sources, how to find and utilize the professionals behind those sources, and how to combine expert techniques to do fast and effective research on any subject.

You'll find practical guidance on such subjects as how to know if a site is a trusted source; understanding how and why sources differ; using precision search strategies and taming information overload; and finding, evaluating, and interviewing experts. Whether you are looking for consumer information, data for a job or project, facts for starting a new business, or an answer to an obscure question, Find It Fast will help you find it. Fast!

2015/336 pp softbound | ISBN 978-1-937290-04-7
Regular Price: $24.95 | Web Orders: $22.45
CONFERENCE CALENDAR
Nov. 13, Sports Streaming Summit
Place: Huntington Beach, Calif.
Sponsor/Organizer: Information Today, Inc.
URL: streamingmedia.com/Conferences/West2018/Sports.aspx
Nov. 13–14, OTT Leadership Summit
Place: Huntington Beach, Calif.
Sponsor/Organizer: Information Today, Inc.
URL: streamingmedia.com/Conferences/West2018/OTTSummit.aspx
Nov. 13–14, Video Engineering Summit
Place: Huntington Beach, Calif.
Sponsor/Organizer: Information Today, Inc.
URL: streamingmedia.com/Conferences/West2018/VES.aspx
Nov. 13–14, eBook Management: What Works, What Doesn't (ALCTS e-Forum)
Place: Online only
Sponsor/Organizer: Association for Library Collections and Technical Services (ALCTS)
URL: ala.org/alcts/confevents/upcoming/e-forum/111318
Nov. 13–14, Live Streaming Summit
Place: Huntington Beach, Calif.
Sponsor/Organizer: Information Today, Inc.
URL: streamingmedia.com/Conferences/West2018/livestreamingsummit.aspx
Nov. 13–14, Streaming Media West
Place: Huntington Beach, Calif.
Sponsor/Organizer: Information Today, Inc.
URL: streamingmedia.com/Conferences/west2018
Nov. 13–15, International Internet Preservation Consortium (IIPC) Web Archiving Conference 2018
Place: Wellington, New Zealand
Sponsor/Organizer: International Internet Preservation Consortium (IIPC)
URL: netpreserve.org/ga2018
Nov. 14–15, 2018 Library Marketing and Communications Conference (LMCC)
Place: St. Louis, Mo.
Sponsor/Organizer: Library Marketing Conference Group (LMCG)
URL: librarymarketingconference.org/lmcc-2018-announcements
Nov. 14–17, The 1st International Children's Libraries Symposium
Place: Urgup, Turkey
Sponsor/Organizer: University of Marmara, Department of Information and Records Management; Ministry of Culture and Tourism Libraries and Publications General Directorate
URL: childrenslibraries.org
Nov. 17–20, The 18th IEEE International Conference on Data Mining (ICDM 2018)
Place: Singapore
Sponsor/Organizer: Organizing Committee
URL: icdm2018.org
Nov. 29–Dec. 1, International Conference on Digital Transformation (ICDT 2018)
Place: Delhi, India
Sponsor/Organizer: Organizing Committee
URL: ifla.org/files/assets/asia-and-oceania/news/icdt_confernece_brochure_19-09-2018.pdf
If you regularly read blogs, add these to your reader:
ITI Conference Blog – libconf.com – covering ITI's library conferences worldwide.
ILI365/InfoToday Europe Blog – infotoday.eu – news and ideas for, and by, innovative info pros from around the world, throughout the year.

destinationCRM Blog – destinationcrmblog.com – a blog from the editors of CRM magazine, dedicated to providing Customer Relationship Management information in a timely manner to connect decision makers and providers.
SpeechTech Blog – speechtechblog.com – updates on speech technology and its applications in daily life, covering everything from ASR to VUI, with lots of links, threads, and even a few pictures thrown in for good measure.