The Wild West of MOOCs
by Abby Clobridge
Hardly a day goes by without a story appearing in a major new outlet about Massive Open Online Courses (MOOCs). While most of the headlines—including this one—reference MOOCs, the real issues are quite broad in scope, covering everything from whether higher education as we know it is on the verge of combusting, to big, bold experiments using technology to deliver education in transformative ways on a global scale. While the exact discussions seem to change on a constant basis, some of the current hot topics include proposed legislation in California, the swirl of possibilities around business models for so-called xMOOCs, and increased demand for production and availability of open textbooks.
Elsevier Acquires Mendeley
by Barbara Brynko
For some industry onlookers, the news that Elsevier acquired Mendeley in early April came as no surprise. But the initial rumors in late December/early January about the possible sale shook the foundations of the research community. And just as the buzz seemed to die down, the rumors became reality on April 8, 2013, and refueled the controversy. Researchers were getting accustomed to Mendeley's social science platform and in sharing resources and data amid a growing community of like-minded users, and then it all seemed to change overnight.
Credo Integrates Topic Pages With EBSCO Discovery Service
Credo announced that it has deployed new technology that integrates its growing library of Topic Pages with EBSCO Discovery Service. Students who search EDS will now see Topic Pages, which provide a gateway through Credo's trusted multimedia-rich reference content to other library resources, alongside their search results, providing a highly targeted starting point for deeper research. These searches will also retrieve Credo full-text reference entries, and will soon include high-resolution images and videos.
ProQuest Launches RefWorks Flow
ProQuest is launching a new collaboration platform for research materials called RefWorks Flow. This cloud-based resource takes what researchers love about RefWorks to a new level by supporting team environments—enabling easy document sharing—and mobile. Flow was created to provide a better solution for the changing workflow of researchers, who are increasingly working in team environments and want seamless access to full-text documents, rather than citations alone.
Wolters Kluwer Health Partners With CCC's Pubget Solutions
Wolters Kluwer Health and Copyright Clearance Center (CCC), a not-for-profit organization and leading provider of licensing and content solutions, announced a partnership to make available CCC's suite of Pubget document management solutions—PaperStream, RightSphere, and PaperStats—to simplify institutional content discovery, compliance, and collection development.
The Latest Pew Report on The State of the News Media
by Paula J. Hane
Pew Research Center's Project for Excellence in Journalism published "The State of the News Media 2013," a study that concluded the U.S. has a "news industry that is more undermanned and unprepared to uncover stories, dig deep into emerging ones, or to question information put into its hands." Overall, "Online was the only category of news that showed growth." I'd say that's a fairly dreary and pessimistic outlook, as did many of the media outlets reporting the results of the study. Thankfully, there were actually some bright spots in the report that highlighted some of the evolutionary changes occurring. But, Matthew Yglesias, writing in Slate, says, "Ignore the doomsayers: The news-reading public has never had more and better information at their fingertips."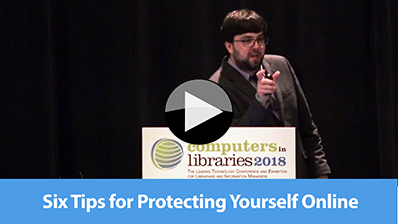 Six Tips for Protecting Yourself Online (3:23)
Evolve Project Director of Strategic Innovation Brian Pichman explains how to shore up your personal cybersecurity in this clip from Computers in Libraries 2018.
Find It Fast, 6th Edition
Extracting Expert Information from Social Networks, Big Data, Tweets, and More
by Robert Berkman

In Find It Fast, business research guru Robert Berkman gives expert advice on how to locate the best information sources, how to find and utilize the professionals behind those sources, and how to combine expert techniques to do fast and effective research on any subject.

You'll find practical guidance on such subjects as how to know if a site is a trusted source; understanding how and why sources differ; using precision search strategies and taming information overload; and finding, evaluating, and interviewing experts. Whether you are looking for consumer information, data for a job or project, facts for starting a new business, or an answer to an obscure question, Find It Fast will help you find it. Fast!

2015/336 pp softbound | ISBN 978-1-937290-04-7
Regular Price: $24.95 | Web Orders: $22.45
CONFERENCE CALENDAR
Nov. 13, Sports Streaming Summit
Place: Huntington Beach, Calif.
Sponsor/Organizer: Information Today, Inc.
URL: streamingmedia.com/Conferences/West2018/Sports.aspx
Nov. 13–14, OTT Leadership Summit
Place: Huntington Beach, Calif.
Sponsor/Organizer: Information Today, Inc.
URL: streamingmedia.com/Conferences/West2018/OTTSummit.aspx
Nov. 13–14, Video Engineering Summit
Place: Huntington Beach, Calif.
Sponsor/Organizer: Information Today, Inc.
URL: streamingmedia.com/Conferences/West2018/VES.aspx
Nov. 13–14, eBook Management: What Works, What Doesn't (ALCTS e-Forum)
Place: Online only
Sponsor/Organizer: Association for Library Collections and Technical Services (ALCTS)
URL: ala.org/alcts/confevents/upcoming/e-forum/111318
Nov. 13–14, Live Streaming Summit
Place: Huntington Beach, Calif.
Sponsor/Organizer: Information Today, Inc.
URL: streamingmedia.com/Conferences/West2018/livestreamingsummit.aspx
Nov. 13–14, Streaming Media West
Place: Huntington Beach, Calif.
Sponsor/Organizer: Information Today, Inc.
URL: streamingmedia.com/Conferences/west2018
Nov. 13–15, International Internet Preservation Consortium (IIPC) Web Archiving Conference 2018
Place: Wellington, New Zealand
Sponsor/Organizer: International Internet Preservation Consortium (IIPC)
URL: netpreserve.org/ga2018
Nov. 14–15, 2018 Library Marketing and Communications Conference (LMCC)
Place: St. Louis, Mo.
Sponsor/Organizer: Library Marketing Conference Group (LMCG)
URL: librarymarketingconference.org/lmcc-2018-announcements
Nov. 14–17, The 1st International Children's Libraries Symposium
Place: Urgup, Turkey
Sponsor/Organizer: University of Marmara, Department of Information and Records Management; Ministry of Culture and Tourism Libraries and Publications General Directorate
URL: childrenslibraries.org
Nov. 17–20, The 18th IEEE International Conference on Data Mining (ICDM 2018)
Place: Singapore
Sponsor/Organizer: Organizing Committee
URL: icdm2018.org
Nov. 29–Dec. 1, International Conference on Digital Transformation (ICDT 2018)
Place: Delhi, India
Sponsor/Organizer: Organizing Committee
URL: ifla.org/files/assets/asia-and-oceania/news/icdt_confernece_brochure_19-09-2018.pdf
If you regularly read blogs, add these to your reader:
ITI Conference Blog – libconf.com – covering ITI's library conferences worldwide.
ILI365/InfoToday Europe Blog – infotoday.eu – news and ideas for, and by, innovative info pros from around the world, throughout the year.

destinationCRM Blog – destinationcrmblog.com – a blog from the editors of CRM magazine, dedicated to providing Customer Relationship Management information in a timely manner to connect decision makers and providers.
SpeechTech Blog – speechtechblog.com – updates on speech technology and its applications in daily life, covering everything from ASR to VUI, with lots of links, threads, and even a few pictures thrown in for good measure.