A 'Total Victory' for the First Sale Doctrine from the Supreme Court
by George H. Pike
In a powerful and conclusive opinion, the U.S. Supreme Court declared that copyright's First Sale doctrine applies to all legal copyrighted works regardless of where they are manufactured. The decision in the case of Kirtsaeng vs. John Wiley & Sons, Inc. clarified a longstanding question of whether First Sale applied to copyrighted works that had been manufactured outside of the U.S. With the court's decision, groups as diverse as libraries, museums, eBay resellers, and used bookstores can resell, lend, or display copyrighted works without interference from the copyright owner or publisher. Publishers and trade organizations expressed disappointment and argued that the decision will have repercussions over international trade in copyrighted works.
SirsiDynix Announces Upcoming BLUEcloud Suite
SirsiDynix, a provider of library automation solutions, announced the upcoming BLUEcloud Suite library services platform. BLUEcloud Suite comprises a set of cloud-based administration, discovery, acquisition, and collection management applications that augment libraries' current Horizon and Symphony systems. The first BLUEcloud Suite applications will be released in summer 2013. Many of the applications will be included as part of the normal Horizon and Symphony maintenance; every application will be available for desktops, laptops, and mobile devices.
Alexander Street Partners With Equinox Software to Enhance Evergreen
Alexander Street Press sponsored Georgia-based Equinox Software, Inc. in the development of new enhancements to its Evergreen Open Source ILS library software. The sponsored development project will build onto the existing ILS in two phases. The first phase includes creating enhancements to date-sensitive bibliographic searches and MARC record output. The second phase involves developing new functionality for the overlay of existing records. The end result will be an updated software system that enables increased efficiency and accuracy of record-keeping for thousands of librarians worldwide.
Bibliogo Now Accepts Imports of RSS Feeds From Google Reader
Reprints Desk, Inc. announced the launch of new really simple syndication (RSS) feed import functionality inside Bibliogo, the free RSS feed reader and reference management system. The new functionality was created specifically to accommodate the needs of professionals that monitor peer-reviewed journal content who are seeking an alternative to Google Reader feed reader amid the March 13 announcement from Google Inc. that it will be powering down the service in July 2013.
Etextbook Update
by Paula J. Hane
I've been regularly covering news of digital textbooks for several years. It is now a market in such flux, with so many developments, startup launches, reports of research, publishing company restructuring and mergers, and more, that it warrants revisiting frequently. This is a review of some recent noteworthy developments and a discussion of a report on student acceptance.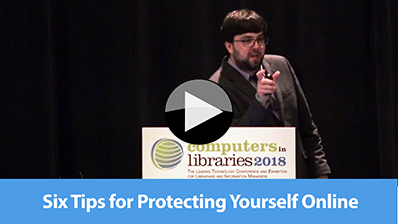 Six Tips for Protecting Yourself Online (3:23)
Evolve Project Director of Strategic Innovation Brian Pichman explains how to shore up your personal cybersecurity in this clip from Computers in Libraries 2018.
Find It Fast, 6th Edition
Extracting Expert Information from Social Networks, Big Data, Tweets, and More
by Robert Berkman

In Find It Fast, business research guru Robert Berkman gives expert advice on how to locate the best information sources, how to find and utilize the professionals behind those sources, and how to combine expert techniques to do fast and effective research on any subject.

You'll find practical guidance on such subjects as how to know if a site is a trusted source; understanding how and why sources differ; using precision search strategies and taming information overload; and finding, evaluating, and interviewing experts. Whether you are looking for consumer information, data for a job or project, facts for starting a new business, or an answer to an obscure question, Find It Fast will help you find it. Fast!

2015/336 pp softbound | ISBN 978-1-937290-04-7
Regular Price: $24.95 | Web Orders: $22.45
CONFERENCE CALENDAR
Nov. 13, Sports Streaming Summit
Place: Huntington Beach, Calif.
Sponsor/Organizer: Information Today, Inc.
URL: streamingmedia.com/Conferences/West2018/Sports.aspx
Nov. 13–14, OTT Leadership Summit
Place: Huntington Beach, Calif.
Sponsor/Organizer: Information Today, Inc.
URL: streamingmedia.com/Conferences/West2018/OTTSummit.aspx
Nov. 13–14, Video Engineering Summit
Place: Huntington Beach, Calif.
Sponsor/Organizer: Information Today, Inc.
URL: streamingmedia.com/Conferences/West2018/VES.aspx
Nov. 13–14, eBook Management: What Works, What Doesn't (ALCTS e-Forum)
Place: Online only
Sponsor/Organizer: Association for Library Collections and Technical Services (ALCTS)
URL: ala.org/alcts/confevents/upcoming/e-forum/111318
Nov. 13–14, Live Streaming Summit
Place: Huntington Beach, Calif.
Sponsor/Organizer: Information Today, Inc.
URL: streamingmedia.com/Conferences/West2018/livestreamingsummit.aspx
Nov. 13–14, Streaming Media West
Place: Huntington Beach, Calif.
Sponsor/Organizer: Information Today, Inc.
URL: streamingmedia.com/Conferences/west2018
Nov. 13–15, International Internet Preservation Consortium (IIPC) Web Archiving Conference 2018
Place: Wellington, New Zealand
Sponsor/Organizer: International Internet Preservation Consortium (IIPC)
URL: netpreserve.org/ga2018
Nov. 14–15, 2018 Library Marketing and Communications Conference (LMCC)
Place: St. Louis, Mo.
Sponsor/Organizer: Library Marketing Conference Group (LMCG)
URL: librarymarketingconference.org/lmcc-2018-announcements
Nov. 14–17, The 1st International Children's Libraries Symposium
Place: Urgup, Turkey
Sponsor/Organizer: University of Marmara, Department of Information and Records Management; Ministry of Culture and Tourism Libraries and Publications General Directorate
URL: childrenslibraries.org
Nov. 17–20, The 18th IEEE International Conference on Data Mining (ICDM 2018)
Place: Singapore
Sponsor/Organizer: Organizing Committee
URL: icdm2018.org
Nov. 29–Dec. 1, International Conference on Digital Transformation (ICDT 2018)
Place: Delhi, India
Sponsor/Organizer: Organizing Committee
URL: ifla.org/files/assets/asia-and-oceania/news/icdt_confernece_brochure_19-09-2018.pdf
If you regularly read blogs, add these to your reader:
ITI Conference Blog – libconf.com – covering ITI's library conferences worldwide.
ILI365/InfoToday Europe Blog – infotoday.eu – news and ideas for, and by, innovative info pros from around the world, throughout the year.

destinationCRM Blog – destinationcrmblog.com – a blog from the editors of CRM magazine, dedicated to providing Customer Relationship Management information in a timely manner to connect decision makers and providers.
SpeechTech Blog – speechtechblog.com – updates on speech technology and its applications in daily life, covering everything from ASR to VUI, with lots of links, threads, and even a few pictures thrown in for good measure.