Thursday, February 14, 2013
Amazon Patents Electronic Marketplace For 'Used' Digital Content
by George H. Pike
Will individuals soon be able to buy and sell "used" digital media such as apps, ebooks, and music downloads? And if so, will they only be able to do this through Amazon? These are among the questions being asked after Amazon, Inc. was awarded a U.S. patent for an "electronic marketplace for used digital objects." (U.S. Patent No. 8,364,595, available online at www.uspto.gov). The patent, which traveled a nearly 4-year journey from application to issuance, would permit users to create "personalized data stores"—presumably through Amazon—which would house digital media files and permit the files to be moved from one person's store to another through a secure system. The granting of the patent, however, does not mean that Amazon will actually establish the marketplace or that the use of the marketplace would be legal.
DCL Teams With Bowker to Support Self-Publishers
Digital publishing services provider Data Conversion Laboratory (DCL) announced a partnership with bibliographic information provider Bowker to better serve the self-publishing market. Bowker Identifier Services will now offer self-publishers DCL's EPUB on Demand eBook Product Service through Bowker's MyIdentifiers.com website.
U.S. Government Printing Office Joins Pinterest
The U.S. Government Printing Office (GPO) expanded its social media presence by joining Pinterest. Connecting people through "things" they find interesting is the founding principle of Pinterest and a natural fit with GPO's core mission of Keeping America Informed on the three branches of the federal government. GPO will use Pinterest to share historic photos, videos, products, and government publications with the public. Pinterest joins GPO's other social media platforms of Facebook, Twitter, YouTube, and Government Book Talk blog.
NISO and OAI Release Draft for Comments of 'ResourceSync Framework Specification'
The National Information Standards Organization (NISO) and the Open Archives Initiative (OAI) announced the release of a beta draft for comments of the "ResourceSync Framework Specification" for the web detailing various capabilities that a server can implement to allow third-party systems to remain synchronized with its evolving resources. Feedback to this version of the specification is solicited and can be shared by March 15, 2013 on the ResourceSync Google Group. The ResourceSync joint project, funded with support from the Alfred P. Sloan Foundation and JISC, was initiated to develop a new open standard on the real-time synchronization of Web resources.
A Cyber War Is Brewing
by Paula J. Hane
At first, it just seemed to be a trickle of bad news. This company or another was the object of a cyberattack. Sometimes it was the hackers group with the ominous-sounding name, Anonymous, that was blamed. Then, Anonymous reportedly defaced the entire MIT website in revenge following the recent suicide of Aaron Swartz. It also hacked the Department of Justice Sentencing Commission website and threatened to launch "multiple warheads." This prompted me to do some digging. I found that hacking incidents seem to be much more pervasive—and serious—than I'd thought. The reports of cybersecurity breaches have grown more numerous in the last few years, and there have been a flood of security warnings recently.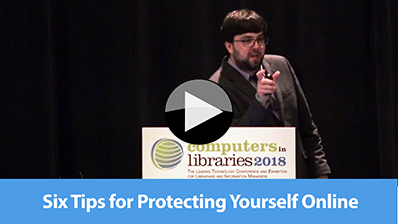 Six Tips for Protecting Yourself Online (3:23)
Evolve Project Director of Strategic Innovation Brian Pichman explains how to shore up your personal cybersecurity in this clip from Computers in Libraries 2018.
Find It Fast, 6th Edition
Extracting Expert Information from Social Networks, Big Data, Tweets, and More
by Robert Berkman

In Find It Fast, business research guru Robert Berkman gives expert advice on how to locate the best information sources, how to find and utilize the professionals behind those sources, and how to combine expert techniques to do fast and effective research on any subject.

You'll find practical guidance on such subjects as how to know if a site is a trusted source; understanding how and why sources differ; using precision search strategies and taming information overload; and finding, evaluating, and interviewing experts. Whether you are looking for consumer information, data for a job or project, facts for starting a new business, or an answer to an obscure question, Find It Fast will help you find it. Fast!

2015/336 pp softbound | ISBN 978-1-937290-04-7
Regular Price: $24.95 | Web Orders: $22.45
CONFERENCE CALENDAR
Nov. 13, Sports Streaming Summit
Place: Huntington Beach, Calif.
Sponsor/Organizer: Information Today, Inc.
URL: streamingmedia.com/Conferences/West2018/Sports.aspx
Nov. 13–14, OTT Leadership Summit
Place: Huntington Beach, Calif.
Sponsor/Organizer: Information Today, Inc.
URL: streamingmedia.com/Conferences/West2018/OTTSummit.aspx
Nov. 13–14, Video Engineering Summit
Place: Huntington Beach, Calif.
Sponsor/Organizer: Information Today, Inc.
URL: streamingmedia.com/Conferences/West2018/VES.aspx
Nov. 13–14, eBook Management: What Works, What Doesn't (ALCTS e-Forum)
Place: Online only
Sponsor/Organizer: Association for Library Collections and Technical Services (ALCTS)
URL: ala.org/alcts/confevents/upcoming/e-forum/111318
Nov. 13–14, Live Streaming Summit
Place: Huntington Beach, Calif.
Sponsor/Organizer: Information Today, Inc.
URL: streamingmedia.com/Conferences/West2018/livestreamingsummit.aspx
Nov. 13–14, Streaming Media West
Place: Huntington Beach, Calif.
Sponsor/Organizer: Information Today, Inc.
URL: streamingmedia.com/Conferences/west2018
Nov. 13–15, International Internet Preservation Consortium (IIPC) Web Archiving Conference 2018
Place: Wellington, New Zealand
Sponsor/Organizer: International Internet Preservation Consortium (IIPC)
URL: netpreserve.org/ga2018
Nov. 14–15, 2018 Library Marketing and Communications Conference (LMCC)
Place: St. Louis, Mo.
Sponsor/Organizer: Library Marketing Conference Group (LMCG)
URL: librarymarketingconference.org/lmcc-2018-announcements
Nov. 14–17, The 1st International Children's Libraries Symposium
Place: Urgup, Turkey
Sponsor/Organizer: University of Marmara, Department of Information and Records Management; Ministry of Culture and Tourism Libraries and Publications General Directorate
URL: childrenslibraries.org
Nov. 17–20, The 18th IEEE International Conference on Data Mining (ICDM 2018)
Place: Singapore
Sponsor/Organizer: Organizing Committee
URL: icdm2018.org
Nov. 29–Dec. 1, International Conference on Digital Transformation (ICDT 2018)
Place: Delhi, India
Sponsor/Organizer: Organizing Committee
URL: ifla.org/files/assets/asia-and-oceania/news/icdt_confernece_brochure_19-09-2018.pdf
If you regularly read blogs, add these to your reader:
ITI Conference Blog – libconf.com – covering ITI's library conferences worldwide.
ILI365/InfoToday Europe Blog – infotoday.eu – news and ideas for, and by, innovative info pros from around the world, throughout the year.

destinationCRM Blog – destinationcrmblog.com – a blog from the editors of CRM magazine, dedicated to providing Customer Relationship Management information in a timely manner to connect decision makers and providers.
SpeechTech Blog – speechtechblog.com – updates on speech technology and its applications in daily life, covering everything from ASR to VUI, with lots of links, threads, and even a few pictures thrown in for good measure.