Thursday, February 07, 2013
Reveal Digital Looks to Digitize Special Collections
by Barbara Quint
A new company, Reveal Digital, offers a service to libraries under a new cost-recovery revenue model aimed at permanent archiving and open access. Special collections, curated by expert librarians, exist all over the country in libraries large and small, public and academic. But, too often these collections have not gone online due to a lack of resources or funding. Now Jeff Moyer, an experienced manager of major vendor digitization projects, has formed Reveal Digital to create a network of library partners and specialty digitizing services. The first collection under the process of aggregation and digitization by Reveal Digital is titled Independent Voices, a multisource compilation of alternative press and advocacy publications. This project is expected to take several years.
EBSCO Adds New Ebook Subscription Collections
EBSCO Publishing (EBSCO) released EngineeringCore and ITCore, two ebook subscription collections designed to support the learning and reference needs of engineering and technology professionals. The collections are available as annual subscriptions that give users unlimited access to all titles.
IET Launches Next Generation IET Digital Library
The Institution of Engineering and Technology (IET), in partnership with Publishing Technology, re-engineered its IET Digital Library, the central access point for the organization's online content, with an abundance of new user-friendly features. Launched on Publishing Technology's pub2web platform with intrinsic semantic web technology, the fully redeveloped online hub is designed to improve the speed and ease with which academic and corporate users and the institution's 150,000-plus international members access its wealth of digital content.
New Website for Readers Launches—Bookish
Bookish, a one-stop, comprehensive online destination designed to connect readers with books and authors, has launched, providing visitors with exclusive content and insider access to A-list writers. With the backing of Hachette Book Group, Penguin Group, and Simon & Schuster, as well as the participation of 16 other major publishers, including Random House, Inc., Scholastic, HarperCollins Publishers, and Perseus Books Group, Bookish will provide readers with a wealth of original and exclusive content about books and writers, while also allowing users to conveniently browse, discover, and purchase new reads without leaving the site.
A Cyber War Is Brewing
by Paula J. Hane
At first, it just seemed to be a trickle of bad news. This company or another was the object of a cyberattack. Sometimes it was the hackers group with the ominous-sounding name, Anonymous, that was blamed. Then, Anonymous reportedly defaced the entire MIT website in revenge following the recent suicide of Aaron Swartz. It also hacked the Department of Justice Sentencing Commission website and threatened to launch "multiple warheads." This prompted me to do some digging. I found that hacking incidents seem to be much more pervasive—and serious—than I'd thought. The reports of cybersecurity breaches have grown more numerous in the last few years, and there have been a flood of security warnings recently.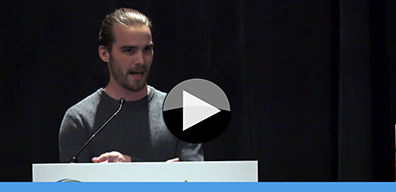 The 5 Steps of Data Analysis for Public Libraries (3:41)
In this clip, Oak Park Public Library Data Analyst Grant Halter walks Computers in Libraries 2018 attendees through the five steps of data analysis.
CONFERENCE CALENDAR
Oct. 10–12, The 2nd International Conference of Information Management & Libraries
Place: Lahore, Pakistan
Sponsor/Organizer: Department of Information Management, University of the Punjab
URL: pu.edu.pk/iciml
Oct. 10–13, AoIR 2018
Place: Montreal
Sponsor/Organizer: Association of Internet Researchers (AoIR)
URL: aoir.org/conferences/aoir2018
Oct. 12–13, SCOUG Library Shark Tank Weekend
Place: Monterey, Calif.
Sponsor/Organizer: Southern California Online Users Group (SCOUG)
URL: scougsharktank.weebly.com
Oct. 16–17, Internet Librarian International 2018
Place: London
Sponsor/Organizer: Information Today, Inc.
URL: internet-librarian.com/2018/default.aspx
Oct. 16–17, Taxonomy Boot Camp London 2018
Place: London
Sponsor/Organizer: Information Today, Inc.
URL: taxonomybootcamp.com/London/2018
Oct. 16–18, Internet Librarian 2018
Place: Monterey, Calif.
Sponsor/Organizer: Information Today, Inc.
URL: internet-librarian.infotoday.com/2018
Oct. 17, Library 2.018: Social Crisis Management in a 21st Century World
Place: Online only
Sponsor/Organizer: San Jose State University School of Information
URL: library20.com/page/socialcrisis
Oct. 23–26, The 12th International Conference on Metadata and Semantics Research (MTSR'18)
Place: Limassol, Cyprus
Sponsor/Organizer: Organizing committee
URL: mtsr-conf.org
Oct. 24, That Cutting Edge: Technology's Impact on Scholarly Research Processes in the Library (NISO Virtual Conference)
Place: Online only
Sponsor/Organizer: National Information Standards Organization (NISO)
URL: niso.org/events/2018/10/cutting-edge-technologys-impact-scholarly-research-processes-library
Oct. 30–31, The 21st International Conference on Discovery Science (DS-2018)
Place: Limassol, Cyprus
Sponsor/Organizer: Organizing committee
URL: cyprusconferences.org/ds2018/index.html
If you regularly read blogs, add these to your reader:
ITI Conference Blog – libconf.com – covering ITI's library conferences worldwide.
ILI365/InfoToday Europe Blog – infotoday.eu – news and ideas for, and by, innovative info pros from around the world, throughout the year.

destinationCRM Blog – destinationcrmblog.com – a blog from the editors of CRM magazine, dedicated to providing Customer Relationship Management information in a timely manner to connect decision makers and providers.
SpeechTech Blog – speechtechblog.com – updates on speech technology and its applications in daily life, covering everything from ASR to VUI, with lots of links, threads, and even a few pictures thrown in for good measure.