Thursday, December 13, 2012
Dow Jones Moving to MarkLogic Platform; Factiva First
by Barbara Quint
Over the next 2 years, Dow Jones, a subsidiary of News Corp. (www.newscorp.com), will be moving the bulk of its online content to the NoSQL software platform of MarkLogic Corp. Factiva will be the first of three services on the Dow Jones digital network to shift; the others—WSJ.com and Dow Jones Financial Services—will follow. At present, no specific dates have been set for the moves, but Factiva should have moved over "well before the end of 2013," according to Alisa Bowen, head of product at Dow Jones. The Factiva segment of Dow Jones services sees this as a significant investment in the future of a service begun late the last century as Dow Jones News Retrieval.
PubReader: A New Way to Read Articles in PubMed Central
The National Center for Biotechnology Information (NCBI) developed a new presentation style called PubReader, an easier way to use your web browser to read articles in PubMed Central on your desktop, laptop, or tablet computer. Like a printed paper, PubReader breaks an article into multiple columns and pages to improve readability and navigation. PubReader can expand a page to whatever fits on your screen—with multiple columns on a desktop monitor or a single column page on a small tablet.
ProQuest Expands DNSA With Newly Declassified U.S./Argentina Files
ProQuest expanded its Digital National Security Archive (DNSA) with newly declassified files that chronicle the development of U.S. policy as it attempted to deal with the tragedy experienced in Argentina during the critical, formative period of the late 1970s. This was a time that featured a political collapse verging on civil war, a military coup, and massive illegal detentions, torture and kidnappings. The records, described by the National Security Archive as "extraordinary," are currently being used as evidence in dozens of human rights trials against former military officials in Argentina, making access to them particularly timely.
UniPHY Scientific Social Network to Close at Year End
The American Institute of Physics (AIP) announced the closure of its UniPHY scientific social network service; the website will be taken down on Dec. 31, 2012. According to the statement from AIP, "While we were one of the first to enter the social networking space by launching UniPHY in 2009, rapid change and advances in this area have led to the emergence of competing services, such as Mendeley, ResearchGate, Academia.edu, and others. Moving forward, we will use the insights gained over the past three years to develop new and innovative products and services that will help scientists connect, collaborate, and innovate."
The Fight for a Free and Open Internet
by Paula J. Hane
Vinton Cerf is worried. Cerf is credited with helping to develop the protocols and structure of the internet and the first commercial email system. Now he fears forces are at work that threaten to undermine the free and open nature of the net. He notes that, "The internet has become one of the motors of the 21st century economy, allowing all of us to reach a global audience at a click of a mouse and creating hundreds of thousands of businesses and millions of jobs." But he cautioned, "Today, this free and open net is under threat. Some 42 countries filter and censor content out of the 72 studied by the Open Net Initiative (ONI). This doesn't even count serial offenders such as North Korea and Cuba. Over the past 2 years, Freedom House says governments have enacted 19 new laws threatening online free expression." Cerf and many others worry that a meeting that starts today (Dec. 3, 2012, in Dubai, United Arab Emirates) could prove problematic.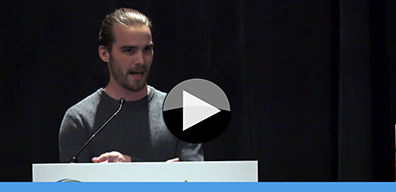 The 5 Steps of Data Analysis for Public Libraries (3:41)
In this clip, Oak Park Public Library Data Analyst Grant Halter walks Computers in Libraries 2018 attendees through the five steps of data analysis.
CONFERENCE CALENDAR
Oct. 10–12, The 2nd International Conference of Information Management & Libraries
Place: Lahore, Pakistan
Sponsor/Organizer: Department of Information Management, University of the Punjab
URL: pu.edu.pk/iciml
Oct. 10–13, AoIR 2018
Place: Montreal
Sponsor/Organizer: Association of Internet Researchers (AoIR)
URL: aoir.org/conferences/aoir2018
Oct. 12–13, SCOUG Library Shark Tank Weekend
Place: Monterey, Calif.
Sponsor/Organizer: Southern California Online Users Group (SCOUG)
URL: scougsharktank.weebly.com
Oct. 16–17, Internet Librarian International 2018
Place: London
Sponsor/Organizer: Information Today, Inc.
URL: internet-librarian.com/2018/default.aspx
Oct. 16–17, Taxonomy Boot Camp London 2018
Place: London
Sponsor/Organizer: Information Today, Inc.
URL: taxonomybootcamp.com/London/2018
Oct. 16–18, Internet Librarian 2018
Place: Monterey, Calif.
Sponsor/Organizer: Information Today, Inc.
URL: internet-librarian.infotoday.com/2018
Oct. 17, Library 2.018: Social Crisis Management in a 21st Century World
Place: Online only
Sponsor/Organizer: San Jose State University School of Information
URL: library20.com/page/socialcrisis
Oct. 23–26, The 12th International Conference on Metadata and Semantics Research (MTSR'18)
Place: Limassol, Cyprus
Sponsor/Organizer: Organizing committee
URL: mtsr-conf.org
Oct. 24, That Cutting Edge: Technology's Impact on Scholarly Research Processes in the Library (NISO Virtual Conference)
Place: Online only
Sponsor/Organizer: National Information Standards Organization (NISO)
URL: niso.org/events/2018/10/cutting-edge-technologys-impact-scholarly-research-processes-library
Oct. 30–31, The 21st International Conference on Discovery Science (DS-2018)
Place: Limassol, Cyprus
Sponsor/Organizer: Organizing committee
URL: cyprusconferences.org/ds2018/index.html
If you regularly read blogs, add these to your reader:
ITI Conference Blog – libconf.com – covering ITI's library conferences worldwide.
ILI365/InfoToday Europe Blog – infotoday.eu – news and ideas for, and by, innovative info pros from around the world, throughout the year.

destinationCRM Blog – destinationcrmblog.com – a blog from the editors of CRM magazine, dedicated to providing Customer Relationship Management information in a timely manner to connect decision makers and providers.
SpeechTech Blog – speechtechblog.com – updates on speech technology and its applications in daily life, covering everything from ASR to VUI, with lots of links, threads, and even a few pictures thrown in for good measure.