Monday, December 10, 2012
Wolters Kluwer Law & Business Creates Daily Legal Publications With 'Smart' Features
by Carol Ebbinghouse
Wolters Kluwer Law & Business announced a new suite of daily publications written by attorneys for attorneys. Three new dailies join the existing employment and intellectual property titles. The suite of products are designed to "deliver breaking news from both the federal and state level, the latest rulemaking and updates on litigation as well as a complete summary of the daily legal news." Most notable to discerning information purchasers are the thoughtful features for the convenience of the target audience—attorneys, legal information professionals, and the technical people who support them.
Thomson Reuters Announces Cortellis for Clinical Trials Intelligence
The IP & Science business of Thomson Reuters announced a preview of its newest intelligence solution, Thomson Reuters Cortellis for Clinical Trials Intelligence. Scheduled for release in early 2013, this capability will provide drug development and clinical professionals with the critical information necessary to evaluate market opportunities, identify potential barriers, and establish informed decisions about clinical trial design and operations.
LexisNexis Launches Risk-Monitoring Tool for Supply Management
LexisNexis Legal & Professional announced the launch of LexisNexis SmartWatch, a risk-monitoring tool for supply management professionals. Drawing upon the vast LexisNexis collection of global news content and proprietary risk event tagging, LexisNexis SmartWatch algorithms score and surface concerns about an organization's suppliers and supply management partners, based upon each enterprise's particular risk profile. LexisNexis SmartWatch—for which a patent is pending—then uses unique information visualization techniques, which enable supply management and procurement professionals to efficiently monitor thousands of suppliers for disruptive events that might affect their supply chain.
Science.gov Celebrates 10 Years of Service
The federal government's "one-stop" real-time science data website, Science.gov is now celebrating its 10th anniversary. Science.gov was launched in December 2002 and has broken new ground in interagency collaboration. Senior information managers representing 13 federal agencies forged a consensus on how national science organizations could improve public access to the nation's rich and diverse scientific research information and partnered to create the Science.gov web portal.
The Fight for a Free and Open Internet
by Paula J. Hane
Vinton Cerf is worried. Cerf is credited with helping to develop the protocols and structure of the internet and the first commercial email system. Now he fears forces are at work that threaten to undermine the free and open nature of the net. He notes that, "The internet has become one of the motors of the 21st century economy, allowing all of us to reach a global audience at a click of a mouse and creating hundreds of thousands of businesses and millions of jobs." But he cautioned, "Today, this free and open net is under threat. Some 42 countries filter and censor content out of the 72 studied by the Open Net Initiative (ONI). This doesn't even count serial offenders such as North Korea and Cuba. Over the past 2 years, Freedom House says governments have enacted 19 new laws threatening online free expression." Cerf and many others worry that a meeting that starts today (Dec. 3, 2012, in Dubai, United Arab Emirates) could prove problematic.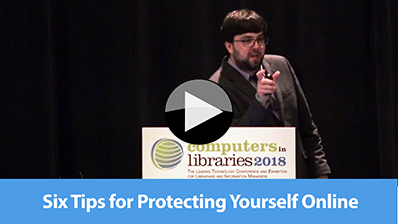 Six Tips for Protecting Yourself Online (3:23)
Evolve Project Director of Strategic Innovation Brian Pichman explains how to shore up your personal cybersecurity in this clip from Computers in Libraries 2018.
Find It Fast, 6th Edition
Extracting Expert Information from Social Networks, Big Data, Tweets, and More
by Robert Berkman

In Find It Fast, business research guru Robert Berkman gives expert advice on how to locate the best information sources, how to find and utilize the professionals behind those sources, and how to combine expert techniques to do fast and effective research on any subject.

You'll find practical guidance on such subjects as how to know if a site is a trusted source; understanding how and why sources differ; using precision search strategies and taming information overload; and finding, evaluating, and interviewing experts. Whether you are looking for consumer information, data for a job or project, facts for starting a new business, or an answer to an obscure question, Find It Fast will help you find it. Fast!

2015/336 pp softbound | ISBN 978-1-937290-04-7
Regular Price: $24.95 | Web Orders: $22.45
CONFERENCE CALENDAR
Nov. 13, Sports Streaming Summit
Place: Huntington Beach, Calif.
Sponsor/Organizer: Information Today, Inc.
URL: streamingmedia.com/Conferences/West2018/Sports.aspx
Nov. 13–14, OTT Leadership Summit
Place: Huntington Beach, Calif.
Sponsor/Organizer: Information Today, Inc.
URL: streamingmedia.com/Conferences/West2018/OTTSummit.aspx
Nov. 13–14, Video Engineering Summit
Place: Huntington Beach, Calif.
Sponsor/Organizer: Information Today, Inc.
URL: streamingmedia.com/Conferences/West2018/VES.aspx
Nov. 13–14, eBook Management: What Works, What Doesn't (ALCTS e-Forum)
Place: Online only
Sponsor/Organizer: Association for Library Collections and Technical Services (ALCTS)
URL: ala.org/alcts/confevents/upcoming/e-forum/111318
Nov. 13–14, Live Streaming Summit
Place: Huntington Beach, Calif.
Sponsor/Organizer: Information Today, Inc.
URL: streamingmedia.com/Conferences/West2018/livestreamingsummit.aspx
Nov. 13–14, Streaming Media West
Place: Huntington Beach, Calif.
Sponsor/Organizer: Information Today, Inc.
URL: streamingmedia.com/Conferences/west2018
Nov. 13–15, International Internet Preservation Consortium (IIPC) Web Archiving Conference 2018
Place: Wellington, New Zealand
Sponsor/Organizer: International Internet Preservation Consortium (IIPC)
URL: netpreserve.org/ga2018
Nov. 14–15, 2018 Library Marketing and Communications Conference (LMCC)
Place: St. Louis, Mo.
Sponsor/Organizer: Library Marketing Conference Group (LMCG)
URL: librarymarketingconference.org/lmcc-2018-announcements
Nov. 14–17, The 1st International Children's Libraries Symposium
Place: Urgup, Turkey
Sponsor/Organizer: University of Marmara, Department of Information and Records Management; Ministry of Culture and Tourism Libraries and Publications General Directorate
URL: childrenslibraries.org
Nov. 17–20, The 18th IEEE International Conference on Data Mining (ICDM 2018)
Place: Singapore
Sponsor/Organizer: Organizing Committee
URL: icdm2018.org
Nov. 29–Dec. 1, International Conference on Digital Transformation (ICDT 2018)
Place: Delhi, India
Sponsor/Organizer: Organizing Committee
URL: ifla.org/files/assets/asia-and-oceania/news/icdt_confernece_brochure_19-09-2018.pdf
If you regularly read blogs, add these to your reader:
ITI Conference Blog – libconf.com – covering ITI's library conferences worldwide.
ILI365/InfoToday Europe Blog – infotoday.eu – news and ideas for, and by, innovative info pros from around the world, throughout the year.

destinationCRM Blog – destinationcrmblog.com – a blog from the editors of CRM magazine, dedicated to providing Customer Relationship Management information in a timely manner to connect decision makers and providers.
SpeechTech Blog – speechtechblog.com – updates on speech technology and its applications in daily life, covering everything from ASR to VUI, with lots of links, threads, and even a few pictures thrown in for good measure.