Thursday, December 06, 2012
'Window' for Terminating a Copyright Transfer Agreement Opens in 2013
by George H. Pike
A little-known provision of the Copyright Act of 1976 could wreak further havoc on a publishing industry already struggling to deal with the transition from traditional print formats to digital content. Section 203 on the Copyright Act allows the original author(s) of creative works to terminate any transfer or licensing agreement 35 years after the license was signed and "reclaim" their copyrights. As this provision went into effect on Jan. 1, 1978, the "window" for terminations will open on Jan. 1, 2013. However, as this termination "window" is only open for a limited period, authors may lose their termination rights if they don't take steps promptly.
Mendeley Introduces Open Source Citation Style Editor
Research collaboration startup Mendeley announced the release of the first true what-you-see-is-what-you-get (WYSIWYG) citation style editor for open source CSL citation styles—produced in collaboration with Columbia University Libraries and supported by a grant from the Alfred P. Sloan Foundation.
Wolters Kluwer Health Partners With FX Conferences
Wolters Kluwer Health announced a partnership with FX Conferences to provide easy access to thousands of hours of FX Conferences expert audio recordings designed for the pharmaceutical, medical device, biotechnology, and other healthcare-related industries. Through the partnership, FX Conferences resources will be accessible from the OvidSP platform.
Ingram's VitalSource Platform Gains 60 New Publishers
Vital Source Technologies, Inc., Ingram Content Group's etextbook solution for publishers, academic institutions, and students, announced that 60 new publishers have added more than 35,000 new digital textbooks and online course materials to its VitalSource Bookshelf platform. The most recent publishers using the VitalSource platform to reach the education market include 14 of the most recognized university presses.
The Fight for a Free and Open Internet
by Paula J. Hane
Vinton Cerf is worried. Cerf is credited with helping to develop the protocols and structure of the internet and the first commercial email system. Now he fears forces are at work that threaten to undermine the free and open nature of the net. He notes that, "The internet has become one of the motors of the 21st century economy, allowing all of us to reach a global audience at a click of a mouse and creating hundreds of thousands of businesses and millions of jobs." But he cautioned, "Today, this free and open net is under threat. Some 42 countries filter and censor content out of the 72 studied by the Open Net Initiative (ONI). This doesn't even count serial offenders such as North Korea and Cuba. Over the past 2 years, Freedom House says governments have enacted 19 new laws threatening online free expression." Cerf and many others worry that a meeting that starts today (Dec. 3, 2012, in Dubai, United Arab Emirates) could prove problematic.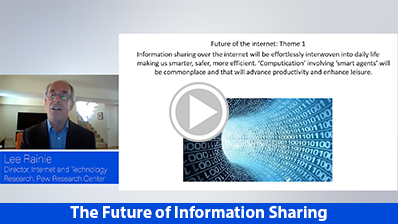 The Future of Information Sharing (3:59)
Lee Rainie, Director, Internet and Technology Research, Pew Research Center, projects the future of information sharing online and its social, cultural, and economic impact as foreseen by analysts and experts surveyed by Pew in this clip from his keynote at Data Summit Connect 2020.

CLOSED CAPTIONING IS AVAILABLE.
If you regularly read blogs, add these to your reader:
ITI Conference Blog – libconf.com – covering ITI's library conferences worldwide.
ILI365/InfoToday Europe Blog – infotoday.eu – news and ideas for, and by, innovative info pros from around the world, throughout the year.
Streaming Media Blog – www.streamingmedia.com/Articles/Blog – the go-to destination for opinion, analysis, and insights into the entire online video ecosystem, from glass to glass.