Monday, November 12, 2012
Smarter Searching With Summon Suggestions
by Barbara Quint
Traditional—or should I say, classic—reference librarianship involved some basic practices in dealing with clients seeking information. When a client came in asking where to look for a topic, you directed them to the sources most focused on the subject area. When a bunch of clients kept asking for certain subjects, you put together a package and kept it handy for distribution. When clients began scratching their heads and furrowing their brows while using a search tool, you leaned over their shoulders and gave them some tips. Now Serials Solutions, a ProQuest company producing a leading discovery service called Summon, has introduced a suite of tools called Summon Suggestions that integrate the same kinds of service for digital content. Components of the new suite include upgraded Database Recommender and Best Bets along with Related Search Suggestions.
NLM Launches Web Content Collecting Initiative
The National Library of Medicine (NLM), a component of the National Institutes of Health (NIH), launched a web content collecting initiative. NLM is selecting web content as part of its mission to collect, preserve, and make accessible the scholarly biomedical literature, as well as resources that illustrate a diversity of philosophical and cultural perspectives not found in the technical literature. NLM has already been archiving portions of its own web domain considered to be of enduring value. With this new effort, the NLM is now collecting web content that others have created.
Labtiva and NPG Offer ReadCube Access for the Public
An affordable way to read scientific articles launched on Nature Publishing Group (NPG) journals, as NPG and Labtiva opened a pilot of the ReadCube Access program to the public for inexpensive single-click purchases and 2-day rentals. The program is designed to help researchers, doctors, journalists, and the wider public who do not already hold subscriptions gain access to articles in high-impact scientific journals, including Nature and the Nature research journals.
LibLime Announces Production Release of LibLime Koha 4.14 With Solr
LibLime, a division of PTFS, announced the public release of LibLime Koha 4.14 with the Lucene Solr search engine. Solr is the popular open source enterprise search platform from the Apache Lucene project. LibLime Koha 4.14 represents the innovation, ideas, and talents of many professional librarians with whom LibLime enjoys working and with whom the company looks forward to a continued professional partnership in years to come.
Concrete Steps Toward a Digital Public Library of America
by Paula J. Hane
The dream of a national digital public library is inching closer to reality. The Digital Public Library of America (DPLA) initiative was launched in December 2010 with generous support from the Alfred P. Sloan Foundation. Since then it has been working to transition from a planning initiative to a fully independent 501(c)(3) organization and has crafted a draft job outline for DPLA Executive Director. The DPLA plans to make the cultural and scientific heritage of humanity available, free of charge, to all via a large-scale digital library.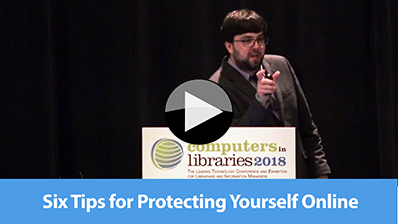 Six Tips for Protecting Yourself Online (3:23)
Evolve Project Director of Strategic Innovation Brian Pichman explains how to shore up your personal cybersecurity in this clip from Computers in Libraries 2018.
Find It Fast, 6th Edition
Extracting Expert Information from Social Networks, Big Data, Tweets, and More
by Robert Berkman

In Find It Fast, business research guru Robert Berkman gives expert advice on how to locate the best information sources, how to find and utilize the professionals behind those sources, and how to combine expert techniques to do fast and effective research on any subject.

You'll find practical guidance on such subjects as how to know if a site is a trusted source; understanding how and why sources differ; using precision search strategies and taming information overload; and finding, evaluating, and interviewing experts. Whether you are looking for consumer information, data for a job or project, facts for starting a new business, or an answer to an obscure question, Find It Fast will help you find it. Fast!

2015/336 pp softbound | ISBN 978-1-937290-04-7
Regular Price: $24.95 | Web Orders: $22.45
CONFERENCE CALENDAR
Nov. 13, Sports Streaming Summit
Place: Huntington Beach, Calif.
Sponsor/Organizer: Information Today, Inc.
URL: streamingmedia.com/Conferences/West2018/Sports.aspx
Nov. 13–14, OTT Leadership Summit
Place: Huntington Beach, Calif.
Sponsor/Organizer: Information Today, Inc.
URL: streamingmedia.com/Conferences/West2018/OTTSummit.aspx
Nov. 13–14, Video Engineering Summit
Place: Huntington Beach, Calif.
Sponsor/Organizer: Information Today, Inc.
URL: streamingmedia.com/Conferences/West2018/VES.aspx
Nov. 13–14, eBook Management: What Works, What Doesn't (ALCTS e-Forum)
Place: Online only
Sponsor/Organizer: Association for Library Collections and Technical Services (ALCTS)
URL: ala.org/alcts/confevents/upcoming/e-forum/111318
Nov. 13–14, Live Streaming Summit
Place: Huntington Beach, Calif.
Sponsor/Organizer: Information Today, Inc.
URL: streamingmedia.com/Conferences/West2018/livestreamingsummit.aspx
Nov. 13–14, Streaming Media West
Place: Huntington Beach, Calif.
Sponsor/Organizer: Information Today, Inc.
URL: streamingmedia.com/Conferences/west2018
Nov. 13–15, International Internet Preservation Consortium (IIPC) Web Archiving Conference 2018
Place: Wellington, New Zealand
Sponsor/Organizer: International Internet Preservation Consortium (IIPC)
URL: netpreserve.org/ga2018
Nov. 14–15, 2018 Library Marketing and Communications Conference (LMCC)
Place: St. Louis, Mo.
Sponsor/Organizer: Library Marketing Conference Group (LMCG)
URL: librarymarketingconference.org/lmcc-2018-announcements
Nov. 14–17, The 1st International Children's Libraries Symposium
Place: Urgup, Turkey
Sponsor/Organizer: University of Marmara, Department of Information and Records Management; Ministry of Culture and Tourism Libraries and Publications General Directorate
URL: childrenslibraries.org
Nov. 17–20, The 18th IEEE International Conference on Data Mining (ICDM 2018)
Place: Singapore
Sponsor/Organizer: Organizing Committee
URL: icdm2018.org
Nov. 29–Dec. 1, International Conference on Digital Transformation (ICDT 2018)
Place: Delhi, India
Sponsor/Organizer: Organizing Committee
URL: ifla.org/files/assets/asia-and-oceania/news/icdt_confernece_brochure_19-09-2018.pdf
If you regularly read blogs, add these to your reader:
ITI Conference Blog – libconf.com – covering ITI's library conferences worldwide.
ILI365/InfoToday Europe Blog – infotoday.eu – news and ideas for, and by, innovative info pros from around the world, throughout the year.

destinationCRM Blog – destinationcrmblog.com – a blog from the editors of CRM magazine, dedicated to providing Customer Relationship Management information in a timely manner to connect decision makers and providers.
SpeechTech Blog – speechtechblog.com – updates on speech technology and its applications in daily life, covering everything from ASR to VUI, with lots of links, threads, and even a few pictures thrown in for good measure.