Thursday, October 18, 2012
And the (Nobel Prize) Winner Is …
by Barbara Brynko
Every autumn, David Pendlebury looks forward to hearing who has won the year's Nobel Prizes. Pendlebury isn't hoping to queue up for an award himself, but he still has a big stake in the results. As citation analyst at Thomson Reuters, he spends months digging into data dating from as far as 3 decades ago in search of what he calls scientists and researchers of "Nobel class" who were pioneers in their respective fields. These are the men and women responsible for laying the very foundations of today's discoveries. Last year, each of Pendlebury's "predictions" came true; he predicted all four prizes and all nine new laureates. This set an all-time record since the Thomson Reuters Citation Laureates prediction process was officially launched in 2002. To date, Thomson Reuters Citation Laureates, part of the Intellectual Property and Science business of Thomson Reuters, has accurately predicted 27 Nobel Prize winners.
HarperCollins, Publishing Technology to Build Global Product Manager
HarperCollins Publishers, a subsidiary of News Corp., announced that it will roll out a new global publishing system, one of the largest undertakings of its kind to be implemented by a trade publisher. Global Product Manager, developed in partnership with Publishing Technology, LLC, will enable HarperCollins to unify editorial, marketing, and business data around the world, widening the reach of its print and digital publications in its core target markets.
Summon Adds Content From Elsevier Scopus, International Sources
Serials Solutions, a ProQuest business, will index content in Scopus, an abstract and citation database from Elsevier, and expose its citation counts in the Summon discovery service. Serials Solutions' pioneering approach to displaying citation counts in Summon search results—along with pop-ups including links to citing articles within the discovery environment—enables users to interact with this valuable information without interrupting the research workflow.
New FOIAonline Platform Launched
The National Archives and Records Administration (NARA), the U.S. Environmental Protection Agency (EPA), and the U.S. Department of Commerce have partnered to develop an online system aimed at expanding public access to information requested under the Freedom of Information Act (FOIA). FOIAonline, formerly known as the FOIA Module, is available to offer the public one place to submit FOIA requests, track their progress, communicate with the processing agency, search other requests, access previously released responsive documents, and file appeals with participating agencies.
Pew Research Center Provides Research and Data on Campaign 2012
by Paula J. Hane
As Barack Obama and Mitt Romney prepared for their first debate on Oct. 3, 2012, the issues at the top of the voters' agenda have changed little since 2008, according to a recent survey by the Pew Research Center for the People & the Press. Conducted Sept. 12-16 among 3,019 adults, including 2,424 registered voters, the results show that 87% of registered voters say that the economy will be very important to their vote, while 83% say jobs will be very important to their vote.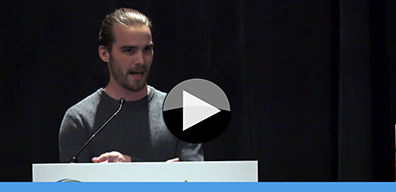 The 5 Steps of Data Analysis for Public Libraries (3:41)
In this clip, Oak Park Public Library Data Analyst Grant Halter walks Computers in Libraries 2018 attendees through the five steps of data analysis.
CONFERENCE CALENDAR
Oct. 10–12, The 2nd International Conference of Information Management & Libraries
Place: Lahore, Pakistan
Sponsor/Organizer: Department of Information Management, University of the Punjab
URL: pu.edu.pk/iciml
Oct. 10–13, AoIR 2018
Place: Montreal
Sponsor/Organizer: Association of Internet Researchers (AoIR)
URL: aoir.org/conferences/aoir2018
Oct. 12–13, SCOUG Library Shark Tank Weekend
Place: Monterey, Calif.
Sponsor/Organizer: Southern California Online Users Group (SCOUG)
URL: scougsharktank.weebly.com
Oct. 16–17, Internet Librarian International 2018
Place: London
Sponsor/Organizer: Information Today, Inc.
URL: internet-librarian.com/2018/default.aspx
Oct. 16–17, Taxonomy Boot Camp London 2018
Place: London
Sponsor/Organizer: Information Today, Inc.
URL: taxonomybootcamp.com/London/2018
Oct. 16–18, Internet Librarian 2018
Place: Monterey, Calif.
Sponsor/Organizer: Information Today, Inc.
URL: internet-librarian.infotoday.com/2018
Oct. 17, Library 2.018: Social Crisis Management in a 21st Century World
Place: Online only
Sponsor/Organizer: San Jose State University School of Information
URL: library20.com/page/socialcrisis
Oct. 23–26, The 12th International Conference on Metadata and Semantics Research (MTSR'18)
Place: Limassol, Cyprus
Sponsor/Organizer: Organizing committee
URL: mtsr-conf.org
Oct. 24, That Cutting Edge: Technology's Impact on Scholarly Research Processes in the Library (NISO Virtual Conference)
Place: Online only
Sponsor/Organizer: National Information Standards Organization (NISO)
URL: niso.org/events/2018/10/cutting-edge-technologys-impact-scholarly-research-processes-library
Oct. 30–31, The 21st International Conference on Discovery Science (DS-2018)
Place: Limassol, Cyprus
Sponsor/Organizer: Organizing committee
URL: cyprusconferences.org/ds2018/index.html
If you regularly read blogs, add these to your reader:
ITI Conference Blog – libconf.com – covering ITI's library conferences worldwide.
ILI365/InfoToday Europe Blog – infotoday.eu – news and ideas for, and by, innovative info pros from around the world, throughout the year.

destinationCRM Blog – destinationcrmblog.com – a blog from the editors of CRM magazine, dedicated to providing Customer Relationship Management information in a timely manner to connect decision makers and providers.
SpeechTech Blog – speechtechblog.com – updates on speech technology and its applications in daily life, covering everything from ASR to VUI, with lots of links, threads, and even a few pictures thrown in for good measure.