HathiTrust Lawsuit Decision Reaffirms Libraries in the Digital Age
by Karen Coyle
"I cannot imagine a definition of fair use that world not encompass the transformative uses made by Defendants' MDP [Mass Digitization Project] and would require that I terminate this invaluable contribution to the progress of science and the cultivation of the arts that at the same time effectuates the ideals espoused by the ADA [Americans with Disabilities Act]." This statement appeared in the opinion of Judge Harold Baer Jr. of the U.S. District Court, Southern District of New York, in his decision in Authors Guild v. HathiTrust.
Open Access Week Preview
by Abby Clobridge
Organizations around the world are gearing up to celebrate Open Access Week (www.openaccessweek.org), officially held Oct. 22-28, 2012. For most institutions, Open Access Week is a way to increase the visibility of open access among scientists, researchers, librarians, university faculty members, and students. At the same time, it also provides opportunities for open access practitioners to exchange knowledge and share ideas. Open access means free, unrestricted access to and reuse rights for scholarly research, either through publication in open access journals or by posting copies of the peer-reviewed version of articles into open access repositories. This year's theme for the week is Set the Default to Open Access, intending to make open access the norm in journal publishing rather than the exception. An increasing number of libraries, publishers, research funding agencies, NGOs, and other organizations are hosting workshops, speeches, and other types of events; launching advocacy campaigns; kicking off new initiatives; and participating in ongoing shows of support.
ProQuest Continues to Upgrade Health and Medical Databases
ProQuest substantially enhanced its coverage in the Massachusetts Medical Society's New England Journal of Medicine (NEJM) by launching a full-text version of the British Nursing Index (BNI) and adding PsycTESTS from the American Psychological Association (APA). Now, in addition to full-text integration of NEJM in its information products and a collection of classic images and deep index images, ProQuest will provide access to Journal Watch, the medical literature surveillance newsletter series.
Apress Offers Open Access Platform for Technical Book Publishing
Apress Media, LLC, a publisher of technology books, launched ApressOpen, a program that offers technology companies and professionals the opportunity to publish technical and business content under an open access model. With ApressOpen, content will be freely available through multiple online distribution channels and electronic formats with the goal of disseminating professionally edited and technically reviewed content to the worldwide community.
Science.gov Adds Multimedia, Spanish Translations, and More Search Features
Science.gov, the gateway to U.S. federal science hosted by the Office of Scientific and Technical Information (OSTI) of the Department of Energy, now includes multimedia content and additional features, including an updated interface with enhanced navigation. For the first time, R&D video from the DOE ScienceCinema is available, as well as from MedlinePLUS, the National Aeronautics and Space Administration (NASA), and the National Science Foundation (NSF). Images from the Library of Congress have been added to the image search, which is now integrated under a new multimedia tab on the results page.
Pew Research Center Provides Research and Data on Campaign 2012
by Paula J. Hane
As Barack Obama and Mitt Romney prepared for their first debate on Oct. 3, 2012, the issues at the top of the voters' agenda have changed little since 2008, according to a recent survey by the Pew Research Center for the People & the Press. Conducted Sept. 12-16 among 3,019 adults, including 2,424 registered voters, the results show that 87% of registered voters say that the economy will be very important to their vote, while 83% say jobs will be very important to their vote.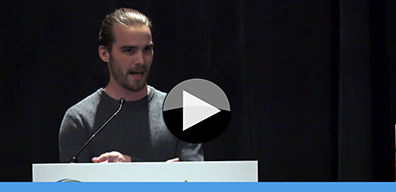 The 5 Steps of Data Analysis for Public Libraries (3:41)
In this clip, Oak Park Public Library Data Analyst Grant Halter walks Computers in Libraries 2018 attendees through the five steps of data analysis.
CONFERENCE CALENDAR
Oct. 10–12, The 2nd International Conference of Information Management & Libraries
Place: Lahore, Pakistan
Sponsor/Organizer: Department of Information Management, University of the Punjab
URL: pu.edu.pk/iciml
Oct. 10–13, AoIR 2018
Place: Montreal
Sponsor/Organizer: Association of Internet Researchers (AoIR)
URL: aoir.org/conferences/aoir2018
Oct. 12–13, SCOUG Library Shark Tank Weekend
Place: Monterey, Calif.
Sponsor/Organizer: Southern California Online Users Group (SCOUG)
URL: scougsharktank.weebly.com
Oct. 16–17, Internet Librarian International 2018
Place: London
Sponsor/Organizer: Information Today, Inc.
URL: internet-librarian.com/2018/default.aspx
Oct. 16–17, Taxonomy Boot Camp London 2018
Place: London
Sponsor/Organizer: Information Today, Inc.
URL: taxonomybootcamp.com/London/2018
Oct. 16–18, Internet Librarian 2018
Place: Monterey, Calif.
Sponsor/Organizer: Information Today, Inc.
URL: internet-librarian.infotoday.com/2018
Oct. 17, Library 2.018: Social Crisis Management in a 21st Century World
Place: Online only
Sponsor/Organizer: San Jose State University School of Information
URL: library20.com/page/socialcrisis
Oct. 23–26, The 12th International Conference on Metadata and Semantics Research (MTSR'18)
Place: Limassol, Cyprus
Sponsor/Organizer: Organizing committee
URL: mtsr-conf.org
Oct. 24, That Cutting Edge: Technology's Impact on Scholarly Research Processes in the Library (NISO Virtual Conference)
Place: Online only
Sponsor/Organizer: National Information Standards Organization (NISO)
URL: niso.org/events/2018/10/cutting-edge-technologys-impact-scholarly-research-processes-library
Oct. 30–31, The 21st International Conference on Discovery Science (DS-2018)
Place: Limassol, Cyprus
Sponsor/Organizer: Organizing committee
URL: cyprusconferences.org/ds2018/index.html
If you regularly read blogs, add these to your reader:
ITI Conference Blog – libconf.com – covering ITI's library conferences worldwide.
ILI365/InfoToday Europe Blog – infotoday.eu – news and ideas for, and by, innovative info pros from around the world, throughout the year.

destinationCRM Blog – destinationcrmblog.com – a blog from the editors of CRM magazine, dedicated to providing Customer Relationship Management information in a timely manner to connect decision makers and providers.
SpeechTech Blog – speechtechblog.com – updates on speech technology and its applications in daily life, covering everything from ASR to VUI, with lots of links, threads, and even a few pictures thrown in for good measure.