Monday, September 24, 2012
Three Publishers Settle in Apple Pricing Collusion Case
by Nancy K. Herther
"In a move that could reshape the publishing industry," The Wall Street Journal declares, "a federal judge has approved a settlement with three of the nation's largest book publishers over alleged collusion in the pricing of e-books." Although premature and a bit dramatic, the comments reflect that we are seeing a milestone for the growing ebook industry with settlements in some of the outstanding Apple and publisher legal actions in the U.S. and Europe. Hatchette, Simon & Schuster, and HarperCollins agreed in April to the terms of settlement—that they terminate their existing arrangements with Apple and agree to refrain from any constraint on retailers' ability to set their own ebook prices for a period of 2 years. The agreement was approved on Sept. 14, 2012, and became effective immediately.
Time-Saving Options Available Through the EBSCO Usage Loading Service
EBSCO Information Services announced that with EBSCONET Usage Consolidation, librarians can collect, consolidate, and report on the usage of their online resources, making vital collection management information readily available in the librarian's workflow—within EBSCONET Subscription Management. But EBSCO knows gathering usage data can be time-consuming, and that is why the EBSCO Usage Loading Service can load usage on behalf of Usage Consolidation customers.
Bloomberg BNA Launches Antitrust and Trade Regulation Resource Center
Bloomberg BNA launched the Antitrust & Trade Regulation Resource Center, a comprehensive web platform designed as an all-in-one resource for those following antitrust and trade regulation developments. The Resource Center brings together antitrust and trade regulation law, news, and analysis with current cases, practice tools, and state, federal, and international references, in a single, convenient site, saving users valuable research time and providing a source they can depend on for reliable coverage and insight into key developments.
Aptara Ebook Survey of Publishers Now Available
The results of the 4th Annual eBook Production Survey are now available. Issued in April 2012 and sponsored by Publishers Weekly magazine and Aptara, the survey tracks the ebook publishing trends, challenges, and strategies that have emerged since 2009 when the ebook market began taking shape. The surveys represent the Trade, Education, Professional, and Corporate publishing sectors.
Apple-Samsung Case Highlights America's Troubled Patent System
by Paula J. Hane
It's clear that Apple scored a major victory over Samsung in its recent and highly publicized patent dispute. A jury found that a number of Samsung's mobile devices infringed on Apple's patented designs and awarded damages of $1.05 billion to Apple. The jury also found that Apple had not violated any of the five patents Samsung asserted in the case. Apple then requested a ban on the sale of eight models of Samsung smartphones. Both companies are considering their next steps, while the media and blogosphere continue to buzz with reactions.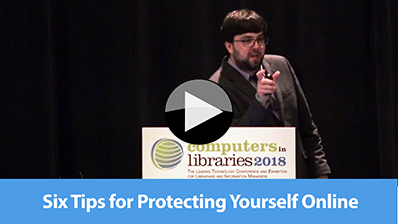 Six Tips for Protecting Yourself Online (3:23)
Evolve Project Director of Strategic Innovation Brian Pichman explains how to shore up your personal cybersecurity in this clip from Computers in Libraries 2018.
Find It Fast, 6th Edition
Extracting Expert Information from Social Networks, Big Data, Tweets, and More
by Robert Berkman

In Find It Fast, business research guru Robert Berkman gives expert advice on how to locate the best information sources, how to find and utilize the professionals behind those sources, and how to combine expert techniques to do fast and effective research on any subject.

You'll find practical guidance on such subjects as how to know if a site is a trusted source; understanding how and why sources differ; using precision search strategies and taming information overload; and finding, evaluating, and interviewing experts. Whether you are looking for consumer information, data for a job or project, facts for starting a new business, or an answer to an obscure question, Find It Fast will help you find it. Fast!

2015/336 pp softbound | ISBN 978-1-937290-04-7
Regular Price: $24.95 | Web Orders: $22.45
CONFERENCE CALENDAR
Nov. 13, Sports Streaming Summit
Place: Huntington Beach, Calif.
Sponsor/Organizer: Information Today, Inc.
URL: streamingmedia.com/Conferences/West2018/Sports.aspx
Nov. 13–14, OTT Leadership Summit
Place: Huntington Beach, Calif.
Sponsor/Organizer: Information Today, Inc.
URL: streamingmedia.com/Conferences/West2018/OTTSummit.aspx
Nov. 13–14, Video Engineering Summit
Place: Huntington Beach, Calif.
Sponsor/Organizer: Information Today, Inc.
URL: streamingmedia.com/Conferences/West2018/VES.aspx
Nov. 13–14, eBook Management: What Works, What Doesn't (ALCTS e-Forum)
Place: Online only
Sponsor/Organizer: Association for Library Collections and Technical Services (ALCTS)
URL: ala.org/alcts/confevents/upcoming/e-forum/111318
Nov. 13–14, Live Streaming Summit
Place: Huntington Beach, Calif.
Sponsor/Organizer: Information Today, Inc.
URL: streamingmedia.com/Conferences/West2018/livestreamingsummit.aspx
Nov. 13–14, Streaming Media West
Place: Huntington Beach, Calif.
Sponsor/Organizer: Information Today, Inc.
URL: streamingmedia.com/Conferences/west2018
Nov. 13–15, International Internet Preservation Consortium (IIPC) Web Archiving Conference 2018
Place: Wellington, New Zealand
Sponsor/Organizer: International Internet Preservation Consortium (IIPC)
URL: netpreserve.org/ga2018
Nov. 14–15, 2018 Library Marketing and Communications Conference (LMCC)
Place: St. Louis, Mo.
Sponsor/Organizer: Library Marketing Conference Group (LMCG)
URL: librarymarketingconference.org/lmcc-2018-announcements
Nov. 14–17, The 1st International Children's Libraries Symposium
Place: Urgup, Turkey
Sponsor/Organizer: University of Marmara, Department of Information and Records Management; Ministry of Culture and Tourism Libraries and Publications General Directorate
URL: childrenslibraries.org
Nov. 17–20, The 18th IEEE International Conference on Data Mining (ICDM 2018)
Place: Singapore
Sponsor/Organizer: Organizing Committee
URL: icdm2018.org
Nov. 29–Dec. 1, International Conference on Digital Transformation (ICDT 2018)
Place: Delhi, India
Sponsor/Organizer: Organizing Committee
URL: ifla.org/files/assets/asia-and-oceania/news/icdt_confernece_brochure_19-09-2018.pdf
If you regularly read blogs, add these to your reader:
ITI Conference Blog – libconf.com – covering ITI's library conferences worldwide.
ILI365/InfoToday Europe Blog – infotoday.eu – news and ideas for, and by, innovative info pros from around the world, throughout the year.

destinationCRM Blog – destinationcrmblog.com – a blog from the editors of CRM magazine, dedicated to providing Customer Relationship Management information in a timely manner to connect decision makers and providers.
SpeechTech Blog – speechtechblog.com – updates on speech technology and its applications in daily life, covering everything from ASR to VUI, with lots of links, threads, and even a few pictures thrown in for good measure.