Thursday, September 06, 2012
MOOCs and the Changing Face of Higher Education
by Abby Clobridge
Although universities are usually slow to change, several high-profile institutions in recent months have begun to experiment with offering courses to unprecedented numbers of simultaneous learners anywhere in the world for free. These initiatives, often referred to as Massive Open Online Courses (MOOCs), have the following potential avenues: to expand access to learning opportunities, eliminate many geographic and economic barriers to education, create more diverse learning communities, transform lifelong learning, and augment face-to-face and traditional education in new ways. However, while MOOCs present new opportunities, they also raise a number of important questions for higher education administrators, faculty, and students.
Wolters Kluwer Tax & Accounting Acquires BSI
Global tax authority Wolters Kluwer Tax & Accounting announced that it acquired the assets of BSI, a provider of international tax, legal, business, and investment information. The acquisition further advances Wolters Kluwer's portfolio of international information supporting its continued expansion of global tax offerings in the growing corporate market.
ZoomInfo Expands Coverage, Develops New Technologies
Business information provider ZoomInfo reached a new milestone, expanding to include detailed, just-verified profiles of 65 million businesspeople and 6 million businesses. The new totals represent annual growth of more than 20% in the company's comprehensive coverage. The increase in its B2B data gives ZoomInfo's customers—marketers, sales professionals, and recruiters at companies such as Google, Oracle, and Ranstad—a constant source of up-to-date, deep information about prospects, including middle managers and other decision makers and small- to medium-sized companies, both public and private.
OCLC Member Libraries Can Contribute Metadata to Europeana.eu Portal
OCLC and Europeana, the provider of Europe's digital library, have worked together on an approach that will enable OCLC member institutions to contribute metadata derived from OCLC's WorldCat database to the Europeana.eu portal in a manner that is consistent with OCLC's WorldCat Rights and Responsibilities for the OCLC Cooperative.
Apple-Samsung Case Highlights America's Troubled Patent System
by Paula J. Hane
It's clear that Apple scored a major victory over Samsung in its recent and highly publicized patent dispute. A jury found that a number of Samsung's mobile devices infringed on Apple's patented designs and awarded damages of $1.05 billion to Apple. The jury also found that Apple had not violated any of the five patents Samsung asserted in the case. Apple then requested a ban on the sale of eight models of Samsung smartphones. Both companies are considering their next steps, while the media and blogosphere continue to buzz with reactions.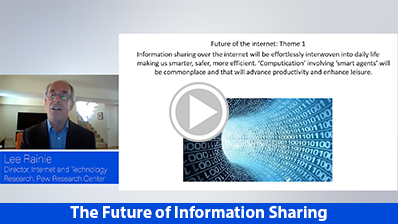 The Future of Information Sharing (3:59)
Lee Rainie, Director, Internet and Technology Research, Pew Research Center, projects the future of information sharing online and its social, cultural, and economic impact as foreseen by analysts and experts surveyed by Pew in this clip from his keynote at Data Summit Connect 2020.

CLOSED CAPTIONING IS AVAILABLE.
If you regularly read blogs, add these to your reader:
ITI Conference Blog – libconf.com – covering ITI's library conferences worldwide.
ILI365/InfoToday Europe Blog – infotoday.eu – news and ideas for, and by, innovative info pros from around the world, throughout the year.
Streaming Media Blog – www.streamingmedia.com/Articles/Blog – the go-to destination for opinion, analysis, and insights into the entire online video ecosystem, from glass to glass.