Cybersecurity and Privacy Concerns at the Highest Levels of Government
by Barbie E. Keiser
As is the case with many large institutions, federal agencies are playing catch-up with advances in technology, though some are succeeding better than others. On July 31, 2012, we learned from Gregory C. Wilshusen, director of information security issues at the U.S. Government Accountability Office (GAO-12-96IT), that "Federal Law Should Be Updated to Address Changing Technology Landscape." Two days later, the Cybersecurity Act of 2012 (S.3414) failed to win a cloture vote that would allow the Senate to vote on the bill before the August recess. The testimony and the bill address privacy issues that should concern every American who has dealings with any federal agency. However, the GAO report indicates that many privacy issues remain unaddressed, and 100 senators have left Washington for vacation without voting on S. 3414.
Elsevier Launches New Design of Engineering Village
Elsevier announced the launch of its newly redesigned Engineering Village (EV). Enhancements to the EV user interface include the visual and structural organization of the product, which significantly improves research speed and overall usability. The new functionality and features that have been added have streamlined the site without sacrificing any of the solution's sophistication. As a result, essential information can be found quicker and more efficiently, streamlining workflows, saving valuable research time, and boosting productivity.
Expanded Access to eBooks on EBSCOhost Now Available Through GOBI3
Librarians accustomed to selecting and managing their ebook collections through GOBI3 from YBP Library Services (YBP), the academic division of Baker & Taylor, now have additional access options for the more than 320,000 ebook titles from eBooks on EBSCOhost. EBSCO Publishing and YBP have expanded the EBSCO eBook models that are available in YBP's acquisition and collection development interface.
ebrary Enhances Strategic Ebook Acquisition Program for Public Libraries
To enable public libraries to affordably and strategically meet the nonfiction ebook needs of patrons, ebrary, a ProQuest business, added more than 9,000 new titles from publishers including Bentham Science and Houghton Mifflin Harcourt across acquisition models. More than 1,100 of the new titles are in subjects including health & fitness, photography, and religion and are available through Public Library Complete, which provides simultaneous, multiuser access and continued growth. These titles and an additional 7,900 ebooks in subject areas such as history, sports, and art are now available for purchase outright or through ebrary's patron driven acquisition program. Many are also available for short-term loan.
Expand Your Search Engine Options
by Paula J. Hane
One of the most popular bylined pieces in our NewsBreaks/NewsLink Spotlight collection has been my April 1, 2010 article, "Alternative Search Engines Offer Rich Options." Since things have changed considerably in the last 2-plus years, I decided it was time to look at what some of the most useful options now are for search engines. While Google continues its domination of the search market, some enterprising folks continue to seek out alternatives—for additional features, interface preferences, spam avoidance, or privacy and security reasons.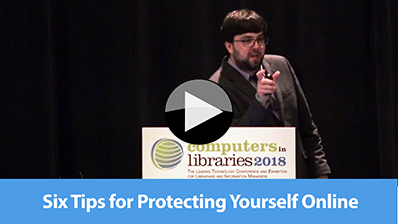 Six Tips for Protecting Yourself Online (3:23)
Evolve Project Director of Strategic Innovation Brian Pichman explains how to shore up your personal cybersecurity in this clip from Computers in Libraries 2018.
Find It Fast, 6th Edition
Extracting Expert Information from Social Networks, Big Data, Tweets, and More
by Robert Berkman

In Find It Fast, business research guru Robert Berkman gives expert advice on how to locate the best information sources, how to find and utilize the professionals behind those sources, and how to combine expert techniques to do fast and effective research on any subject.

You'll find practical guidance on such subjects as how to know if a site is a trusted source; understanding how and why sources differ; using precision search strategies and taming information overload; and finding, evaluating, and interviewing experts. Whether you are looking for consumer information, data for a job or project, facts for starting a new business, or an answer to an obscure question, Find It Fast will help you find it. Fast!

2015/336 pp softbound | ISBN 978-1-937290-04-7
Regular Price: $24.95 | Web Orders: $22.45
CONFERENCE CALENDAR
Nov. 13, Sports Streaming Summit
Place: Huntington Beach, Calif.
Sponsor/Organizer: Information Today, Inc.
URL: streamingmedia.com/Conferences/West2018/Sports.aspx
Nov. 13–14, OTT Leadership Summit
Place: Huntington Beach, Calif.
Sponsor/Organizer: Information Today, Inc.
URL: streamingmedia.com/Conferences/West2018/OTTSummit.aspx
Nov. 13–14, Video Engineering Summit
Place: Huntington Beach, Calif.
Sponsor/Organizer: Information Today, Inc.
URL: streamingmedia.com/Conferences/West2018/VES.aspx
Nov. 13–14, eBook Management: What Works, What Doesn't (ALCTS e-Forum)
Place: Online only
Sponsor/Organizer: Association for Library Collections and Technical Services (ALCTS)
URL: ala.org/alcts/confevents/upcoming/e-forum/111318
Nov. 13–14, Live Streaming Summit
Place: Huntington Beach, Calif.
Sponsor/Organizer: Information Today, Inc.
URL: streamingmedia.com/Conferences/West2018/livestreamingsummit.aspx
Nov. 13–14, Streaming Media West
Place: Huntington Beach, Calif.
Sponsor/Organizer: Information Today, Inc.
URL: streamingmedia.com/Conferences/west2018
Nov. 13–15, International Internet Preservation Consortium (IIPC) Web Archiving Conference 2018
Place: Wellington, New Zealand
Sponsor/Organizer: International Internet Preservation Consortium (IIPC)
URL: netpreserve.org/ga2018
Nov. 14–15, 2018 Library Marketing and Communications Conference (LMCC)
Place: St. Louis, Mo.
Sponsor/Organizer: Library Marketing Conference Group (LMCG)
URL: librarymarketingconference.org/lmcc-2018-announcements
Nov. 14–17, The 1st International Children's Libraries Symposium
Place: Urgup, Turkey
Sponsor/Organizer: University of Marmara, Department of Information and Records Management; Ministry of Culture and Tourism Libraries and Publications General Directorate
URL: childrenslibraries.org
Nov. 17–20, The 18th IEEE International Conference on Data Mining (ICDM 2018)
Place: Singapore
Sponsor/Organizer: Organizing Committee
URL: icdm2018.org
Nov. 29–Dec. 1, International Conference on Digital Transformation (ICDT 2018)
Place: Delhi, India
Sponsor/Organizer: Organizing Committee
URL: ifla.org/files/assets/asia-and-oceania/news/icdt_confernece_brochure_19-09-2018.pdf
If you regularly read blogs, add these to your reader:
ITI Conference Blog – libconf.com – covering ITI's library conferences worldwide.
ILI365/InfoToday Europe Blog – infotoday.eu – news and ideas for, and by, innovative info pros from around the world, throughout the year.

destinationCRM Blog – destinationcrmblog.com – a blog from the editors of CRM magazine, dedicated to providing Customer Relationship Management information in a timely manner to connect decision makers and providers.
SpeechTech Blog – speechtechblog.com – updates on speech technology and its applications in daily life, covering everything from ASR to VUI, with lots of links, threads, and even a few pictures thrown in for good measure.