New European Library Portal Launched
by Katherine Allen
The European Library is a new discovery service that provides access to the collections of the national libraries of 46 European countries, plus a growing number of research libraries. Content accessible from the new service includes rare books, manuscripts, images, and video. The service allows users to cross-search 200 million records, covering more than 24 million pages of full-text information and more than 7 million digital objects. Users can export records to reference management services such as Mendeley, and from the end of 2012, registered users will be able to download and re-use metadata free of charge. To facilitate further research, links are provided to other websites in the Europeana group.
Plum Analytics Maps Success in Open Access Scholarship
by Barbara Quint
Another trendy term has arrived—altmetrics, a contraction of the phrase "alternative metrics." The term refers to a group of different techniques and technologies all meant to wrestle with the issues of scholarship moving to digital venues. The issues include filtering good/better/best from bad/worse/worst, relieving the "firehose as drinking fountain" challenge of keeping up with digitally borne scholarship, and effectively replacing or reinforcing traditional measures of success in scholarship (e.g., prestigious journals, positive peer review, cite counts, etc.). A new small startup, Plum Analytics, has moved into the altmetrics field. It offers universities and other research institutions a way to track how researchers on staff have fared in the open access (OA) milieu.
Inmagic Announces Presto for DB/Text
Inmagic introduced a new product that will bring advanced web publishing capabilities to DB/TextWorks customers. The new product, Presto for DB/Text, is a limited version of Inmagic Presto that will enable many new web publishing capabilities for DB/Text, while allowing textbases to continue to be created and maintained in DB/TextWorks. Presto for DB/Text will work with both SQL and non-SQL versions of DB/TextWorks.
NoveList Select Gains New Features and Options
NoveList, a division of EBSCO Publishing, is introducing new features to NoveList Select, its catalog enrichment resource. These new features improve the user experience, as well as offer new upgrade options, including book jackets, professional book reviews, sample excerpts, tables of contents, and more, from Content Café—a database offered by Baker & Taylor.
Columbia University and Thomson Reuters Launch Advanced Data Visualization Project
Columbia University and Thomson Reuters announced the launch of the Advanced Data Visualization Project (ADVP) based at Columbia's Graduate School of Architecture, Planning and Preservation (GSAPP). The initiative, sponsored by Thomson Reuters, will facilitate research into data visualization and its implications for academia and industry in a world increasingly awash with data.
The Challenging Landscape of Ebooks in Libraries
by Paula J. Hane
The overall growth in digital content of all kinds, and in particular, the growing importance and acceptance of ebooks, has clearly presented great opportunities for libraries, as well as plenty of challenges. Many libraries are coping with decreasing budgets while at the same time experiencing increased demand for content and services. Challenges include limited availability of ebooks from publishers, increasing demands for tech support with ebook readers and mobile devices, cumbersome borrowing processes, and minimal discoverability of ebook content. Two recent reports shed some light on the current situation, providing interesting statistics and perspectives.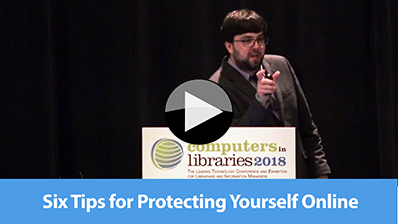 Six Tips for Protecting Yourself Online (3:23)
Evolve Project Director of Strategic Innovation Brian Pichman explains how to shore up your personal cybersecurity in this clip from Computers in Libraries 2018.
Find It Fast, 6th Edition
Extracting Expert Information from Social Networks, Big Data, Tweets, and More
by Robert Berkman

In Find It Fast, business research guru Robert Berkman gives expert advice on how to locate the best information sources, how to find and utilize the professionals behind those sources, and how to combine expert techniques to do fast and effective research on any subject.

You'll find practical guidance on such subjects as how to know if a site is a trusted source; understanding how and why sources differ; using precision search strategies and taming information overload; and finding, evaluating, and interviewing experts. Whether you are looking for consumer information, data for a job or project, facts for starting a new business, or an answer to an obscure question, Find It Fast will help you find it. Fast!

2015/336 pp softbound | ISBN 978-1-937290-04-7
Regular Price: $24.95 | Web Orders: $22.45
CONFERENCE CALENDAR
Nov. 13, Sports Streaming Summit
Place: Huntington Beach, Calif.
Sponsor/Organizer: Information Today, Inc.
URL: streamingmedia.com/Conferences/West2018/Sports.aspx
Nov. 13–14, OTT Leadership Summit
Place: Huntington Beach, Calif.
Sponsor/Organizer: Information Today, Inc.
URL: streamingmedia.com/Conferences/West2018/OTTSummit.aspx
Nov. 13–14, Video Engineering Summit
Place: Huntington Beach, Calif.
Sponsor/Organizer: Information Today, Inc.
URL: streamingmedia.com/Conferences/West2018/VES.aspx
Nov. 13–14, eBook Management: What Works, What Doesn't (ALCTS e-Forum)
Place: Online only
Sponsor/Organizer: Association for Library Collections and Technical Services (ALCTS)
URL: ala.org/alcts/confevents/upcoming/e-forum/111318
Nov. 13–14, Live Streaming Summit
Place: Huntington Beach, Calif.
Sponsor/Organizer: Information Today, Inc.
URL: streamingmedia.com/Conferences/West2018/livestreamingsummit.aspx
Nov. 13–14, Streaming Media West
Place: Huntington Beach, Calif.
Sponsor/Organizer: Information Today, Inc.
URL: streamingmedia.com/Conferences/west2018
Nov. 13–15, International Internet Preservation Consortium (IIPC) Web Archiving Conference 2018
Place: Wellington, New Zealand
Sponsor/Organizer: International Internet Preservation Consortium (IIPC)
URL: netpreserve.org/ga2018
Nov. 14–15, 2018 Library Marketing and Communications Conference (LMCC)
Place: St. Louis, Mo.
Sponsor/Organizer: Library Marketing Conference Group (LMCG)
URL: librarymarketingconference.org/lmcc-2018-announcements
Nov. 14–17, The 1st International Children's Libraries Symposium
Place: Urgup, Turkey
Sponsor/Organizer: University of Marmara, Department of Information and Records Management; Ministry of Culture and Tourism Libraries and Publications General Directorate
URL: childrenslibraries.org
Nov. 17–20, The 18th IEEE International Conference on Data Mining (ICDM 2018)
Place: Singapore
Sponsor/Organizer: Organizing Committee
URL: icdm2018.org
Nov. 29–Dec. 1, International Conference on Digital Transformation (ICDT 2018)
Place: Delhi, India
Sponsor/Organizer: Organizing Committee
URL: ifla.org/files/assets/asia-and-oceania/news/icdt_confernece_brochure_19-09-2018.pdf
If you regularly read blogs, add these to your reader:
ITI Conference Blog – libconf.com – covering ITI's library conferences worldwide.
ILI365/InfoToday Europe Blog – infotoday.eu – news and ideas for, and by, innovative info pros from around the world, throughout the year.

destinationCRM Blog – destinationcrmblog.com – a blog from the editors of CRM magazine, dedicated to providing Customer Relationship Management information in a timely manner to connect decision makers and providers.
SpeechTech Blog – speechtechblog.com – updates on speech technology and its applications in daily life, covering everything from ASR to VUI, with lots of links, threads, and even a few pictures thrown in for good measure.