Government in the Mobile Era
by Barbie E. Keiser
Information Technology (IT) departments in all organizations—including federal government agencies—are grappling with a need to deliver information via mobile and wireless devices while simultaneously taking steps to assure security at the enterprise and data level, respecting the privacy concerns of individuals. A document released May 23, 2012, Digital Government: Building a 21st Century Platform to Better Serve the American People, reveals the Obama administration strategy to enable citizens to find the services they need across government programs, "anytime, anywhere, and on any device."
Factiva Adds Real-Time Twitter Module
by Barbara Quint
Factiva, the subscription-based, business information service from Dow Jones & Co., has begun linking to high-value Twitter streams. The real-time module works inside the Factiva Snapshot news dashboard. Snapshot, still in beta and not available on the academic version of Factiva, provides monitoring for 31 industries, plus a range of other topical areas and services. The curated selection of Twitter streams come from influential Tweeters in each industry. The selection process was done with the assistance of Mass Relevance, working with the Factiva editorial staff.
Queen Victoria's Journals Now Available Online
Her Majesty Queen Elizabeth II launched a unique online resource that provides access to all the personal journals of Queen Victoria. The Bodleian Libraries working in partnership with The Royal Archives and information company ProQuest have, for the first time, made the private records of one of the world's most influential public figures available for the public to access at www.queenvictoriasjournals.org. The resource is available free of charge to all users in the U.K. and to the national libraries of Her Majesty's Realms; users outside the U.K. can access the website until June 30, 2012. Thereafter, a specialized version for libraries will become available from ProQuest.
DeepDyve Expands Service With PDF Downloads
DeepDyve, a provider of rentable, peer-reviewed journal articles, announced major updates to its service. Most notably, the company now offers the ability to purchase discounted, downloadable PDFs, making DeepDyve a one-stop destination for unaffiliated researchers (so-called "knowledge workers") to search, rent, and now purchase articles in life sciences, technology, medical, and business journals. The company also unveiled a number of enhancements to its monthly plans, and established corporate pricing that enables affordable, company-wide deployment of DeepDyve's service.
Data Conversion Laboratory Introduces New 'Convert On Demand' Portal
Data Conversion Laboratory (DCL), a provider of electronic document conversion services, introduced a new online publishing portal designed to re-energize previously dormant content into highly accurate digital knowledge that can be searched, reorganized, ported to ebooks, and published in virtually any format, which all lead to new revenue streams. Convert On Demand, DCL's new web portal, is the second in a series of On Demand portals.
Online Consumer Privacy in the Spotlight
by Paula J. Hane
Choose Privacy Week is a national public awareness campaign that aims to educate the public on how to protect their privacy and understand their rights. This year, Choose Privacy Week is being held May 1-7, 2012. The timing for this public awareness campaign couldn't have been better. Within the past week, we've seen controversial cybersecurity legislation highlighted in the news and high-profile media coverage of Google's latest investigation by the Federal Communications Commission (FCC).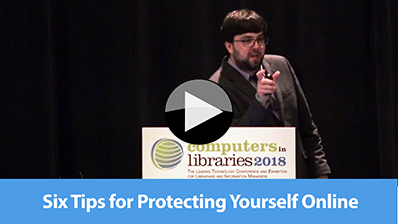 Six Tips for Protecting Yourself Online (3:23)
Evolve Project Director of Strategic Innovation Brian Pichman explains how to shore up your personal cybersecurity in this clip from Computers in Libraries 2018.
Find It Fast, 6th Edition
Extracting Expert Information from Social Networks, Big Data, Tweets, and More
by Robert Berkman

In Find It Fast, business research guru Robert Berkman gives expert advice on how to locate the best information sources, how to find and utilize the professionals behind those sources, and how to combine expert techniques to do fast and effective research on any subject.

You'll find practical guidance on such subjects as how to know if a site is a trusted source; understanding how and why sources differ; using precision search strategies and taming information overload; and finding, evaluating, and interviewing experts. Whether you are looking for consumer information, data for a job or project, facts for starting a new business, or an answer to an obscure question, Find It Fast will help you find it. Fast!

2015/336 pp softbound | ISBN 978-1-937290-04-7
Regular Price: $24.95 | Web Orders: $22.45
CONFERENCE CALENDAR
Nov. 13, Sports Streaming Summit
Place: Huntington Beach, Calif.
Sponsor/Organizer: Information Today, Inc.
URL: streamingmedia.com/Conferences/West2018/Sports.aspx
Nov. 13–14, OTT Leadership Summit
Place: Huntington Beach, Calif.
Sponsor/Organizer: Information Today, Inc.
URL: streamingmedia.com/Conferences/West2018/OTTSummit.aspx
Nov. 13–14, Video Engineering Summit
Place: Huntington Beach, Calif.
Sponsor/Organizer: Information Today, Inc.
URL: streamingmedia.com/Conferences/West2018/VES.aspx
Nov. 13–14, eBook Management: What Works, What Doesn't (ALCTS e-Forum)
Place: Online only
Sponsor/Organizer: Association for Library Collections and Technical Services (ALCTS)
URL: ala.org/alcts/confevents/upcoming/e-forum/111318
Nov. 13–14, Live Streaming Summit
Place: Huntington Beach, Calif.
Sponsor/Organizer: Information Today, Inc.
URL: streamingmedia.com/Conferences/West2018/livestreamingsummit.aspx
Nov. 13–14, Streaming Media West
Place: Huntington Beach, Calif.
Sponsor/Organizer: Information Today, Inc.
URL: streamingmedia.com/Conferences/west2018
Nov. 13–15, International Internet Preservation Consortium (IIPC) Web Archiving Conference 2018
Place: Wellington, New Zealand
Sponsor/Organizer: International Internet Preservation Consortium (IIPC)
URL: netpreserve.org/ga2018
Nov. 14–15, 2018 Library Marketing and Communications Conference (LMCC)
Place: St. Louis, Mo.
Sponsor/Organizer: Library Marketing Conference Group (LMCG)
URL: librarymarketingconference.org/lmcc-2018-announcements
Nov. 14–17, The 1st International Children's Libraries Symposium
Place: Urgup, Turkey
Sponsor/Organizer: University of Marmara, Department of Information and Records Management; Ministry of Culture and Tourism Libraries and Publications General Directorate
URL: childrenslibraries.org
Nov. 17–20, The 18th IEEE International Conference on Data Mining (ICDM 2018)
Place: Singapore
Sponsor/Organizer: Organizing Committee
URL: icdm2018.org
Nov. 29–Dec. 1, International Conference on Digital Transformation (ICDT 2018)
Place: Delhi, India
Sponsor/Organizer: Organizing Committee
URL: ifla.org/files/assets/asia-and-oceania/news/icdt_confernece_brochure_19-09-2018.pdf
If you regularly read blogs, add these to your reader:
ITI Conference Blog – libconf.com – covering ITI's library conferences worldwide.
ILI365/InfoToday Europe Blog – infotoday.eu – news and ideas for, and by, innovative info pros from around the world, throughout the year.

destinationCRM Blog – destinationcrmblog.com – a blog from the editors of CRM magazine, dedicated to providing Customer Relationship Management information in a timely manner to connect decision makers and providers.
SpeechTech Blog – speechtechblog.com – updates on speech technology and its applications in daily life, covering everything from ASR to VUI, with lots of links, threads, and even a few pictures thrown in for good measure.