IBM, Vivísimo, and the 'Big Data' Buzz
by Theresa Cramer
It may be too early to declare "big data" the buzzword—or phrase, as the case may be—of 2012, but that has not stopped companies from trying to conquer the challenges posed by this trendy phrase. On April 25, 2012, when IBM announced an agreement to acquire Vivísimo, a provider of federated discovery and navigation software, the company said, "Today's news accelerates IBM's big data analytics initiatives with advanced federated capabilities allowing organizations to access, navigate, and analyze the full variety, velocity, and volume of structured and unstructured data without having to move it." But not everyone was so sure this move positioned IBM any better when it comes to handling massive amounts of unstructured information—or are even entirely sure that the idea of big data isn't a boondoggle.
ProQuest for Everyone: The Udini Service Officially Launches
by Barbara Quint
Expert commentators have remarked for years (all right, ME) how difficult, nigh impossible, it can be for "real people" to access the major database collections from leading library vendors. Marketing strategies focused on licensing content to libraries can leave people not served by large academic or public libraries without any way of reaching major database aggregations. Now one of the largest database aggregators, ProQuest has officially launched an end-user service that is open to all web users. Udini (pronounced You-dee-nee) currently carries about 150 million full-text articles and dissertations representing 12,000 publications supplied by 3,800 publishers.
CrossRef Announces FundRef Pilot
CrossRef announced FundRef, a pilot collaboration between scholarly publishers and funding agencies that will standardize the names of research funders and add grant numbers attributed in journal articles or other scholarly documents. The collaboration would allow researchers, publishers, and funding agencies to track the published research that results from specific funding bodies.
MIT and Harvard Launch a 'Revolution in Education'
Harvard and the Massachusetts Institute of Technology (MIT) joined forces to offer free online courses in a project aimed at attracting millions of online learners around the world, the universities announced. Beginning this fall, a variety of courses developed by faculty at both institutions will be available online through the new $60 million partnership, known as "edX." Through edX, the two institutions will collaborate to enhance campus-based teaching and learning and build a global community of online learners.
Harvard Library Bibliographic Dataset Now Available via EBSCO Discovery Service
EBSCO Publishing made the newly released Harvard Library Bibliographic Dataset available through EBSCO Discovery Service. The dataset contains 12 million open-access catalog records from Harvard's 73 libraries.
Online Consumer Privacy in the Spotlight
by Paula J. Hane
Choose Privacy Week is a national public awareness campaign that aims to educate the public on how to protect their privacy and understand their rights. This year, Choose Privacy Week is being held May 1-7, 2012. The timing for this public awareness campaign couldn't have been better. Within the past week, we've seen controversial cybersecurity legislation highlighted in the news and high-profile media coverage of Google's latest investigation by the Federal Communications Commission (FCC).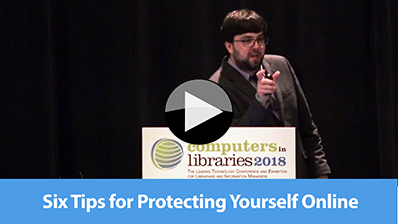 Six Tips for Protecting Yourself Online (3:23)
Evolve Project Director of Strategic Innovation Brian Pichman explains how to shore up your personal cybersecurity in this clip from Computers in Libraries 2018.
Find It Fast, 6th Edition
Extracting Expert Information from Social Networks, Big Data, Tweets, and More
by Robert Berkman

In Find It Fast, business research guru Robert Berkman gives expert advice on how to locate the best information sources, how to find and utilize the professionals behind those sources, and how to combine expert techniques to do fast and effective research on any subject.

You'll find practical guidance on such subjects as how to know if a site is a trusted source; understanding how and why sources differ; using precision search strategies and taming information overload; and finding, evaluating, and interviewing experts. Whether you are looking for consumer information, data for a job or project, facts for starting a new business, or an answer to an obscure question, Find It Fast will help you find it. Fast!

2015/336 pp softbound | ISBN 978-1-937290-04-7
Regular Price: $24.95 | Web Orders: $22.45
CONFERENCE CALENDAR
Nov. 13, Sports Streaming Summit
Place: Huntington Beach, Calif.
Sponsor/Organizer: Information Today, Inc.
URL: streamingmedia.com/Conferences/West2018/Sports.aspx
Nov. 13–14, OTT Leadership Summit
Place: Huntington Beach, Calif.
Sponsor/Organizer: Information Today, Inc.
URL: streamingmedia.com/Conferences/West2018/OTTSummit.aspx
Nov. 13–14, Video Engineering Summit
Place: Huntington Beach, Calif.
Sponsor/Organizer: Information Today, Inc.
URL: streamingmedia.com/Conferences/West2018/VES.aspx
Nov. 13–14, eBook Management: What Works, What Doesn't (ALCTS e-Forum)
Place: Online only
Sponsor/Organizer: Association for Library Collections and Technical Services (ALCTS)
URL: ala.org/alcts/confevents/upcoming/e-forum/111318
Nov. 13–14, Live Streaming Summit
Place: Huntington Beach, Calif.
Sponsor/Organizer: Information Today, Inc.
URL: streamingmedia.com/Conferences/West2018/livestreamingsummit.aspx
Nov. 13–14, Streaming Media West
Place: Huntington Beach, Calif.
Sponsor/Organizer: Information Today, Inc.
URL: streamingmedia.com/Conferences/west2018
Nov. 13–15, International Internet Preservation Consortium (IIPC) Web Archiving Conference 2018
Place: Wellington, New Zealand
Sponsor/Organizer: International Internet Preservation Consortium (IIPC)
URL: netpreserve.org/ga2018
Nov. 14–15, 2018 Library Marketing and Communications Conference (LMCC)
Place: St. Louis, Mo.
Sponsor/Organizer: Library Marketing Conference Group (LMCG)
URL: librarymarketingconference.org/lmcc-2018-announcements
Nov. 14–17, The 1st International Children's Libraries Symposium
Place: Urgup, Turkey
Sponsor/Organizer: University of Marmara, Department of Information and Records Management; Ministry of Culture and Tourism Libraries and Publications General Directorate
URL: childrenslibraries.org
Nov. 17–20, The 18th IEEE International Conference on Data Mining (ICDM 2018)
Place: Singapore
Sponsor/Organizer: Organizing Committee
URL: icdm2018.org
Nov. 29–Dec. 1, International Conference on Digital Transformation (ICDT 2018)
Place: Delhi, India
Sponsor/Organizer: Organizing Committee
URL: ifla.org/files/assets/asia-and-oceania/news/icdt_confernece_brochure_19-09-2018.pdf
If you regularly read blogs, add these to your reader:
ITI Conference Blog – libconf.com – covering ITI's library conferences worldwide.
ILI365/InfoToday Europe Blog – infotoday.eu – news and ideas for, and by, innovative info pros from around the world, throughout the year.

destinationCRM Blog – destinationcrmblog.com – a blog from the editors of CRM magazine, dedicated to providing Customer Relationship Management information in a timely manner to connect decision makers and providers.
SpeechTech Blog – speechtechblog.com – updates on speech technology and its applications in daily life, covering everything from ASR to VUI, with lots of links, threads, and even a few pictures thrown in for good measure.