Monday, February 06, 2012
Social Review Site Goodreads Dumps Amazon's Metadata
by Nancy K. Herther
As readers are adjusting to the internet for reading, buying, and selling books, they are also becoming a significant force in the publishing paradigm as they use the medium to recommend or pan books, affecting sales and, potentially, future publishing trends. One such social reviewing site is Goodreads, which has found itself at the center of the movement due to its aggressive and successful business model and due to some of the issues arising from its success. Until 2 weeks ago, Goodreads relied on Amazon book information for basic metadata on titles. However, Goodreads decided that Amazon's restrictive API agreements—not allowing for use of Amazon data on mobile apps and the inability of linking to competing bookstores—made the continuing relationship untenable.
SAGE Journals Available Via Mobile Devices
SAGE announced that its entire online journal collection is now available in a mobile-optimized format with the help of HighWire Press' Mobile Web Interface. Visitors to one of the more than 640 SAGE journal sites using their iPhones, Androids, or other smartphones are automatically redirected to the mobile version. Subscribers can now view content in a format designed specifically for the small screen size and functionality of their mobile devices.
NFAIS Releases Draft Discovery Service Code of Practice
The National Federation of Advanced Information Services (NFAIS) posted a draft Discovery Service Code of Practice for review and comment by March 16, 2012. NFAIS believes that discovery services have the potential to provide ease of information discovery, access, and use, benefitting not only its member organizations but also the global community of information seekers. However, the relative newness of these services has generated questions and concerns among information providers and librarians as to how these services meet expectations with regard to issues related to traditional search and retrieval services (e.g., usage reports, ranking algorithms, content coverage, updates, product identification, etc.).
Chemistry Information Centre Berlin (FIZ CHEMIE) Up For Sale
The public sector shareholders of Berlin's Chemistry Information Centre FIZ CHEMIE GmbH are putting their shares up for sale. It provides chemical data and abstracts for scientific and industrial communities on paper and electronically. Main shareholders are the German Federal Government and the State of Berlin, with industry associations being minority shareholders whose shares are available as well. Several scientific publishers have already shown interest in the information services produced.
ProQuest Works to Integrate Assets and Services
by Paula J. Hane
Last summer, ProQuest welcomed Kurt Sanford as its new CEO. He has now had 6 months leading the company and has already made his mark with a reorganization of leadership, new customer focus, and product migrations and integrations. I had a chance to visit with him during ALA Midwinter in Dallas and get an update on the corporate strategy he is implementing and his thoughts on the industry.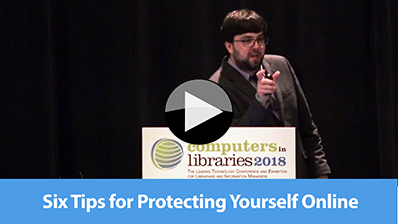 Six Tips for Protecting Yourself Online (3:23)
Evolve Project Director of Strategic Innovation Brian Pichman explains how to shore up your personal cybersecurity in this clip from Computers in Libraries 2018.
Find It Fast, 6th Edition
Extracting Expert Information from Social Networks, Big Data, Tweets, and More
by Robert Berkman

In Find It Fast, business research guru Robert Berkman gives expert advice on how to locate the best information sources, how to find and utilize the professionals behind those sources, and how to combine expert techniques to do fast and effective research on any subject.

You'll find practical guidance on such subjects as how to know if a site is a trusted source; understanding how and why sources differ; using precision search strategies and taming information overload; and finding, evaluating, and interviewing experts. Whether you are looking for consumer information, data for a job or project, facts for starting a new business, or an answer to an obscure question, Find It Fast will help you find it. Fast!

2015/336 pp softbound | ISBN 978-1-937290-04-7
Regular Price: $24.95 | Web Orders: $22.45
CONFERENCE CALENDAR
Nov. 13, Sports Streaming Summit
Place: Huntington Beach, Calif.
Sponsor/Organizer: Information Today, Inc.
URL: streamingmedia.com/Conferences/West2018/Sports.aspx
Nov. 13–14, OTT Leadership Summit
Place: Huntington Beach, Calif.
Sponsor/Organizer: Information Today, Inc.
URL: streamingmedia.com/Conferences/West2018/OTTSummit.aspx
Nov. 13–14, Video Engineering Summit
Place: Huntington Beach, Calif.
Sponsor/Organizer: Information Today, Inc.
URL: streamingmedia.com/Conferences/West2018/VES.aspx
Nov. 13–14, eBook Management: What Works, What Doesn't (ALCTS e-Forum)
Place: Online only
Sponsor/Organizer: Association for Library Collections and Technical Services (ALCTS)
URL: ala.org/alcts/confevents/upcoming/e-forum/111318
Nov. 13–14, Live Streaming Summit
Place: Huntington Beach, Calif.
Sponsor/Organizer: Information Today, Inc.
URL: streamingmedia.com/Conferences/West2018/livestreamingsummit.aspx
Nov. 13–14, Streaming Media West
Place: Huntington Beach, Calif.
Sponsor/Organizer: Information Today, Inc.
URL: streamingmedia.com/Conferences/west2018
Nov. 13–15, International Internet Preservation Consortium (IIPC) Web Archiving Conference 2018
Place: Wellington, New Zealand
Sponsor/Organizer: International Internet Preservation Consortium (IIPC)
URL: netpreserve.org/ga2018
Nov. 14–15, 2018 Library Marketing and Communications Conference (LMCC)
Place: St. Louis, Mo.
Sponsor/Organizer: Library Marketing Conference Group (LMCG)
URL: librarymarketingconference.org/lmcc-2018-announcements
Nov. 14–17, The 1st International Children's Libraries Symposium
Place: Urgup, Turkey
Sponsor/Organizer: University of Marmara, Department of Information and Records Management; Ministry of Culture and Tourism Libraries and Publications General Directorate
URL: childrenslibraries.org
Nov. 17–20, The 18th IEEE International Conference on Data Mining (ICDM 2018)
Place: Singapore
Sponsor/Organizer: Organizing Committee
URL: icdm2018.org
Nov. 29–Dec. 1, International Conference on Digital Transformation (ICDT 2018)
Place: Delhi, India
Sponsor/Organizer: Organizing Committee
URL: ifla.org/files/assets/asia-and-oceania/news/icdt_confernece_brochure_19-09-2018.pdf
If you regularly read blogs, add these to your reader:
ITI Conference Blog – libconf.com – covering ITI's library conferences worldwide.
ILI365/InfoToday Europe Blog – infotoday.eu – news and ideas for, and by, innovative info pros from around the world, throughout the year.

destinationCRM Blog – destinationcrmblog.com – a blog from the editors of CRM magazine, dedicated to providing Customer Relationship Management information in a timely manner to connect decision makers and providers.
SpeechTech Blog – speechtechblog.com – updates on speech technology and its applications in daily life, covering everything from ASR to VUI, with lots of links, threads, and even a few pictures thrown in for good measure.