Thursday, January 19, 2012
A Year of Exceptional Budget Challenges: USGS Shutters NBII
by Peggy Garvin
"As you are likely aware, this is a year of exceptional budget challenges." This may not be the first or last time U.S. government information users hear such words. In this case, the words introduce the U.S. Geological Survey (USGS) [www.usgs.gov/] announcement of the decision to terminate funding of the National Biological Information Infrastructure (NBII) program. USGS had managed and funded the NBII program, which the website described as "a broad, collaborative program to provide increased access to data and information on the nation's biological resources," since the late 1990s.
Springer Open Choice Adopts Creative Commons Attribution License
Springer is bringing Open Choice, its hybrid open access (OA) option, into line with the fully OA journals published by BioMed Central and SpringerOpen. As a result, all OA content at Springer will be published under the Creative Commons Attribution (CC-BY) license.
OverDrive Adds Non-English Ebooks to Library Catalog
OverDrive, a global digital distributor of ebooks and audiobooks to libraries and schools, added thousands of foreign-language materials in dozens of genres to its catalog of more than 700,000 digital titles. OverDrive's online catalog, Content Reserve, which contains digital books in more than 50 languages, recently added popular and bestselling titles in Russian, Swedish, Portuguese, Italian, and Turkish, with thousands of Spanish ebooks coming soon.
Article Exchange Integrated Into WorldCat Resource Sharing Service
OCLC announced that, following a successful 5-month trial, the Article Exchange feature is now available within the WorldCat Resource Sharing service and, where available, through an ILLiad add-on. This new feature is available at no charge to OCLC libraries that use WorldCat Resource Sharing and ILLiad Resource Sharing Management Software and will be offered in WorldCat Navigator, in regions where available, and VDX later this year.
Review of 2011 and Trends Watch 2012
by Paula J. Hane
What will you remember from 2011? Techies will no doubt focus on the iPad 2, iPhone 4S, the Kindle Fire, and the rest of the new Kindle family, and all the new apps for smartphones. Folks in the information industry will likely remember 2011 as one of adapting new technologies and testing viable business models for the new emerging information landscape. Librarians will likely remember it as a year of intense pressure to squeeze more eresources and services from their (shrinking) budgets.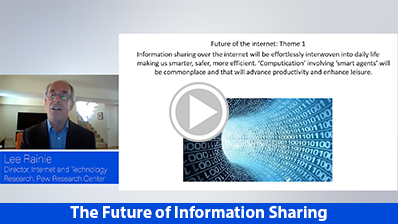 The Future of Information Sharing (3:59)
Lee Rainie, Director, Internet and Technology Research, Pew Research Center, projects the future of information sharing online and its social, cultural, and economic impact as foreseen by analysts and experts surveyed by Pew in this clip from his keynote at Data Summit Connect 2020.

CLOSED CAPTIONING IS AVAILABLE.
If you regularly read blogs, add these to your reader:
ITI Conference Blog – libconf.com – covering ITI's library conferences worldwide.
ILI365/InfoToday Europe Blog – infotoday.eu – news and ideas for, and by, innovative info pros from around the world, throughout the year.
Streaming Media Blog – www.streamingmedia.com/Articles/Blog – the go-to destination for opinion, analysis, and insights into the entire online video ecosystem, from glass to glass.