Thursday, November 10, 2011
Google Delivers GoMo: Can You GoMo?
by Richard Oppenheim
The intersection of mobile computing devices and the internet just received GoMo from Google. This Google free application will enable even more volumes of content to flow more smoothly across the intersection. GoMo stands for Google Mobile, which is designed to enhance the readability of websites built for 14" to 23" screen displays on laptops or desktops and now having their content downsized to the 3" to 9" screens of mobile devices. The issue that Google is solving is how to enable websites to be modified so that they are readable on your small screen without having to use touch and scroll to make the pages visible. Small screens are not one size fits all (pun intended) and modifying full-size webpages will increase mobile connectivity.
Safari Books Online to Use Ingram's CoreSource for Digital Asset Management
Safari Books Online's on-demand digital learning library provides books, training videos, and learning resources from leading publishers and authors, all on a searchable, interactive learning platform. The new agreement to use Ingram Content Group's CoreSource platform will allow Safari Books Online to reach the more than 850 publishers already using CoreSource for digital asset management and distribution. These publishers gain another channel to reach consumers, in addition to the 160-plus retailers and library distributors already connected.
Funding App Appears With Elsevier's SciVerse Applications
Elsevier launched a SciVal Funding App for SciVerse. The app links content from SciVerse ScienceDirect and SciVerse Scopus with SciVal Funding, Elsevier's online solution that provides targeted recommendations on grants. The SciVal Funding App makes it easier for researchers to discover funding opportunities related to their area of research. The new app links SciVerse articles and abstracts to SciVal Funding, increasing the discoverability of global funding opportunities.
ProQuest to Digitize NAACP Archives
ProQuest and the National Association for the Advancement of Colored People (NAACP) are teaming to digitize the association's archives, bringing one of the most famous records of the civil rights movement to the online world. The collection, which comprises nearly 2 million pages of internal memos, legal briefings, and direct action summaries from national, legal, and branch offices throughout the country, charts NAACP's work and delivers a firsthand view into crucial issues: lynching, school desegregation, discrimination in the military, the criminal justice system, employment, and housing. Preserved on microfilm, it holds the distinction of being the most heavily used collection in the Manuscript Division of the Library of Congress. Now, it will be fully searchable and accessible electronically and available through academic, research, and public library websites as part of ProQuest History Vault, an initiative to digitize historically rich primary sources.
EPUB 3 Becomes Final IDPF Specification—Poised to Unleash an Econtent Revolution
by Paula J. Hane
If you think that developments in ebooks and the e-reading experience have been hitting at a fast pace, get ready for it to get really exciting. A new specification has been approved that should accelerate the progress toward richer experiences. On Oct. 11, 2011, at Frankfurt Book Fair in Germany, the International Digital Publishing Forum (IDPF) announced the completion of a major revision to EPUB, which has become the global standard interchange and delivery format for ebooks and other digital publications. The IDPF membership unanimously voted to elevate EPUB 3 to a final IDPF Recommended Specification, which is publicly available at http://idpf.org/epub/30.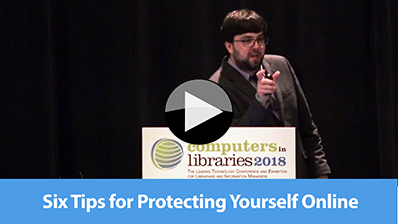 Six Tips for Protecting Yourself Online (3:23)
Evolve Project Director of Strategic Innovation Brian Pichman explains how to shore up your personal cybersecurity in this clip from Computers in Libraries 2018.
Find It Fast, 6th Edition
Extracting Expert Information from Social Networks, Big Data, Tweets, and More
by Robert Berkman

In Find It Fast, business research guru Robert Berkman gives expert advice on how to locate the best information sources, how to find and utilize the professionals behind those sources, and how to combine expert techniques to do fast and effective research on any subject.

You'll find practical guidance on such subjects as how to know if a site is a trusted source; understanding how and why sources differ; using precision search strategies and taming information overload; and finding, evaluating, and interviewing experts. Whether you are looking for consumer information, data for a job or project, facts for starting a new business, or an answer to an obscure question, Find It Fast will help you find it. Fast!

2015/336 pp softbound | ISBN 978-1-937290-04-7
Regular Price: $24.95 | Web Orders: $22.45
CONFERENCE CALENDAR
Nov. 13, Sports Streaming Summit
Place: Huntington Beach, Calif.
Sponsor/Organizer: Information Today, Inc.
URL: streamingmedia.com/Conferences/West2018/Sports.aspx
Nov. 13–14, OTT Leadership Summit
Place: Huntington Beach, Calif.
Sponsor/Organizer: Information Today, Inc.
URL: streamingmedia.com/Conferences/West2018/OTTSummit.aspx
Nov. 13–14, Video Engineering Summit
Place: Huntington Beach, Calif.
Sponsor/Organizer: Information Today, Inc.
URL: streamingmedia.com/Conferences/West2018/VES.aspx
Nov. 13–14, eBook Management: What Works, What Doesn't (ALCTS e-Forum)
Place: Online only
Sponsor/Organizer: Association for Library Collections and Technical Services (ALCTS)
URL: ala.org/alcts/confevents/upcoming/e-forum/111318
Nov. 13–14, Live Streaming Summit
Place: Huntington Beach, Calif.
Sponsor/Organizer: Information Today, Inc.
URL: streamingmedia.com/Conferences/West2018/livestreamingsummit.aspx
Nov. 13–14, Streaming Media West
Place: Huntington Beach, Calif.
Sponsor/Organizer: Information Today, Inc.
URL: streamingmedia.com/Conferences/west2018
Nov. 13–15, International Internet Preservation Consortium (IIPC) Web Archiving Conference 2018
Place: Wellington, New Zealand
Sponsor/Organizer: International Internet Preservation Consortium (IIPC)
URL: netpreserve.org/ga2018
Nov. 14–15, 2018 Library Marketing and Communications Conference (LMCC)
Place: St. Louis, Mo.
Sponsor/Organizer: Library Marketing Conference Group (LMCG)
URL: librarymarketingconference.org/lmcc-2018-announcements
Nov. 14–17, The 1st International Children's Libraries Symposium
Place: Urgup, Turkey
Sponsor/Organizer: University of Marmara, Department of Information and Records Management; Ministry of Culture and Tourism Libraries and Publications General Directorate
URL: childrenslibraries.org
Nov. 17–20, The 18th IEEE International Conference on Data Mining (ICDM 2018)
Place: Singapore
Sponsor/Organizer: Organizing Committee
URL: icdm2018.org
Nov. 29–Dec. 1, International Conference on Digital Transformation (ICDT 2018)
Place: Delhi, India
Sponsor/Organizer: Organizing Committee
URL: ifla.org/files/assets/asia-and-oceania/news/icdt_confernece_brochure_19-09-2018.pdf
If you regularly read blogs, add these to your reader:
ITI Conference Blog – libconf.com – covering ITI's library conferences worldwide.
ILI365/InfoToday Europe Blog – infotoday.eu – news and ideas for, and by, innovative info pros from around the world, throughout the year.

destinationCRM Blog – destinationcrmblog.com – a blog from the editors of CRM magazine, dedicated to providing Customer Relationship Management information in a timely manner to connect decision makers and providers.
SpeechTech Blog – speechtechblog.com – updates on speech technology and its applications in daily life, covering everything from ASR to VUI, with lots of links, threads, and even a few pictures thrown in for good measure.