Monday, November 28, 2011
Controversy Surrounds Stop Online Piracy Act as Mark-Up Approaches
by George H. Pike
On Oct. 26, 2011, the Stop Online Piracy Act (SOPA; H.R. 3261) was introduced in the U.S. House of Representatives. A companion bill to the previously introduced PROTECT-IP Act, SOPA would give government officials and content owners new authority to go after "rogue websites" that traffic in infringing, pirated, and counterfeit intellectual property. In the month since the act has been introduced, a groundswell of controversy has enveloped the proposal with competing claims that could lead to a "copyright police state," or that, if it doesn't pass, the "U.S. copyright system will ultimately fail."
OverDrive Announces Ebook Device 'Test Drive' Program for Libraries
OverDrive announced Test Drive, a program for libraries to support demonstration and lending of ebook reading devices and tablets to their patrons. The program includes device recommendations and guidelines for setup, maintenance, and support, as well as best practices for institutions that want to stock and lend ebook readers and tablets to patrons. Whether you are considering providing demo units inside or lending devices outside the library, the Test Drive program will provide useful guidelines to work within the framework of your OverDrive ebook lending collection.
NLM Enhances Drug-Naming Standard for Electronic Health Records
The RxNorm standard clinical drug vocabulary produced by the U.S. National Library of Medicine (NLM) now contains more accurate and complete connections between National Drug Codes (NDCs) and standard nonproprietary names of medications recommended for use in electronic health records (EHRs). For the first time, it also includes the complete set of NDCs from Thomson Reuters' Red Book, a drug database widely used in the healthcare industry.
FindLaw Launches Legal Pulse
FindLaw.com introduced FindLaw Legal Pulse, a new content area that offers continuously updated legal headlines from around the world, along with news, photo feeds, and analysis from such sources as Reuters, the Associated Press, The New York Times, and The Washington Post. The content covers a broad range of law-related topics, everything from Supreme Court decisions to legislative updates, everyday legal issues, and even sports and celebrity news.
EPUB 3 Becomes Final IDPF Specification—Poised to Unleash an Econtent Revolution
by Paula J. Hane
If you think that developments in ebooks and the e-reading experience have been hitting at a fast pace, get ready for it to get really exciting. A new specification has been approved that should accelerate the progress toward richer experiences. On Oct. 11, 2011, at Frankfurt Book Fair in Germany, the International Digital Publishing Forum (IDPF) announced the completion of a major revision to EPUB, which has become the global standard interchange and delivery format for ebooks and other digital publications. The IDPF membership unanimously voted to elevate EPUB 3 to a final IDPF Recommended Specification, which is publicly available at http://idpf.org/epub/30.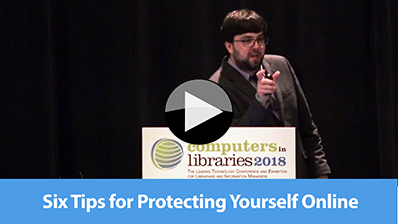 Six Tips for Protecting Yourself Online (3:23)
Evolve Project Director of Strategic Innovation Brian Pichman explains how to shore up your personal cybersecurity in this clip from Computers in Libraries 2018.
Find It Fast, 6th Edition
Extracting Expert Information from Social Networks, Big Data, Tweets, and More
by Robert Berkman

In Find It Fast, business research guru Robert Berkman gives expert advice on how to locate the best information sources, how to find and utilize the professionals behind those sources, and how to combine expert techniques to do fast and effective research on any subject.

You'll find practical guidance on such subjects as how to know if a site is a trusted source; understanding how and why sources differ; using precision search strategies and taming information overload; and finding, evaluating, and interviewing experts. Whether you are looking for consumer information, data for a job or project, facts for starting a new business, or an answer to an obscure question, Find It Fast will help you find it. Fast!

2015/336 pp softbound | ISBN 978-1-937290-04-7
Regular Price: $24.95 | Web Orders: $22.45
CONFERENCE CALENDAR
Nov. 13, Sports Streaming Summit
Place: Huntington Beach, Calif.
Sponsor/Organizer: Information Today, Inc.
URL: streamingmedia.com/Conferences/West2018/Sports.aspx
Nov. 13–14, OTT Leadership Summit
Place: Huntington Beach, Calif.
Sponsor/Organizer: Information Today, Inc.
URL: streamingmedia.com/Conferences/West2018/OTTSummit.aspx
Nov. 13–14, Video Engineering Summit
Place: Huntington Beach, Calif.
Sponsor/Organizer: Information Today, Inc.
URL: streamingmedia.com/Conferences/West2018/VES.aspx
Nov. 13–14, eBook Management: What Works, What Doesn't (ALCTS e-Forum)
Place: Online only
Sponsor/Organizer: Association for Library Collections and Technical Services (ALCTS)
URL: ala.org/alcts/confevents/upcoming/e-forum/111318
Nov. 13–14, Live Streaming Summit
Place: Huntington Beach, Calif.
Sponsor/Organizer: Information Today, Inc.
URL: streamingmedia.com/Conferences/West2018/livestreamingsummit.aspx
Nov. 13–14, Streaming Media West
Place: Huntington Beach, Calif.
Sponsor/Organizer: Information Today, Inc.
URL: streamingmedia.com/Conferences/west2018
Nov. 13–15, International Internet Preservation Consortium (IIPC) Web Archiving Conference 2018
Place: Wellington, New Zealand
Sponsor/Organizer: International Internet Preservation Consortium (IIPC)
URL: netpreserve.org/ga2018
Nov. 14–15, 2018 Library Marketing and Communications Conference (LMCC)
Place: St. Louis, Mo.
Sponsor/Organizer: Library Marketing Conference Group (LMCG)
URL: librarymarketingconference.org/lmcc-2018-announcements
Nov. 14–17, The 1st International Children's Libraries Symposium
Place: Urgup, Turkey
Sponsor/Organizer: University of Marmara, Department of Information and Records Management; Ministry of Culture and Tourism Libraries and Publications General Directorate
URL: childrenslibraries.org
Nov. 17–20, The 18th IEEE International Conference on Data Mining (ICDM 2018)
Place: Singapore
Sponsor/Organizer: Organizing Committee
URL: icdm2018.org
Nov. 29–Dec. 1, International Conference on Digital Transformation (ICDT 2018)
Place: Delhi, India
Sponsor/Organizer: Organizing Committee
URL: ifla.org/files/assets/asia-and-oceania/news/icdt_confernece_brochure_19-09-2018.pdf
If you regularly read blogs, add these to your reader:
ITI Conference Blog – libconf.com – covering ITI's library conferences worldwide.
ILI365/InfoToday Europe Blog – infotoday.eu – news and ideas for, and by, innovative info pros from around the world, throughout the year.

destinationCRM Blog – destinationcrmblog.com – a blog from the editors of CRM magazine, dedicated to providing Customer Relationship Management information in a timely manner to connect decision makers and providers.
SpeechTech Blog – speechtechblog.com – updates on speech technology and its applications in daily life, covering everything from ASR to VUI, with lots of links, threads, and even a few pictures thrown in for good measure.