Internet Librarian 2011—Considering the Possibilities
by Cindy Shamel
The advent of ebooks, the role of play in keeping current and continuous learning, and the adoption of new strategies for online searching challenged participants at Internet Librarian 2011, held Oct. 17-19, 2011, in Monterey, Calif. More than 1,050 information professionals gathered to tackle these topics among others. Some 200 speakers shared insights, ideas, and experiences to help participants consider the possibilities.
Open Access Week 2011 Opens Oct. 24
Open Access Week, the annual event celebrating the global movement toward Open Access (OA) to research and scholarship, kicks off for the fifth time on Monday, Oct. 24, 2011. Coordinated by SPARC (the Scholarly Publishing and Academic Resources Coalition) and organized by more than 2,000 advocates in countries around the world, the event provides an opportunity to learn about the benefits of OA, share new ideas and strategies, and inspire wider participation in establishing OA as the norm in scholarly communication.
ACM Announces Innovative Article Linking Service for Authors
The Association for Computing Machinery (ACM) is introducing a new service called ACM Author-Izer. It enables ACM authors to post links on either their own webpages or institutional repositories for visitors to download the definitive version of their articles from the ACM Digital Library at no charge. ACM Author-Izer also enables the dynamic display of download and citation statistics for each "authorized" article on the author's personal page.
Cengage Learning to Improve Interoperability With Sakai Courseware Management Platform
Cengage Learning, a global provider of teaching, learning, and research solutions, announced a strategic partnership with Unicon to improve interoperability of Cengage Learning's digital content and solutions within the open source Sakai courseware management platform. The integration will enhance the implementation of the IMS LTI standard (Learning Tools Interoperability) that is developed and maintained by the Sakai community. All source code developed in this partnership will be contributed back to the Sakai project under an open source license.
Mine the Web Like a Journalist
by Paula J. Hane
I recently had the opportunity to sit in on two webinars aimed at journalists. One was sponsored by the Donald W. Reynolds National Center for Business Journalism, titled "Beyond Google: Mining the Web for Company Intelligence." The other was a "LinkedIn for Journalists" training session, which is offered frequently by Krista Canfield, senior manager of corporate communications at LinkedIn. Both proved to be well worth my time. I thought I might share some of the best suggestions I picked up that are applicable for many researchers, journalists or not.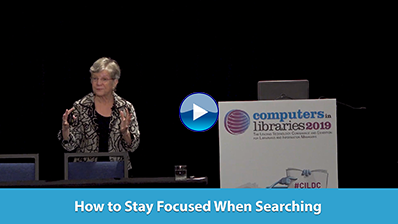 How to Stay Focused When Searching (3:47)
Super-Searcher Mary Ellen Bates of Bates Information Services explains how to separate the incidental from the integral in search in this clip from her presentation at Computers in Libraries 2019.

CLOSED CAPTIONING IS NOW AVAILABLE.
The Carousel Carver
by Perdita Buchan

This evocative historical novel tells the story of Giacinto, who emigrates from Italy in 1912 and becomes a carousel carver during the golden age of the craft in America, and Rosa, the eight-year-old orphan girl thrust into his care.

The Carousel Carver vividly recreates the world of the immigrant carvers—from the inspiration found in fiery horses, big cats, and children's laughter to the clatter, sawdust, and politics of Philadelphia's bustling multicultural workshops. This is an engaging and insightful tale of tolerance, second chances, and what it means for those once adrift to call America home.

May 2019/144 pp/hardcover/ISBN 978-1-940091-04-4
Regular Price $16.95 | Preorder Price $10.17

Trade Paperback | ISBN 978-1-940091-03-7
Regular Price $13.95 | Preorder Price $8.37


The ebook is available from Amazon, Barnes & Noble, and Kobo.
If you regularly read blogs, add these to your reader:
ITI Conference Blog – libconf.com – covering ITI's library conferences worldwide.
ILI365/InfoToday Europe Blog – infotoday.eu – news and ideas for, and by, innovative info pros from around the world, throughout the year.
Streaming Media Blog – www.streamingmedia.com/Articles/Blog – the go-to destination for opinion, analysis, and insights into the entire online video ecosystem, from glass to glass.