Thursday, August 11, 2011
SearchTeam: Collaborative Asynchronous Searching
by Greg R. Notess
Zakta launched a new collaborative search site, SearchTeam.com, on July 12. Proposing to "search the web together with people you trust," SearchTeam lets groups of searchers save results, add notes, modify results, "like" specific hits, and share results with others. Rather than requiring that the entire team (or group of collaborators) be online at the same time, SearchTeam is asynchronous, letting each team member save results, annotate them, and even upload files to share with others. As described in the SearchTeam FAQ, searchers can create a SearchSpace for gathering and organizing search results for each topic. "You can find and save only what you want while you are searching and throw away what you don't want or find irrelevant. You can automatically organize what you save, into folders of your choosing."
bitly Acquires Twitterfeed
The bitly service helps web users collect, organize, shorten, and share links. It is available via its website, browser extensions, mobile web, and numerous third-party tools integrated with its open public API. All links shared via bitly allow users to view complete real-time traffic and analytics data. It also powers more than 10,000 custom short URLs and offers an enterprise analytics service that helps web publishers and brands grow their social media traffic. For years, it has worked closely with Twitterfeed to enhance its social media publishing tools by integrating bitly's branded short links and real-time data. Now bitly has acquired Twitterfeed.
EBSCO Discovery Service Reachable via Innovative Interface's Encore
Mutual customers of the Encore Synergy discovery feature from Innovative Interfaces and EBSCO Publishing's EBSCO Discovery Service will have an API from Innovative to improve accessibility and usability for customers requesting various ports of entry into EBSCO Discovery Service (EDS) and EBSCO Publishing. The two companies are working to develop improved access into these resources via Innovative's Encore discovery platform. The result of the partnership is a smarter experience for mutual customers and library users who begin their search from Encore. EDS will be available via a dedicated API with enhanced functionality.
Social Media Features Included in New AccuWeather for Android App
AccuWeather an AccuWeather for Android application for Android phones. In addition to the forecasts updated hourly, interactive Google Maps, and weather in 23 languages, AccuWeather for Android has customizable color themes and the ability to share forecasts via the social media applications users have installed on their Android phone.
Inmagic's New Idea Management System for Collaborative Innovation
by Paula J. Hane
Idea management systems are one way to approach innovation and product development. They provide a structured and disciplined approach for managing idea generation, capture, collaboration, assessment, implementation, and outcome monitoring. In 2010, Gartner's Emerging Tech Hype Cycle put the technology as being 2-5 years from mainstream adoption. I hadn't really paid much attention to this category until the recent announcement by Inmagic of IdeaNet, its "next-generation innovation application," powered by Inmagic Presto.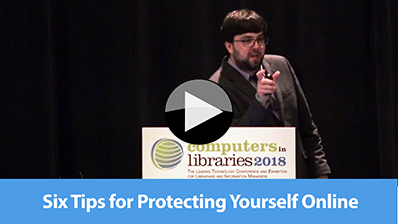 Six Tips for Protecting Yourself Online (3:23)
Evolve Project Director of Strategic Innovation Brian Pichman explains how to shore up your personal cybersecurity in this clip from Computers in Libraries 2018.
Find It Fast, 6th Edition
Extracting Expert Information from Social Networks, Big Data, Tweets, and More
by Robert Berkman

In Find It Fast, business research guru Robert Berkman gives expert advice on how to locate the best information sources, how to find and utilize the professionals behind those sources, and how to combine expert techniques to do fast and effective research on any subject.

You'll find practical guidance on such subjects as how to know if a site is a trusted source; understanding how and why sources differ; using precision search strategies and taming information overload; and finding, evaluating, and interviewing experts. Whether you are looking for consumer information, data for a job or project, facts for starting a new business, or an answer to an obscure question, Find It Fast will help you find it. Fast!

2015/336 pp softbound | ISBN 978-1-937290-04-7
Regular Price: $24.95 | Web Orders: $22.45
CONFERENCE CALENDAR
Nov. 13, Sports Streaming Summit
Place: Huntington Beach, Calif.
Sponsor/Organizer: Information Today, Inc.
URL: streamingmedia.com/Conferences/West2018/Sports.aspx
Nov. 13–14, OTT Leadership Summit
Place: Huntington Beach, Calif.
Sponsor/Organizer: Information Today, Inc.
URL: streamingmedia.com/Conferences/West2018/OTTSummit.aspx
Nov. 13–14, Video Engineering Summit
Place: Huntington Beach, Calif.
Sponsor/Organizer: Information Today, Inc.
URL: streamingmedia.com/Conferences/West2018/VES.aspx
Nov. 13–14, eBook Management: What Works, What Doesn't (ALCTS e-Forum)
Place: Online only
Sponsor/Organizer: Association for Library Collections and Technical Services (ALCTS)
URL: ala.org/alcts/confevents/upcoming/e-forum/111318
Nov. 13–14, Live Streaming Summit
Place: Huntington Beach, Calif.
Sponsor/Organizer: Information Today, Inc.
URL: streamingmedia.com/Conferences/West2018/livestreamingsummit.aspx
Nov. 13–14, Streaming Media West
Place: Huntington Beach, Calif.
Sponsor/Organizer: Information Today, Inc.
URL: streamingmedia.com/Conferences/west2018
Nov. 13–15, International Internet Preservation Consortium (IIPC) Web Archiving Conference 2018
Place: Wellington, New Zealand
Sponsor/Organizer: International Internet Preservation Consortium (IIPC)
URL: netpreserve.org/ga2018
Nov. 14–15, 2018 Library Marketing and Communications Conference (LMCC)
Place: St. Louis, Mo.
Sponsor/Organizer: Library Marketing Conference Group (LMCG)
URL: librarymarketingconference.org/lmcc-2018-announcements
Nov. 14–17, The 1st International Children's Libraries Symposium
Place: Urgup, Turkey
Sponsor/Organizer: University of Marmara, Department of Information and Records Management; Ministry of Culture and Tourism Libraries and Publications General Directorate
URL: childrenslibraries.org
Nov. 17–20, The 18th IEEE International Conference on Data Mining (ICDM 2018)
Place: Singapore
Sponsor/Organizer: Organizing Committee
URL: icdm2018.org
Nov. 29–Dec. 1, International Conference on Digital Transformation (ICDT 2018)
Place: Delhi, India
Sponsor/Organizer: Organizing Committee
URL: ifla.org/files/assets/asia-and-oceania/news/icdt_confernece_brochure_19-09-2018.pdf
If you regularly read blogs, add these to your reader:
ITI Conference Blog – libconf.com – covering ITI's library conferences worldwide.
ILI365/InfoToday Europe Blog – infotoday.eu – news and ideas for, and by, innovative info pros from around the world, throughout the year.

destinationCRM Blog – destinationcrmblog.com – a blog from the editors of CRM magazine, dedicated to providing Customer Relationship Management information in a timely manner to connect decision makers and providers.
SpeechTech Blog – speechtechblog.com – updates on speech technology and its applications in daily life, covering everything from ASR to VUI, with lots of links, threads, and even a few pictures thrown in for good measure.