New Domain Name Rules and Perhaps Dot-Lib for Libraries—Redux
by Wallace Koehler
In 2000, I wrote a NewsBreak article that considered the first addition by the Internet Corp. for Assigned Names and Numbers (ICANN) of new generic top level domain names (gTLDs). TLDs are divided into two basic types: generic top level domains (gTLD) and country code TLDs (ccTLD). ICANN has since followed this first wave of new gTLDs with a set of gTLDs and sponsored TLDs (sTLD) in 2004. ICANN is again broadening opportunities to create new gTLDs to include sTLDs. In June 2011, ICANN announced a policy to liberalize the process for creation of new gTLDs.
New Report on Book Consumer Demographics and Buying Behaviors
R.R. Bowker and Publishers Weekly released the 2010-2011 U.S. Book Consumer Demographics & Buying Behaviors Annual Review. A weakened economy, declining numbers of book buyers, and the acceleration of ebooks seemingly combined to make 2010 one of the most challenging ever for the U.S. book industry.
Early Agreements for Sierra Services Platform Announced
Innovative Interfaces announced that 25 academic and public libraries entered into agreements to be partners in or early implementers of the company's Sierra development initiative. The Sierra Services Platform will provide complete, customizable ILS functionality with the power and scale of modern software architecture. Sierra's beta launch is scheduled for late 2011.
AllBusiness.com Gets Major Redesign
AllBusiness.com, a D&B company, announced a dramatic new redesign, including new site organization, new content filters, comments and ratings functionality, and new columnists and bloggers. Intended to give AllBusiness.com a fully up-to-date look and feel as well as introduce new content and functionality, the redesign is the catalyst for all sorts of changes, some of which will be rolled out in the coming weeks and months.
Ebook Developments Were HOT at ALA
by Paula J. Hane
Looking over the program of presentations and panels and at the vendors exhibiting at the recent American Library Association Annual (ALA) conference, it's clear that librarians are focused on embracing the expanding digital world and specifically on providing ebooks as part of library services. Of course, along with that come all the issues and considerations involved: copyright/DRM, rising costs of digital collections, format issues, and the rapidly evolving publishing market. For librarians, it's all about providing enhanced services through the emerging technologies. They had a lot to look at and think about in New Orleans.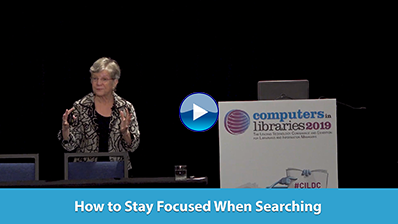 How to Stay Focused When Searching (3:47)
Super-Searcher Mary Ellen Bates of Bates Information Services explains how to separate the incidental from the integral in search in this clip from her presentation at Computers in Libraries 2019.

CLOSED CAPTIONING IS NOW AVAILABLE.
The Carousel Carver
by Perdita Buchan

This evocative historical novel tells the story of Giacinto, who emigrates from Italy in 1912 and becomes a carousel carver during the golden age of the craft in America, and Rosa, the eight-year-old orphan girl thrust into his care.

The Carousel Carver vividly recreates the world of the immigrant carvers—from the inspiration found in fiery horses, big cats, and children's laughter to the clatter, sawdust, and politics of Philadelphia's bustling multicultural workshops. This is an engaging and insightful tale of tolerance, second chances, and what it means for those once adrift to call America home.

May 2019/144 pp/hardcover/ISBN 978-1-940091-04-4
Regular Price $16.95 | Preorder Price $10.17

Trade Paperback | ISBN 978-1-940091-03-7
Regular Price $13.95 | Preorder Price $8.37


The ebook is available from Amazon, Barnes & Noble, and Kobo.
If you regularly read blogs, add these to your reader:
ITI Conference Blog – libconf.com – covering ITI's library conferences worldwide.
ILI365/InfoToday Europe Blog – infotoday.eu – news and ideas for, and by, innovative info pros from around the world, throughout the year.
Streaming Media Blog – www.streamingmedia.com/Articles/Blog – the go-to destination for opinion, analysis, and insights into the entire online video ecosystem, from glass to glass.