The New Dow Jones Knowledge Professionals Alliance
by Paula J. Hane
The folks at Factiva have been busily working on a replacement community for the Factiva Information Professional Alliance. It is now called the Dow Jones Knowledge Professionals Alliance and made its debut at the recent SLA annual conference. It has an entirely revamped format with new content and an expanded audience. The InfoPro Alliance had been around since 1996, and admittedly had been in "hibernation mode," according to Anne Caputo, executive director, knowledge and learning programs at Dow Jones. Following a survey of its 3,000-plus members, the Factiva/Dow Jones team determined that people do not want another place to have a conversation. They are looking for a place to learn and share resources. So, the new tag line for the Knowledge Professionals Alliance is "Learn. Share. Thrive."
Deep Web Technologies Adds Multilingual and Multimedia Search Capabilities
Deep Web Technologies announced full integration of multilingual and multimedia search into the company's Explorit Research Accelerator. The patent-pending multilingual search capability is the first such feature ever offered for Deep Web search.
Springer Launches SpringerReference.com
Springer Science+Business Media launched SpringerReference.com, a new platform for researchers and academic and corporate libraries. It offers living editions of Springer's eReferences well in advance of their print editions across every subject. Through the platform, scientists can submit updates to articles whenever they want. SpringerReference.com thus offers a way to quickly publish major reference works that need to be constantly updated with the most up-to-date research findings.
New Additions to the Summon Discovery Service From Serials Solutions
Serials Solutions, a business unit of ProQuest LLC, announced an agreement with Bridgeman Education to enable discovery of Bridgeman's vast visual arts collection from the Summon web-scale discovery service. Bridgeman's digital art collection provides a central source of fine art images for users and features content from more than 8,000 collections and more than 29,000 artists.
Sources for Free Ebooks and Ereader Software
by Paula J. Hane
In late May, BookExpo America week kicked off with IDPF's annual Digital Book 2011 conference. Judging from the product announcements and buzz from the events, ebooks are hot, hot, hot! Kobo, which partners with Borders, announced that its new $130 E-ink touchscreen reading device would be available in June. Barnes & Noble announced a $139 black-and-white E-Ink touchscreen e-reader. Amazon dropped the price of its $189 3G Kindle with Special Offers to $164. Amazon also reportedly told U.S. publishers that it will begin accepting files in EPUB format in the near future, and these files will be readable on the Kindle. With the acceleration of sales of ebook readers and so much interest in ebooks, it seems as if it's a good time to look at good sources to get free ebooks. I will also discuss free ereader software as an alternative to buying dedicated devices.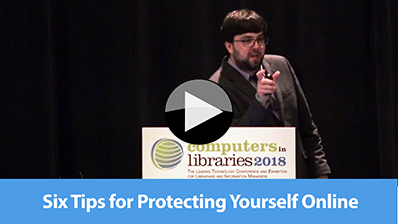 Six Tips for Protecting Yourself Online (3:23)
Evolve Project Director of Strategic Innovation Brian Pichman explains how to shore up your personal cybersecurity in this clip from Computers in Libraries 2018.
Find It Fast, 6th Edition
Extracting Expert Information from Social Networks, Big Data, Tweets, and More
by Robert Berkman

In Find It Fast, business research guru Robert Berkman gives expert advice on how to locate the best information sources, how to find and utilize the professionals behind those sources, and how to combine expert techniques to do fast and effective research on any subject.

You'll find practical guidance on such subjects as how to know if a site is a trusted source; understanding how and why sources differ; using precision search strategies and taming information overload; and finding, evaluating, and interviewing experts. Whether you are looking for consumer information, data for a job or project, facts for starting a new business, or an answer to an obscure question, Find It Fast will help you find it. Fast!

2015/336 pp softbound | ISBN 978-1-937290-04-7
Regular Price: $24.95 | Web Orders: $22.45
CONFERENCE CALENDAR
Nov. 13, Sports Streaming Summit
Place: Huntington Beach, Calif.
Sponsor/Organizer: Information Today, Inc.
URL: streamingmedia.com/Conferences/West2018/Sports.aspx
Nov. 13–14, OTT Leadership Summit
Place: Huntington Beach, Calif.
Sponsor/Organizer: Information Today, Inc.
URL: streamingmedia.com/Conferences/West2018/OTTSummit.aspx
Nov. 13–14, Video Engineering Summit
Place: Huntington Beach, Calif.
Sponsor/Organizer: Information Today, Inc.
URL: streamingmedia.com/Conferences/West2018/VES.aspx
Nov. 13–14, eBook Management: What Works, What Doesn't (ALCTS e-Forum)
Place: Online only
Sponsor/Organizer: Association for Library Collections and Technical Services (ALCTS)
URL: ala.org/alcts/confevents/upcoming/e-forum/111318
Nov. 13–14, Live Streaming Summit
Place: Huntington Beach, Calif.
Sponsor/Organizer: Information Today, Inc.
URL: streamingmedia.com/Conferences/West2018/livestreamingsummit.aspx
Nov. 13–14, Streaming Media West
Place: Huntington Beach, Calif.
Sponsor/Organizer: Information Today, Inc.
URL: streamingmedia.com/Conferences/west2018
Nov. 13–15, International Internet Preservation Consortium (IIPC) Web Archiving Conference 2018
Place: Wellington, New Zealand
Sponsor/Organizer: International Internet Preservation Consortium (IIPC)
URL: netpreserve.org/ga2018
Nov. 14–15, 2018 Library Marketing and Communications Conference (LMCC)
Place: St. Louis, Mo.
Sponsor/Organizer: Library Marketing Conference Group (LMCG)
URL: librarymarketingconference.org/lmcc-2018-announcements
Nov. 14–17, The 1st International Children's Libraries Symposium
Place: Urgup, Turkey
Sponsor/Organizer: University of Marmara, Department of Information and Records Management; Ministry of Culture and Tourism Libraries and Publications General Directorate
URL: childrenslibraries.org
Nov. 17–20, The 18th IEEE International Conference on Data Mining (ICDM 2018)
Place: Singapore
Sponsor/Organizer: Organizing Committee
URL: icdm2018.org
Nov. 29–Dec. 1, International Conference on Digital Transformation (ICDT 2018)
Place: Delhi, India
Sponsor/Organizer: Organizing Committee
URL: ifla.org/files/assets/asia-and-oceania/news/icdt_confernece_brochure_19-09-2018.pdf
If you regularly read blogs, add these to your reader:
ITI Conference Blog – libconf.com – covering ITI's library conferences worldwide.
ILI365/InfoToday Europe Blog – infotoday.eu – news and ideas for, and by, innovative info pros from around the world, throughout the year.

destinationCRM Blog – destinationcrmblog.com – a blog from the editors of CRM magazine, dedicated to providing Customer Relationship Management information in a timely manner to connect decision makers and providers.
SpeechTech Blog – speechtechblog.com – updates on speech technology and its applications in daily life, covering everything from ASR to VUI, with lots of links, threads, and even a few pictures thrown in for good measure.