Getting Healthy Information With OvidMD
by Marydee Ojala
Researchers in the medical field have long relied upon Ovid (part of Wolters Kluwer) databases to provide authoritative information from medical literature. The OvidSP platform, commonly found in academic, pharmaceutical, and medical library settings, is frequently the "go to" source for students, faculty, and researchers. Searches at OvidSP can be somewhat leisurely, starting at 10 to 15 minutes and sometimes lasting longer. Another Ovid product, UpToDate, is designed for clinical decision support where a quick answer is needed and searches last only 1 to 3 minutes. Believing that something was needed in between the search times ascribed to OvidSP and UpToDate, Ovid introduced OvidMD at the Medical Library Association (MLA) annual conference in mid-May 2011.
SPARC Introduces Open Access Journal Publishing Resource Index
SPARC (the Scholarly Publishing and Academic Resources Coalition) released a free online Open Access Journal Publishing Resource Index with information and documents to support the launch and operation of an open access journal. Materials in the index will help libraries, presses, and other academic units on campuses as they work together to make the work of their researchers more widely available.
LibreDigital Launches Self-Service Ebook Distribution Portal
LibreDigital, a solutions provider for digital books, newspapers, and magazines, announced that it has launched a new self-service distribution portal for small- to medium-sized publishers. The portal allows publishers with any kind of file to submit their ebooks for distribution to the Apple iBookstore and other marketplaces.
ProQuest Acquires BNI—Nursing Index to Be Expanded
ProQuest acquired BNI, a cornerstone database for nursing and midwifery in the U.K. BNI—shortened from British Nursing Index—has been compiled through a partnership of the libraries at Bournemouth University, Poole Hospital NHS Foundation Trust, the Royal College of Nursing, and Salisbury NHS Foundation Trust. ProQuest has built a long-term relationship with BNI through its distribution via Dialog, its business unit serving the professional market. Now, as the founding organizers seek to ensure the long-term health of the index, the acquisition by ProQuest will ensure it continues to flourish.
Sources for Free Ebooks and Ereader Software
by Paula J. Hane
In late May, BookExpo America week kicked off with IDPF's annual Digital Book 2011 conference. Judging from the product announcements and buzz from the events, ebooks are hot, hot, hot! Kobo, which partners with Borders, announced that its new $130 E-ink touchscreen reading device would be available in June. Barnes & Noble announced a $139 black-and-white E-Ink touchscreen e-reader. Amazon dropped the price of its $189 3G Kindle with Special Offers to $164. Amazon also reportedly told U.S. publishers that it will begin accepting files in EPUB format in the near future, and these files will be readable on the Kindle. With the acceleration of sales of ebook readers and so much interest in ebooks, it seems as if it's a good time to look at good sources to get free ebooks. I will also discuss free ereader software as an alternative to buying dedicated devices.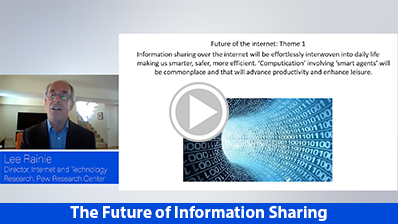 The Future of Information Sharing (3:59)
Lee Rainie, Director, Internet and Technology Research, Pew Research Center, projects the future of information sharing online and its social, cultural, and economic impact as foreseen by analysts and experts surveyed by Pew in this clip from his keynote at Data Summit Connect 2020.

CLOSED CAPTIONING IS AVAILABLE.
If you regularly read blogs, add these to your reader:
ITI Conference Blog – libconf.com – covering ITI's library conferences worldwide.
ILI365/InfoToday Europe Blog – infotoday.eu – news and ideas for, and by, innovative info pros from around the world, throughout the year.
Streaming Media Blog – www.streamingmedia.com/Articles/Blog – the go-to destination for opinion, analysis, and insights into the entire online video ecosystem, from glass to glass.