FOIA.gov: A Little Bit of Sunshine
by Peggy Garvin
To mark Sunshine Week each year, newspapers around the U.S. carry articles and editorials making the case for our national Freedom of Information Act (FOIA) and local equivalents. You can peruse hundreds of these news items at the Sunshine Week website, just below the fold. The national Sunshine Week was founded by the American Society of Newspaper Editors and is funded in large part by the Knight Foundation. The Justice Department fittingly chose the FOIA-focused Sunshine Week (March 13-19) to announce its new website, FOIA.gov. FOIA.gov has educational information about FOIA for citizens and data on the federal government's performance in handling FOIA requests.
Preview of eBooks on EBSCOhost Now Available—Goodbye NetLibrary
A year after acquiring NetLibrary from OCLC, EBSCO Publishing (EBSCO) is releasing a preview of eBooks on EBSCOhost. The preview will allow librarians and end users to see how their library's collection of ebook titles from EBSCO/NetLibrary is being integrated into EBSCOhost, allowing for a more comprehensive and powerful search experience. Current customers will be able to explore their own ebook collections on EBSCOhost. The preview is designed to showcase the look and feel of ebooks on EBSCOhost and provide a live environment for librarians and users to test and trial the functionality.
New Wolters Kluwer Law & Business WikiWatch Blog
In the global instant-information culture, clients often want fast answers to news that potentially threatens their organizations—even if the accuracy of details and validity of information sources are in question. Now, decision makers can quickly turn to the new WikiWatch blog from Wolters Kluwer Law & Business to gain analysis of the potential legal and business consequences tied to the release of proprietary documents. Wolters Kluwer Law & Business is a provider of information and software solutions in key specialty areas for legal, risk, compliance, and business professionals.
Cornell U Library Issues Statement on Journal Vendor Nondisclosures
To promote openness and fairness among libraries licensing scholarly resources, Cornell University Library announced it will not enter into vendor contracts that require nondisclosure of pricing information or other information that does not constitute a trade secret. All new and renewed licenses submitted with nondisclosure clauses will not be signed but henceforth will be referred to the associate university librarian for scholarly resources and special collections for further negotiation.
Search Quality, Content Farms, and Conspiracy Theories
by Paula J. Hane
The blogosphere and media outlets have been abuzz lately with reports of low-quality search results from the major search engines. It started in December 2010 with a New York Times, story about an unscrupulous merchant whose bad treatment of customers and negative reviews pushed the site to prominence in Google searches. In response to the flap that arose, Google quickly addressed this with changes to its search algorithms. Since then, there have been a New York Times expose of J.C. Penney's SEO practices ("The Dirty Little Secrets of Search") and Google's subsequent changes to its algorithm, Google's assertion that Microsoft Bing was copying Google search results, Google's banning of spam from low-quality sites and so-called "content farms," and even a conspiracy theory about which company was launching a negative publicity campaign against Google. This has indeed been a wild and crazy time.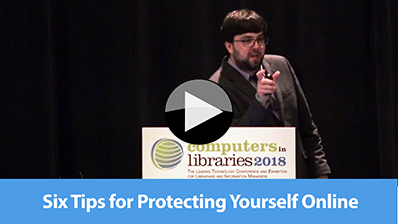 Six Tips for Protecting Yourself Online (3:23)
Evolve Project Director of Strategic Innovation Brian Pichman explains how to shore up your personal cybersecurity in this clip from Computers in Libraries 2018.
Find It Fast, 6th Edition
Extracting Expert Information from Social Networks, Big Data, Tweets, and More
by Robert Berkman

In Find It Fast, business research guru Robert Berkman gives expert advice on how to locate the best information sources, how to find and utilize the professionals behind those sources, and how to combine expert techniques to do fast and effective research on any subject.

You'll find practical guidance on such subjects as how to know if a site is a trusted source; understanding how and why sources differ; using precision search strategies and taming information overload; and finding, evaluating, and interviewing experts. Whether you are looking for consumer information, data for a job or project, facts for starting a new business, or an answer to an obscure question, Find It Fast will help you find it. Fast!

2015/336 pp softbound | ISBN 978-1-937290-04-7
Regular Price: $24.95 | Web Orders: $22.45
CONFERENCE CALENDAR
Nov. 13, Sports Streaming Summit
Place: Huntington Beach, Calif.
Sponsor/Organizer: Information Today, Inc.
URL: streamingmedia.com/Conferences/West2018/Sports.aspx
Nov. 13–14, OTT Leadership Summit
Place: Huntington Beach, Calif.
Sponsor/Organizer: Information Today, Inc.
URL: streamingmedia.com/Conferences/West2018/OTTSummit.aspx
Nov. 13–14, Video Engineering Summit
Place: Huntington Beach, Calif.
Sponsor/Organizer: Information Today, Inc.
URL: streamingmedia.com/Conferences/West2018/VES.aspx
Nov. 13–14, eBook Management: What Works, What Doesn't (ALCTS e-Forum)
Place: Online only
Sponsor/Organizer: Association for Library Collections and Technical Services (ALCTS)
URL: ala.org/alcts/confevents/upcoming/e-forum/111318
Nov. 13–14, Live Streaming Summit
Place: Huntington Beach, Calif.
Sponsor/Organizer: Information Today, Inc.
URL: streamingmedia.com/Conferences/West2018/livestreamingsummit.aspx
Nov. 13–14, Streaming Media West
Place: Huntington Beach, Calif.
Sponsor/Organizer: Information Today, Inc.
URL: streamingmedia.com/Conferences/west2018
Nov. 13–15, International Internet Preservation Consortium (IIPC) Web Archiving Conference 2018
Place: Wellington, New Zealand
Sponsor/Organizer: International Internet Preservation Consortium (IIPC)
URL: netpreserve.org/ga2018
Nov. 14–15, 2018 Library Marketing and Communications Conference (LMCC)
Place: St. Louis, Mo.
Sponsor/Organizer: Library Marketing Conference Group (LMCG)
URL: librarymarketingconference.org/lmcc-2018-announcements
Nov. 14–17, The 1st International Children's Libraries Symposium
Place: Urgup, Turkey
Sponsor/Organizer: University of Marmara, Department of Information and Records Management; Ministry of Culture and Tourism Libraries and Publications General Directorate
URL: childrenslibraries.org
Nov. 17–20, The 18th IEEE International Conference on Data Mining (ICDM 2018)
Place: Singapore
Sponsor/Organizer: Organizing Committee
URL: icdm2018.org
Nov. 29–Dec. 1, International Conference on Digital Transformation (ICDT 2018)
Place: Delhi, India
Sponsor/Organizer: Organizing Committee
URL: ifla.org/files/assets/asia-and-oceania/news/icdt_confernece_brochure_19-09-2018.pdf
If you regularly read blogs, add these to your reader:
ITI Conference Blog – libconf.com – covering ITI's library conferences worldwide.
ILI365/InfoToday Europe Blog – infotoday.eu – news and ideas for, and by, innovative info pros from around the world, throughout the year.

destinationCRM Blog – destinationcrmblog.com – a blog from the editors of CRM magazine, dedicated to providing Customer Relationship Management information in a timely manner to connect decision makers and providers.
SpeechTech Blog – speechtechblog.com – updates on speech technology and its applications in daily life, covering everything from ASR to VUI, with lots of links, threads, and even a few pictures thrown in for good measure.