Thursday, February 17, 2011
IBM's Watson Defeats Humans in Jeopardy! Battle
by Erik Arnold
IBM's supercomputer named Watson completed its conquest for Jeopardy! domination by defeating two of the best contestants on Earth: Ken Jennings, the longest consecutive winner in Jeopardy history, and Brad Rutter, the all-time earnings leader. Time will tell if the Jeopardy! victory is a Truman/Dewey moment. The Jeopardy! competition was a total score over two games (aired in three episodes Feb. 14-16), with the highest total score at the end of the two games claiming victory. Watson won the $1 million prize, and it was not even close until the last round when Ken Jennings seemed determined to put in a good showing for humans before bowing out by writing "it's time to welcome our new artificial intelligence overlords" on his Final Jeopardy question. This delighted the IBM heavy studio audience.
Springer eBooks Now Available in the Google eBookstore
Springer ebooks are now available in the Google eBookstore. Google currently holds the largest collection of Springer ebooks with more than 52,000, which is a combination of physically scanned books published prior to 2006 and PDF file submissions since 2006. Springer adds 4,000 newly published titles per year. This service will initially only be available for international customers. A platform for the German-speaking markets will follow in due course.
ScienceCinema Offers Searchable Videos from U.S. DOE
Scientific videos highlighting the most exciting research and development sponsored by the U.S. Department of Energy (DOE) are now available through ScienceCinema. The multimedia search tool was launched Feb. 8 as part of a 1-day workshop, "Multimedia and Visualization Innovations for Science," jointly hosted by Microsoft and the International Council for Scientific and Technical Information (ICSTI), held in Redmond, Wash.
Apple Launches Subscriptions on the App Store
Apple, Inc. announced a new subscription service available to all publishers of content-based apps on the App Store, including magazines, newspapers, video, music, and more. This is the same digital subscription billing service that Apple recently launched with News Corp.'s The Daily app.
Update on Gale—Mobile, Global, and In Context
by Paula J. Hane
At the recent ALA Midwinter meeting, I caught up with Nader Qaimari, senior vice president of marketing at Cengage Learning, to talk about recent developments at Gale and get a peek at some forthcoming products. Gale continues to be excited about the streamlined company structure implemented last summer—the integration of Gale and Cengage. Qaimari says it lets the company make content connections and help libraries serve as the conduit to information and textbooks. Other news he was eager to discuss included the company's mobile initiatives, its new Gale World Scholar product line, enhancements to PowerSearch, new administrative tools, and ongoing work on the In Context products.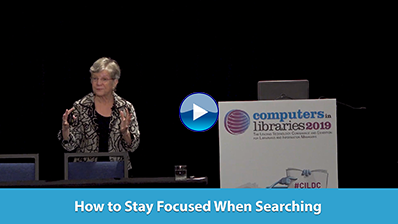 How to Stay Focused When Searching (3:47)
Super-Searcher Mary Ellen Bates of Bates Information Services explains how to separate the incidental from the integral in search in this clip from her presentation at Computers in Libraries 2019.

CLOSED CAPTIONING IS NOW AVAILABLE.
The Carousel Carver
by Perdita Buchan

This evocative historical novel tells the story of Giacinto, who emigrates from Italy in 1912 and becomes a carousel carver during the golden age of the craft in America, and Rosa, the eight-year-old orphan girl thrust into his care.

The Carousel Carver vividly recreates the world of the immigrant carvers—from the inspiration found in fiery horses, big cats, and children's laughter to the clatter, sawdust, and politics of Philadelphia's bustling multicultural workshops. This is an engaging and insightful tale of tolerance, second chances, and what it means for those once adrift to call America home.

May 2019/144 pp/hardcover/ISBN 978-1-940091-04-4
Regular Price $16.95 | Preorder Price $10.17

Trade Paperback | ISBN 978-1-940091-03-7
Regular Price $13.95 | Preorder Price $8.37


The ebook is available from Amazon, Barnes & Noble, and Kobo.
If you regularly read blogs, add these to your reader:
ITI Conference Blog – libconf.com – covering ITI's library conferences worldwide.
ILI365/InfoToday Europe Blog – infotoday.eu – news and ideas for, and by, innovative info pros from around the world, throughout the year.
Streaming Media Blog – www.streamingmedia.com/Articles/Blog – the go-to destination for opinion, analysis, and insights into the entire online video ecosystem, from glass to glass.